Hainan Island News Roundup, June 2016
First global travel destinations ceremony opened in Haikou
Following efforts by the Haikou government and China travel service head office, an  annual "global travel destinations ceremony" was held by the Haikou exhibition bureau, CTS Mice Service company, National Geographic and another 17 companies cooperated on May fourth at the Hainan international exhibition center.
Almost a thousand executives associated with the travel industry, guests, consultants and stakeholders came together to build a platform for global travel resources. This was the first travel destinations themed campaign held in China, signaling a new era in communication between China's tourism industry and international travel associations. It will open up a new era for organizing travel resources in Haikou.
Hainan village travel culture festival opened:
On the morning of May 20th, with the theme of the whole of Hainan as a happy home, the 2016 (fourth) Hainan village travel culture festival - also known as the Hainan (Ding An) cuisine and culture festival - held its conference in Haikou. The festival itself, sponsored by the Provincial Tourism Committee and Ding An County People's Government, was held from June 8th -11th at the Ding An Tian Jiu cuisine and culture square. By January, during the national tourism affairs meeting, the national Bureau of Tourism has designated Hainan as a whole, a territory travel province. To demonstrate village travel as an important part of the whole territory tourism strategy, the festival plays a significant role to emphasize the speeding up of construction, alleviating rural poverty and enhancing the beautiful Hainan countryside. The festival concentrates specifically on "tropical village leisure tourism" to present Hainan's local culture and promote Hainan village tourism as a new travel product.
A Thai street has been built in Haikou Mission Hills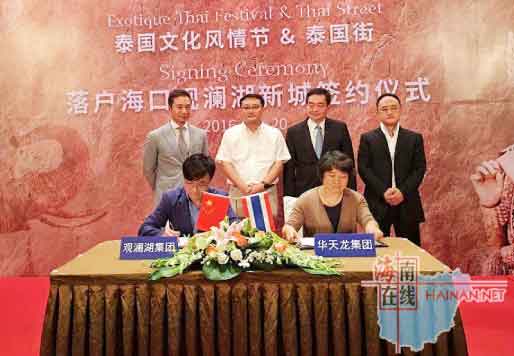 On the afternoon of May 20th, representatives of the Mission Hills and Hua Tian Long Groups signed a cooperation contract for construction of a Thai street project at the Haikou Mission Hill resort. The Thai culture theme street covers almost 30000 square meters. Expected to open by September 29th this year, it will be a combination of multiple features, including Thai cuisine, Thai karaoke, Thai massages, Thai cooking lessons and Thai culture shows.
During the initial opening phase from September 29th to October 30th there will be a Thai culture festival. Visitors can explore Thai food and culture through the Thai travel consulting center and enjoy a Thai four sided Buddha, various Thai cuisines and displays of Thai boxing.
China launches the long march 7 rocket from Hainan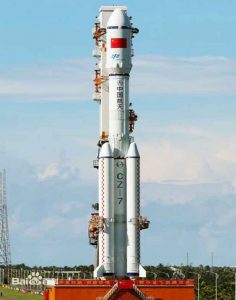 China's most capable and advanced rocket, the LM7, was launched on June 25th at Wenchang. It set many new records for China's aerospace industry and opens a new era in China's rocket development. The LM7 clearly lifted China's space technology to a new level, accelerating China's becoming an aerospace developed country.
According to technicians, the LM7 is a basic model of China's new mid-size space rockets and carries many expectations to match up China's aerospace development with others in the field. Building from this successful foundation, China can produce many more space payload delivery rockets, signifying the likelihood of many more upcoming launch projects. A point worthy of mention is the LM7's focus on green energy and materials. Unlike traditional rockets using UDMH and nitrogen tetroxide as fuels, the LM7 uses enhanced, nontoxic materials and pollution-free LOX/kerosene fuel.
It significantly improves safety during both production and use. The LM7 shows great promise and has focused the attention of many around the world on China's entering a new golden age of orbital rocket and deeper space exploration.
Mystical "Xi Sha Dragon Cave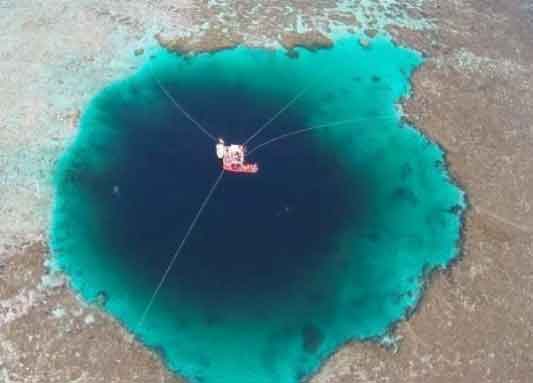 On the Yong Le atoll located in the Xi Sha archipelago of Shan Sha city, there is a mystical blue cave. Fishermen call it the "Dragon Cave". According to legend, it was created when the famous Monkey god extracted a magical weapon from the atoll, leaving a deep cave.
This magnificent feature has been measured to be the deepest ocean cave known in the world. It has clear seawater surrounding it, and in the sunshine it glows and shines. As you pass over its edge by boat, and over the mouth of the cave, it feels like you are suddenly falling deep into a chasm!
This spectacular natural phenomenon has great value for scientific exploration. Between last August to April this year, a variety of researchers have explored the caverns and accumulated a huge amount of data. It is a significant discovery in China's southern sea, and the results of scientific surveys are to be published soon.
Hainanese opera Hai Rui premieres in Haikou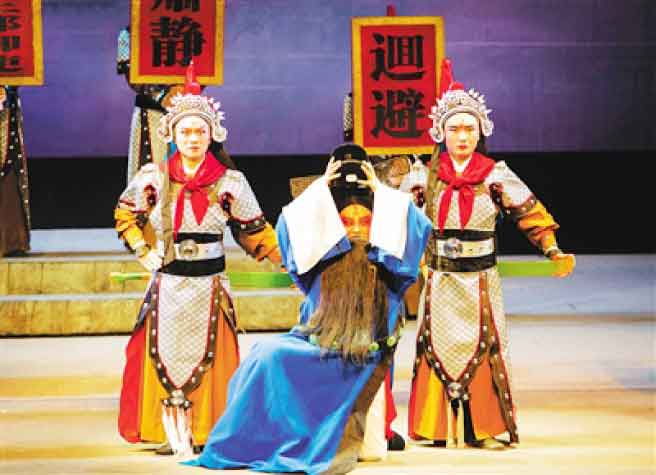 On May 24th, with the clashes of symbols and sounds of Chinese traditional drums, the opera "Hai Rui" was presented at the provincial theatre for the first time. According to the director Shi Yu Kun, the opera followed very strict criteria, focusing especially on voice techniques and styles and instrument selection.
The show presented the relationship between Hai Rui and Hu Zhong Xian both emotionally and logically and gave an objective review of these historical figures. "Hai Rui" has been selected to be a "national arts foundation project" and it is a wonderful example of Hainan's ancient culture.
Photographers from Taiwan document the Dual Making Campaign in Haikou
On June 15th, beginning in the Haikou Arcade Street at Qilou, a team of creative photographers from Taiwan took a series of photographs intended for exhibition to highlight the area.
Part of a serious exchange project entitled the "2016 Qiongtai Double Island Photographers Across the Straits", their aim was to capture the beauty, local flavor and unique charms of Haikou, now even more ably displayed after the huge advances made by the Dual Making Campaign. 
The president of the Taiwan photographic association noted that "it is a rare pleasure to see the original architectural styles as are on show in Qilou, preserving such valuable cultural heritage".
Photographers from Hainan are planned to go to Taiwan in October for an exhibition in return..
Haikou holds a national oceans awareness day
June 8 was the UN World Oceans Day, also recognized in China as the oceans awareness day of China. The State Oceanic Administration and Haikou marine environment monitoring center carried out a series of activities to raise the general population's awareness of the ocean in the form of display boards and public service advertising.
The center of environment monitoring in Haikou, Sansha and Hainan also utilized radio stations and other media to promote the campaign. A stunning exhibition of marine photography at the Tian Yu Bay Marketing center runs for a month, enhancing the education of and visually delighting all those who attend. The overall topic of activity is "Care for the health of the oceans, protect the planet", aimed at making more people aware of the dangers of marine pollution, loss of habitats, the importance of sustainable resources and the huge and varied significance of the world's oceans to all mankind, hence strengthening our resolve for oceanic protection and conservation.
Haikou to hold a second bougainvillea exhibition
On the morning of June 6th, press conferences for the second Hainan international bougainvillea exhibition were held simultaneously in both Beijing and Haikou. The exhibition dates were announced as January 20th to April 15th, 2017. Haikou will use the slogan "New Flowers City" to promote and advertise the bougainvillea exhibition in Chinese national media and local television.
According to the introduction, the byline for this bougainvillea show is "colorful Haikou, the four season's garden". The exhibition will last 86 days, 11 days longer than the first one. The Haikou government will take this opportunity to enhance the development of the bougainvillea and improve business travel to form a "bougainvillea economy", to accelerate the flowers theme as part of Haikou tourism. Also, Haikou will include the flowers in the "dual making campaign" and the "whole territory tourism" project, including the construction of a bougainvillea culture and art corridor along 12 kilometers of the Nan Du River.
Haikou to build 10 distinctive food and beverage streets and convenience spots
When interviewed earlier this year, Lai Huisheng, the manager of a restaurant in Lao Dao Cuisine Street said, "We began serving regularly on June 30th". His restaurant is in a 4-level, purpose-built arcade style building, just a small part of the distinctive food and beverage street construction currently on-going in Haikou.
Under the direction of the Haikou dual making campaign department, Haikou will build 10 more such streets. Haikou has 269 registered food and beverage enterprises, 9000 associated workers, 5076 legally registered small catering outlets with 26000 owners and employees. Overall 5,345 merchants are involved in the retail catering business. These achieved a 6.32 billion Yuan turnover in 2015.
Renovation and expansion of Hairui's tomb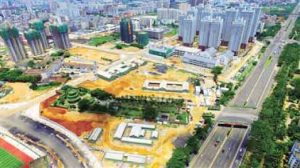 On June 13, a project to renovate and extend the culturaly important tomb of Hairui, a famous official of historical significance, was announced. The project establishes the site, located on Qiuhai Avenue in Haikou, as a class 4A tourist area and will involve the construction of a new tourist service center and overall renovations, along with considerable expansion of the site's grounds and parks from its current 15 acres area to 76 acres. The development is expected to be complete in September this year.