Party secretary of Haikou Sun Xinyang meets with the mayor of Whangarei, New Zealand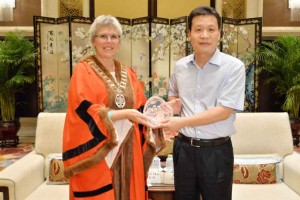 On June 5th, the Party Secretary of Haikou, Sun Xinyang, met with the mayor of Whangarei, Sheryl Mai from New Zealand. Sun expressed his sincere welcome and appreciation for the Whangerai delegation's visit before introducing them to the social and economic development status of Haikou. Sun added that since 2014, when Haikou and Whangerai became sister cities, even though they are separated by thousands of miles they have still managed to communicate frequently and instigate projects in education, culture, tourism and trade. He expressed his desire for Sheryl and her visiting team to explore more of Haikou to discover possibilities for further cooperation on health care, education, travel, sports association and other fields, with the aim of accelerating development in both cities.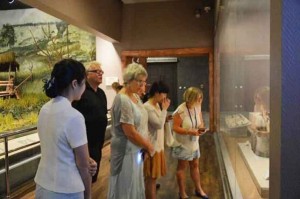 Sheryl Mai commented that on this, her second visit to Haikou, she found that the city has changed significantly in just a short period of time. Haikou has become a clean, beautiful and green city. The administration of Haikou is a good example for Whangarei to learn from. She expressed a wish for both sides to communicate more on exploring opportunities to strengthen friendships and cooperate in ecology, hotel management and specially in cultures exchanges. She welcomes more students from Hainan & China to come and study in Whangarei.
Also present at the meeting were the New Zealand Consul-General in Guangzhou, Chen Li En, the mayor of Haikou, Ni Qiang, and many other Haikou Municipal officials. Whangarei is one of Haikou's 31 sister's cities, and at the meeting they agreed to enhance cooperation in numerous areas. In particular, the New Zealand delegation included the principals of Whangarei boys' high school and girls' high school respectively. They have already built partnerships with high schools in Haikou, and 10 Haikou high school students have already left for a 3 week scholarship to study in New Zealand.
Hainan sailor, Huang Li Zhu qualified for Rio Olympics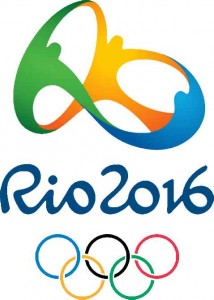 Huang Lizhu, a girl from Qionghai earned the chance to participate in the 470 women's sailing race at the 2016 Olympics in Rio. She is the first woman from Hainan to qualify for the Olympics since the establishment of Hainan province. On May 1st, the French leg of the sailing World Championships served as the final qualifying round for 470 Chinese sailors, and those selected for the Olympics included Huang.
5'8" tall, 31-years old Huang trained initially at the Qionghai Athletes School as a basketball player. However, provincial sailing coach Deng Daokun held trials and selection at the school and decided Huang had what it took and selected her for the sailing team.
Huang has since competed in a variety of national and international sailing events. She has won countless championships and prizes at national level, and represented China in the Busan Asian games.
Huang's father reported that because of her preparations for the Olympics he had not seen his daughter for a long time. Even during Chinese Spring Festival, Huang was still training at the sailing base in Chengmai, and missed out on the traditional family reunion, her family howevere expressed their understanding and support. Her father added that Huang has been a good and hardworking girl since she was little and always loved sports, including track and field and basketball.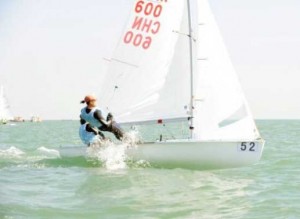 She transferred to the sailing team in 2003 and within just 5 years she'd won the national championship and gained her place on the national team. She successfully defended her national title in 2014, and in 2015 and she was fourth in the Tsingtao World Cup. Her place in Rio was assured when she won bronze at the 2016 World Championships in France.
Huang, who injured her knees and lower abdomen in Great Britain in 2011, stated that getting over her injuries and qualifying for the Olympics has made all the hard work worthwhile.
Translated By Zeng Hanxiang/Modified by Patrick Quinn