The 6th Hainan Rural Tourism Cultural Festival runs until May 29th
The 6th Hainan Rural Tourism Cultural Festival runs until May 29th
On April 28, cheerful song and dance broke the morning silence marking the beginning of a rural tourism festival in Lingshui, Hainan.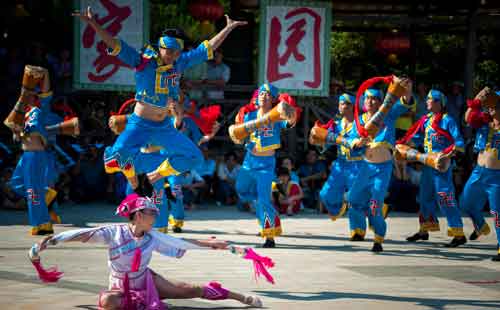 The whole town had come out to celebrate and enjoy the minority dance performances, displays of traditional skills, and the carnival atmosphere filling the square.
Fresh made rice noodles were draped across squares of bright mango and drizzled with mango juice, shrimp cakes sizzled, steam wafted up from folded pyramids of bamboo leaves enclosing meat filled zongzi, and whole roast suckling pigs crackled as crispy skin parted to reveal tender roasted pork.
Even Haikou's famous Abopo Salt Baked Chicken set up a booth and delighted the crowds with her family's time-tested recipe!
As one of the main activities of the Festival, Hainan (Lingshui) Tourism Food and Product Trade Fair involved thousands of specialties such as beef jerky, tricolor rice and Shanlan wine, as well as tourist products including Li brocade, national costume and handicrafts.
This year, RV camp, self-driving travel and Lingshui bike ride have been added to the Festival.
The Traditional Lingshui Cultural Exhibition and Performances consist of Lizu and Hmong model shows, bamboo dance, songs and displays of intangible cultural heritage.
During the one-month festival from April 28 to May 28, all cities and counties in Hainan will hold various rural tourism activities with different themes and design a number of routes for tropical rural tourism so that tourists can experience the nature and culture of Hainan.
Foodies and shopaholics won't want to miss this event, where all kinds of local specialty food, arts, and crafts will be ready for everyone to enjoy.
Source: http://www.poandpo.com