A first in the industry, 130 LNG tank containers sailed from the Port of Yangpu Hainan
SHENZHEN, China, Nov. 29, 2018 /PRNewswire/ -- A feeder container ship loaded with 130 LNG tank containers sailed northward from the Port of Yangpu of Hainan Province to the Port of Jinzhou in November. The innovative transportation of liquefied natural gas (LNG), a trial project jointly approved by China's National Development and Reform Commission (NDRC), National Energy Administration (NEA) and Ministry of Transport (MOT), is the country's first-ever attempt to transport the surplus capacity of Hainan terminal to its northern part via LNG tank containers, and it is of significant importance to satisfy the demands for winter heating with clean energy and ensure the LNG supply in northern China.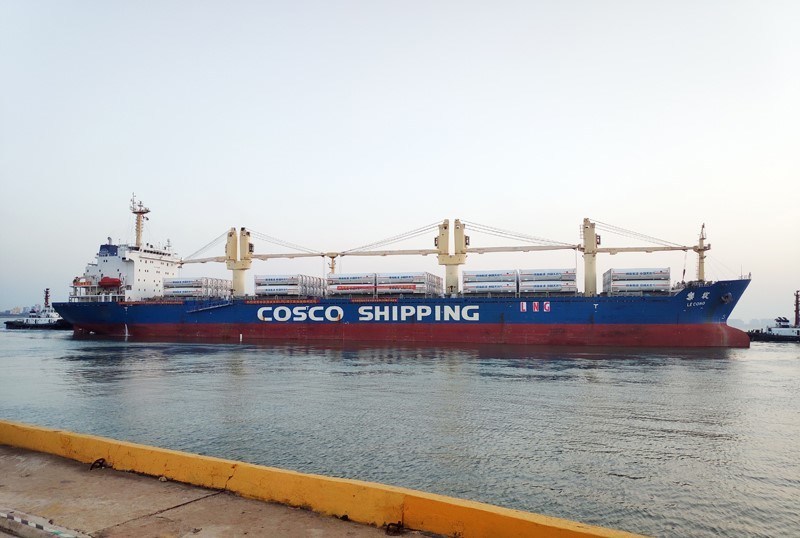 130 LNG tank containers arriving at the destination
It is noteworthy that the 130 LNG tank containers were developed and manufactured by CIMC ENRIC.
China is fully committed to the construction of a natural gas production, supply, storage and marketing system
The tighter availability of natural gas faced by a large part of China last winter and this spring has fully revealed the country's lack of natural gas storage ability, and the problem will become even worse owing to China's rising demand for natural gas. So far, the escalating conflict between supply and demand has greatly restrained sustainable development of the domestic natural gas industry.
China has seen an explosive growth of natural gas consumption over the years, and it is challenging to meet the country's demand for natural gas, especially in the heating season. Amidst the widening supply-demand gap, LNG has become a major method for natural gas.
According to Wood Mackenzie, China's LNG imports are forecast at nearly 50 million metric tons in 2018, an increase of 12 million tons over 2017.
The International Energy Agency (IEA) indicated in Gas 2018- the latest IEA annual market report that by 2019, China will become the world's largest importer of natural gas, and by 2023, it will import 171 billion cubic meters of natural gas, with LNG accounting for more than 50 percent of the total imports.
In recent years, the Chinese government has been accelerating construction of the natural gas production, supply, storage and marketing system to meet its rising demands for natural gas and alleviate growing natural gas shortages.
View original full content and download multimedia HERE