Canadians recall their impressions of travelling around Hainan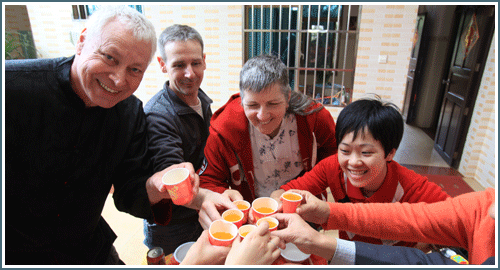 Hainan Island has been our winter holiday destination of choice three times now and it has never failed to delight us.
First, for the most obvious reason, it is comfortably warm in winter while our city of employment is not.  But more than that, the variety of attractions on Hainan Island seem to be endless. It has everything from sparkling clean, deserted beaches near the little village of Yinggehai to bustling five star resorts at Yalong Bay just outside of Sanya.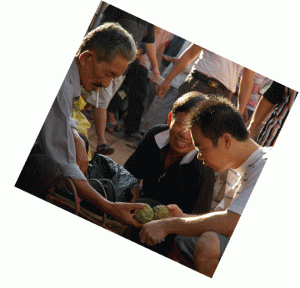 Haikou, the capital city is a mixture of the ultra-modern and the ancient. It is a relaxed city of delightfully mysterious old residential areas with narrow winding and crowded street markets cheek by jowl with modern high rises.  In winter, the climate is generally very pleasant, not as hot as Sanya at the other end of the island, but far from cold. Lingshui was described to us as a small village, but it's not the sleepy hamletthat "village" evoked in our Canadian minds; this was a bustling centre with movement everywhere, bike cabs, motorcycles, trucks, buses, cars, carts and folk on foot. We had to remind ourselves that this is China where anything under a few hundred thousand people is a village.   The countryside around Lingshui is peaceful, rural, yet fascinatingly alive, a place where a stroll along the dirt road led us to our first encounter with a water buffalo and its owner, both very docile.  It's likely that neither had ever seen foreigners before.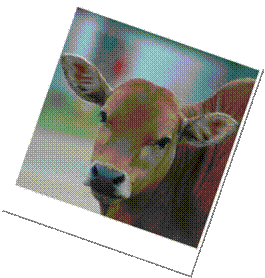 The houses on the farms were neat little concrete structures and like elsewhere in China there was a real mix of old and new, high and low tech. Technology on the farm ranged from old fashioned ox-carts to ultra modern solar panels. Many of our adventures on Hainan Island have been once in a lifetime experiences, brought about by luck and chance encounters, but similar magic has happened for us on each visit.  The trick is to be open to suggestions, to trust the friendliness of the locals, and to allow yourself to get off the beaten track.  The best motto for tourists in Hainan is: Go with the flow.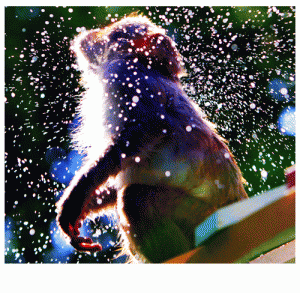 We had a day trip from Lingshui to visit Narwan Monkey Island, which we arrived at by chair lift, and were treated to a wonderful view of a tropical jungle before landing in the reserve of the primates.  Not surprisingly, Monkey Island's principle residents are monkeys.  Lots of monkeys.  While I'm not a fan, I have to admit that they are fascinating, and to stroll amongst them, watching the mothers with their babies and the interaction of the monkeys with the tourists was very entertaining.  There was also a show, with monkeys and birds performing routines for our amusement. After our visit to Lingshui and our day trip to the Monkey Island we went on to Sanya, a resort town best known for its beaches, the "Hawaii of China". We had had a great time in the four foot plus waves on the beaches, especially on Dadonghai beach which was excellent for body surfing. There's parasailing behind a speed boat, underwater viewing from a submarine, and you can get your picture taken with a huge python draped across your shoulders.  One of my favourite activities is just hanging out, watching the people and the beach life, while sipping delicious coconut milk straight from the shell.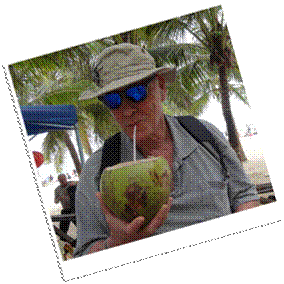 If possible, arrange to visit Hainan Island and Sanya for Spring Festival Eve. It will be worth it. That night, the whole city explodes with fireworks. From dusk until midnight there was a steady stream of fireworks set off by families and friends, much of it on the beaches. Our hotel was just a few blocks from the city beach area and we had a great time going down to join the festivities. Around midnight the fireworks did the impossible and intensified. Fireworks and firecrackers boomed ten-fold all around us. We walked along the beach until shortly after one in the morning when things finally started to quiet down. You haven't really experienced fireworks until you have been in Sanya on the eve of Spring Festival.  It makes Mardi Gras in Mazatlan pale by comparison. Flying directly into Haikou is the best way to get there, especially during Spring Festival when travel by train or ferry in China gets a little crazy.  If you are flying from within China there is nothing to worry about. From booking to boarding will probably take just a few hours. The airport will be as modern as any you've seen, with all the standard airport amenities and procedures, there will even be orderly single file line ups.
David and Ruth are from Canada and they teach at Jiangnan University in Wuxi, Jiangsu Province, China. You can find out more about their experiences in China by visiting their web sites www.themaninchina.com &www.thewomaninchina.com.