Accommodation is one of the biggest fixed costs travellers have and reducing that cost can lead to big savings! At tropicalhainan.com we know that accommodation can eat into any travel budget, so here are some of the top budget hotels and hostels in Haikou.
Hostels in Haikou, Sakura's Home Guest House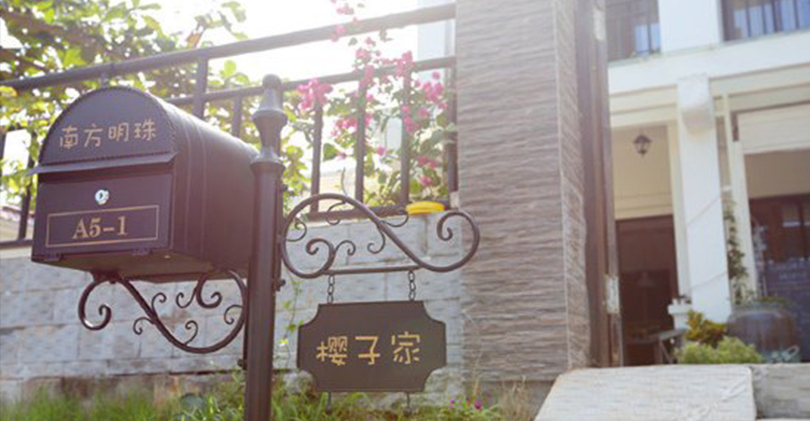 Sakura's Home is located in a tranquil villa area near the sea with nicely decorated guestrooms and free WiFi. There's a cafe and a little garden where you can relax. Baishamen Park and Century Bridge are a 10-minute walk away. A 30 minutes drive takes you to Haikou Railway Station and it's about a 50 minute taxi ride to Meilan International Airport in .
The units are air-conditioned and each guestroom has a private balcony with a sea view or a garden view.
Tel: 00 86 898 6625 4626
A5-1 Villa, Nanfang Mingzhu Community, Bihai Avenue, Haidian Island, Haikou 海南省海口市美兰区海甸岛碧海大道南方明珠小区别墅
Hostels in Haikou, Hualizhijia Hostel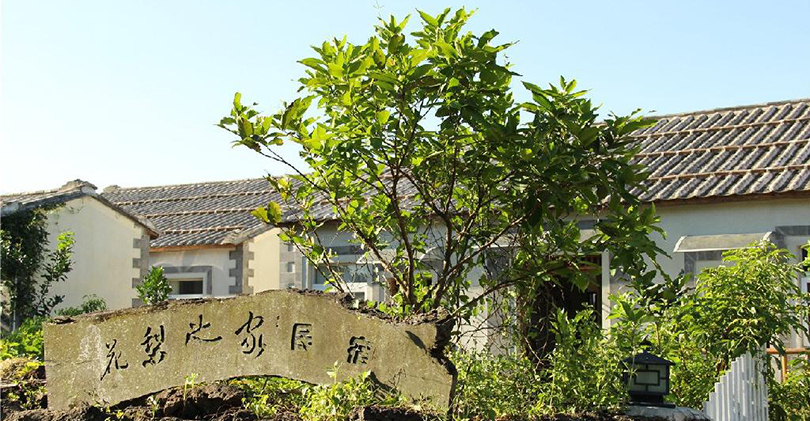 Featuring free Wifi and a barbecue, Hualizhijia Hostel offers pet-friendly accommodations in Haikou. Free Wifi is accessible in the public area and free parking is available. The Haikou Meilan International Airport is a 26-minute drive away and the Haikou Railway Station is a 30-minute drive away.
Each room at the Huailizhijia Hostel is fitted with a washing machine and a dining area. Free toiletries, slippers and a hairdryer can be found in the private bathroom. Guests can enjoy the dishes at the on-site restaurant, or hold a barbecue on the terrace.
Tel: 00 86 189 7622 0257
Boxue Village, Yongxing Town, Xiouying Distract, Haikou 海口海南省海口市秀英区永兴镇博学生态村花梨之家民宿
Hostels in Haikou, Haikou Magpie Hotel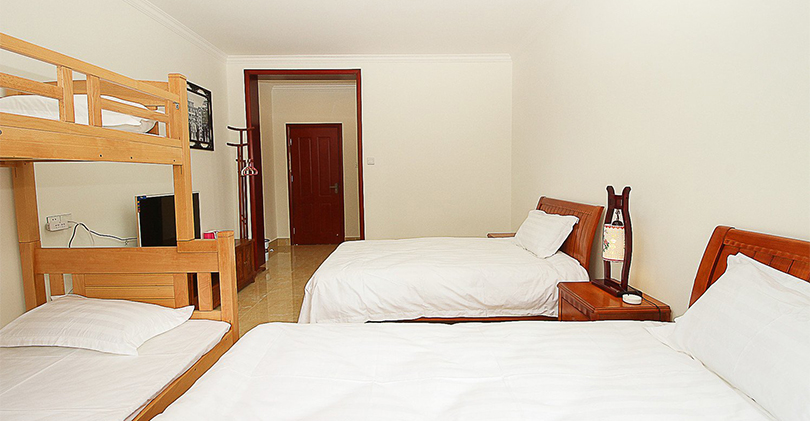 Haikou Magpie Hotel, conveniently located across the street from the North Gate of Hainan University on Haidian Island, is just 4 km from Baishamen Beach, and nearby many restaurants and supermarkets. The hotel is decorated with beautifully carved mahogany furnishings, making the interior both beautiful and fragrant.
Tel: 00 86 898 3632 2221
#2 Yalong Villa, West 5th Street, Haidian Island, Haikou City, Hainan 海南省海口市美兰区海甸岛五西路与怡心路交汇怡心路2号亚龙别墅
Hostels in Haikou, Haikou Coffee Island Hostel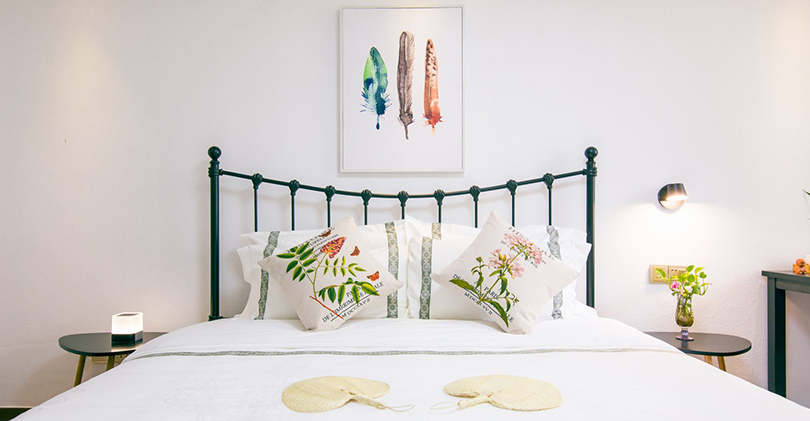 Haikou Coffee Island Hostel features air-conditioned rooms with free WiFi. The rooms are fitted with a TV and a private bathroom and there's a manned 24-hour front desk. Haikou Meilan International Airport is 1.9 miles from the Hostel.
Tel: 00 86 898 6625 8339
No.401 Kowloon Garden Villa Haidian Island East 4th Road, Meilan District, Haikou 海南省海口市美兰区海甸岛四东路九龙花园别墅401号
Hostels in Haikou, Haikou Banana Hostel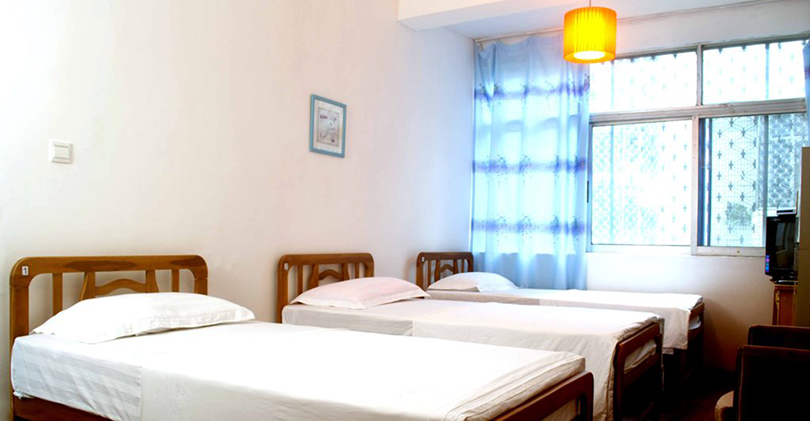 Banana Hostel is a small family run hostel in Haikou, close to Hainan University in Haidian Island. The hostel has both dormitory beds and private rooms. The rooms are simple, but all rooms have a private bathroom with shower and free Wi-Fi.
The hostel ground floor is a communal area with DVD lounge, music room, pool table, banana garden, English book exchange (around 400 books), and eating area. The hostel also has bikes for rent, and offers information on local attractions in the lobby area.
Tel: 0086 0898 6628 6780
3-4 Liyuan Villas, Renmin Ave, Haikou, Hainan, China 海口市海甸岛人民大道21号梨园小区6号别墅3/4栋
Hostels in Haikou, Forest Inn (Haikou Fenxiang)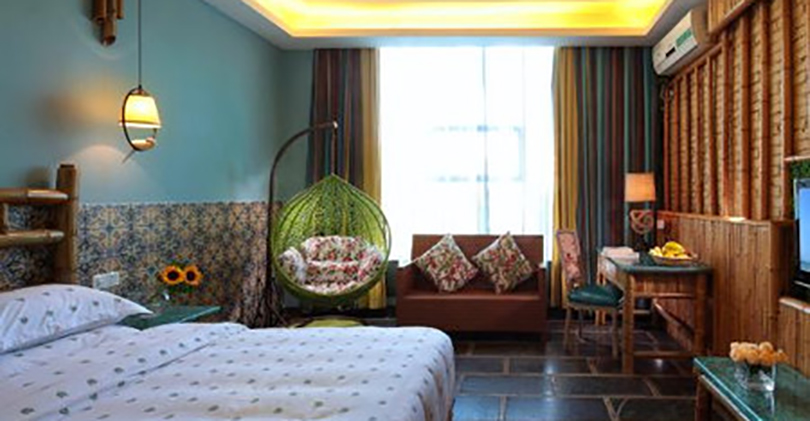 The Forest Inn (Haikou Fenxiang) conveniently located close by Haikou East High Speed Rail Station, is a vibrantly decorated hotel, (the idea being that) guests feel that they have wandered into a fairytale forest. Be Snow White or Prince Charming for a night, as you sleep sweet dreams in a magical setting.
Tel: 00 86 898 3665 1111
#99 East Fengxiang Rd, Haikou, Hainan 海南省海口市凤翔东路99号海口高铁东站
Reproduced with permission from Hainan Provincial Tourism Development Commission