CNY 6 billion agreement for China's first intelligent deep-water fish farm signed
A framework agreement to build China's first intelligent deep-water fish farm has been signed by a consortium of mainly state-owned Chinese firms as part of a CNY 6 billion ($954.9 million) offshore development in the South China Sea.
The six companies, include state-backed marine engineering giant China Shipbuilding Industry Corp., Bank of China Hainan Branch and Hainan Ocean Development Co.
According to a report published on the government's website, on Saturday, officials from Hainan provincial government and China Shipbuilding Industry Corporation (CSIC) attended a signing ceremony for a "modern deep-sea intelligent oceans and fisheries project" off the coast of the island province.
According to the report, the project involves construction of three of the world's largest "deep water oceanic aquaculture platforms" and is planned for Lingshui county in the island's southeast.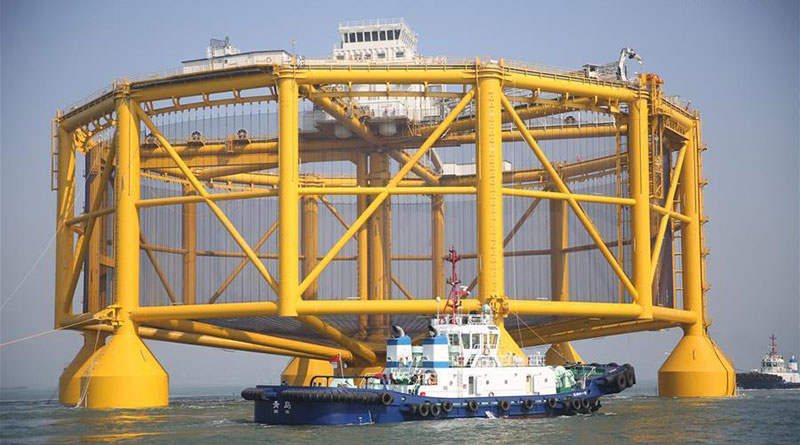 It is expected to be similar in design to Ocean farm 1 in Norway
Each platform will be 120 meters in diameter at the surface, roughly the equivalent length of a football pitch, 75m high, equivalent to a 22-story building, hold 250,000 cubic meters of water and farm up to 6,000 metric tons of fish.
According to the report, the platforms will use "remote control technology and automation" where possible, including in feed delivery, fish monitoring, and removal of dead fish. In the event of a storm, operators will be able to remotely submerge the platforms underwater.
"The project will help transform marine fisheries in our province and promote intelligent deep-sea cages. The economic value to the local economy could be up to CNY 20bn, and create over 10,000 jobs across the whole supply chain," said the report, adding: "The project is of great significance to Hainan's marine economy."
Although the report states the consortium had signed off buying equipment for the project, it is believed that financing has not been agreed, "It's a project that has been signed but is still subject to a number of conditions to do with finances,".
Source: https://www.undercurrentnews.com