Development of the Blockchain industry in Hainan
Development of the Blockchain industry in Hainan
April 27th 2018, the Hainan Provincial Government, Alibaba Group and Ant Financial Services Group signed a framework agreement in Haikou to develop a comprehensive strategic cooperation and carry out key cooperation activities within the digital economy.
May 2nd 2108 Huobi Labs, a subsidiary of Huobi China, one of China's three largest bitcoin exchanges portals announced the launch of a US$1 billion blockchain industry fund in conjunction with Tianya Community Network Technology Co.,Ltd., a social networking and forum service web site.
Under the agreement, Huobi Labs agreed to relocate its China's headquarter to Hainan Island, where Tianya is headquartered. Both parties agreed to jointly build a "Global Cultural and Creative Blockchain Lab."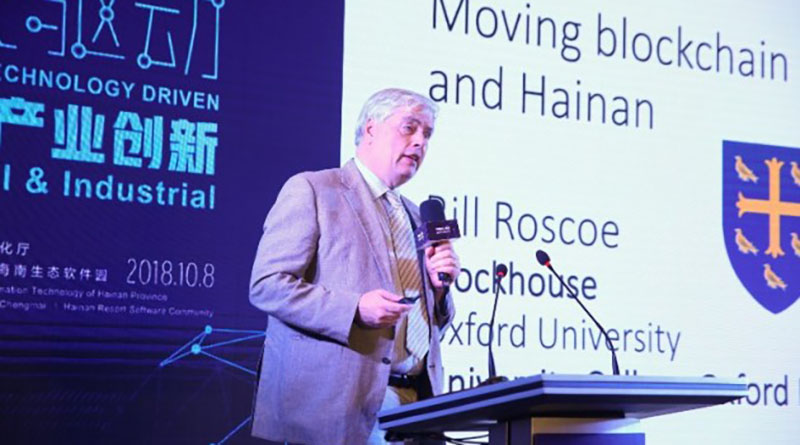 Bill Roscoe, Professor of Oxford University, at the Inauguration of Oxford University Blockchain Research Centre in Haikou
August 2018, Baidu's subsidiary Beijing Dinglu Zhongyuan Technology Co., Ltd. was registered to establish Degree Chain Network Technology (Hainan) Co., Ltd., with Baidu's Senior Vice President Xiang Hailong as its legal representative.
September 30th 2018, the Hainan Provincial Industry and Information Technology Department approved the establishment of the Hainan Free Trade Zone Blockchain Trial Zone to encourage innovation and promote the application of blockchain technology.
October 8th the Hainan Blockchain Zone was officially established in Hainan Ecological Software Park.
Hainan Software Park announced its co-establishment of the Oxford University Blockchain Research Center (Hainan) with the Blockchain Research Institute of Oxford University.
The project, based at the Hainan Resort Software Community (RSC), includes a blockchain research institute. The zone has been jointly established by the RSC and England's University College Oxford Blockchain Research Centre. In another collaboration, with Beijing's Renmin University, RSC is expected to also launch its own blockchain innovation center.
The overall goals are to attract top blockchain talents from around the world, form a series of standard intellectual property rights and explore the application of blockchain in areas such as cross-border trade, inclusive finance and credit rating, as well as deepen ties with top research and development institutes across the globe.
The expectation is that international talent will be attracted to Hainan to work in the new industry and bring the island to the forefront of blockchain innovation. It is anticipated that the Hainan Blockchain Zone will be able to introduce preferential industrial policies and support policies and provide a suitable platform for the sustainable development of Hainan's blockchain industry.