Guangdong win inaugural Greater Bay Area junior golf event
[Dongguan, China – 1 June 2018] Guangdong emerged victorious in the first ever Greater Bay Area Junior Golf Tournament, which featured 12 teams from nine cities across Guangdong, Hong Kong and Macau in southern China.
A total of 63 junior golfers competed over two days on the Leadbetter Course at Mission Hills Dongguan, with Kuang Yang, Chen Yulin and Xiong Tianyi making up the winning team.  Shenzhen finished in second place behind Guangdong, with Guangzhou in third.
Teams of boys and girls from Hong Kong and Macau were also in action in the inaugural Greater Bay Area Junior Golf Tournament, co-hosted by the Guangdong Provincial Sports Bureau, the Guangdong Golf Association (GDGA) and the Hong Kong Golf Association (HKGA).  The event was co-organized by the Macau Golf Association and supported by Mission Hills Group.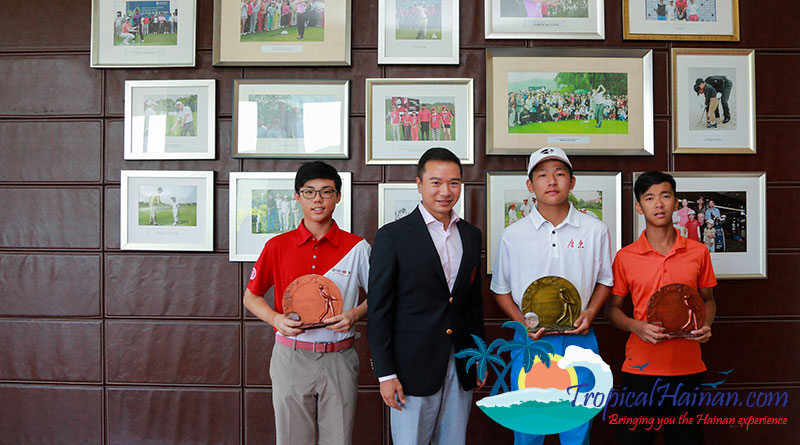 Tenniel Chu, President of the GDGA and Group Vice Chairman of Mission Hills said: "This inaugural event is an important step in the continued development of golf in the Greater Bay Area, but also to foster cultural exchange between young people across this influential area of southern China."
Other leaders to attend the event included Yuan Weimin, former Director of the General Administration of Sport of China and former President of the China Golf Association (CGA); Xu Deli, Advisor to the CGA and former President of the GDGA; Danny Lai, Chief Executive Officer of the HKGA; and Feng Xiong, Vice President and Secretary General of the GDGA and Director of the Guangdong Golf Sports Center.
Photos – Tenniel Chu of Mission Hills Group and Xu Deli of the China Golf Association (center left and right) are joined by players and officials at the inaugural Greater Bay Area Junior Golf Tournament held at the Mission Hills resort in Dongguan, China.