Hainan Island News Roundup April 2016
Hainan Plans to Boost its MICE Industry to a 40 Billion Scale in Five Years
In the next five years, Hainan is to boost its MICE industry by giving priority to holding conferences and incorporating exhibition, training and related activities. Hainan will devote major efforts to incentives, introducing international conferences or hosting large companies' annual meetings, as well as cultivating a series of exhibitions that are international, professional and brand recognizable. The MICE industry is projected to receive up to 40 billion yuan by 2020, making Hainan an international conference destination and the preeminent convention center of China.
Haikou-Indonesia Foreign Trade Shipping Line Opens
A logistics company recently set up at Haikou Harbor indicates a new foreign trade connection with the opening of a shipping line serving Haikou-Indonesia-Vietnam, reported a manager at Hainan Harbor & Shipping Holding Co. Ltd. 
The newly opened line sails twice a month. It is learned that before this line opened, cargo exported to Indonesia from Haikou had to be trans-shipped in Hong Kong and Singapore and then barged to ports in Indonesia, which was far from convenient. Following the opening of the new line, ores and timber from Indonesia can be directly imported into Haikou.
Haikou's Air Quality Ranks No.1 Again
On April 18, the Ministry of Environmental Protection released the urban air quality status of 74 key cities in March and the first quarter, Haikou City was ranked first. In January and February, Haikou's air quality ranked first and third respectively.
During January to March, there were 88 valid monitoring days of Haikou's ambient air quality, according to "Ambient Air Quality Standard" (GB3095-2012). 62 days reached "excellent", 23 days "good", hence 96.6% days were recorded as equal to good or above.
Hainan and South Moravia Establish Sisterhood Relationship
Liu Cigui, Governor of Hainan Province, China and Michal Hasek, governor of the South Moravian Region, Czech Republic, signed an agreement on the establishment of sisterhood relationship, making South Moravia the 27th sister region, province or state relationship of Hainan province.
South Moravia is located in the southeast of the Czech Republic, with well-developed industry and agriculture. The region has attached great importance to the construction of research centers and R&D institutions in recent years, and as a result, its R&D capacity is the best in the Czech Republic, attracting a lot of investment. And the wine there is very good, enjoying a global reputation. Brno, the capital of the region, is the second largest city in the Czech Republic.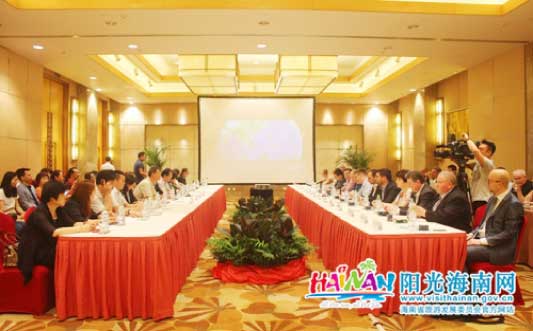 Hainan Fish Exported to Japan
On March 11th, a fully loaded ship of young Zhangxiong fish departed Hainan for Japan, marking the beginning of a new chapter in the export of Hainan's fish. Given the current exchange rate and market price, this first batch is expected to provide revenue of US $1,125,000.
Sanya is an important national base for Zhangxiong fish exports. The fantastic climate and water quality support excellent fish growth. Each March to May is the golden period for Zhangxiong fish export to Japan's Yuhe island and Deer island. As a main fresh food export bringing profit to Hainan, young Zhangxiong fish are forecast to make more than $10 million over the year.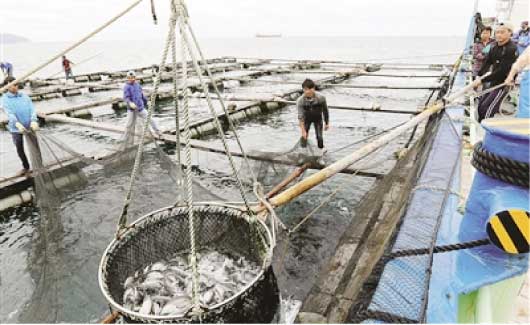 Boao Forum for Asia Annual Conference 2016 Opens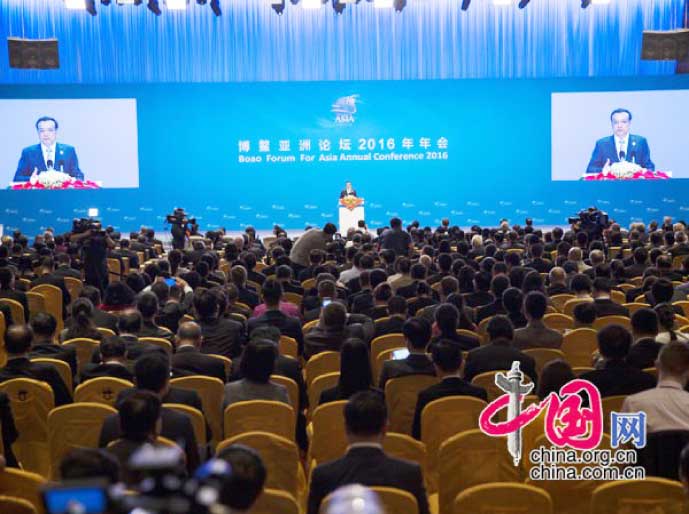 The Boao Forum for Asia Annual Conference 2016 was held in Boao, Hainan, March 22 to 25. Leaders from 12 countries were amongst nearly 2,000 delegates who joined 83 discussions in sub-forums, roundtables, themed meals, and entrepreneurial dialogues, with the theme "Asia's New Future: New Energy and New Vision".
Premier Li Keqiang attended the conference and delivered the keynote speech on 24, March. The leaders who were invited to attend the conference are leaders to attend the first Lancang - Mekong Cooperation leaders' meeting, Nepal Prime Minister Oli, Lithuanian Prime Minister Butkevicius, Belgian Prime Minister Michel, Vice-President of Indonesia Kara, Deputy Prime Minister Yoo Il Ho, and Russian Deputy Prime Minister Devorko Abramovich.
China Launches a Sounding Rocket in Hainan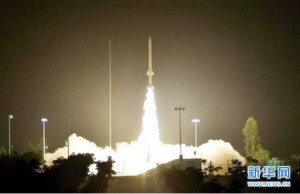 The space science center of CAS launched a Kunpeng-1B863 rocket from Danzhou on April 27th. This is the second launch after the resumption of rocket exploration under the auspices of the Ziwu project. The mission successfully gained data about the magnetic field and electro-magnetic radiation significant in the study of the space environment and electro-magnetic ionization at low latitudes.
According to the mission commander for experiments, the dean of space center Wu ji, an exploratory probe rocket is an efficient tool for space inspection and science experiments. Compared with other methods, the cost is lower, construction time shorter and launch preparation time is shorter. Using a probe rocket allows for sampling and data recording of various scientific detections.
Seven Local Schools to Accept International Students

On March 25, the provincial Education Bureau released the names of 7 high schools that are qualified to admit foreign students.  These are Hainan Middle School, Hainan Overseas Chinese Middle School, Hainan Normal University Affiliated Middle School, Haikou Jingshan School, the National Science Park of Hainan Experimental School, Haikou Middle School and Haikou Changmao Garden School.
Dutch Students Make Documentaries in Hainan
About March 3rd in a Li village, the daily routine of the actors in Hainanese opera, the dreams of clerks working in a scenic spot... These are some of the themes of documentaries made by five Dutch students in Hainan. In the afternoon of April 23rd, the "Watch China - Youth Film Project" was successfully held at Hainan University. The Dutch students' documentaries were amongst the films shown, receiving various praise and accolades.  The "Watch China - Youth Film Project" has been held annually since 2011, including work from university students from 25 countries.
The project has showcased plenty of documentaries about Chinese culture as seen through the eyes of foreign students, and it enhances the promotion of Chinese culture. The five students from the Netherlands, from Utrecht University's film-making major, in company with 13 students from Hainan University's Humanities College, travelled to Lingshu, Dongfang, Chengmai and Baisha to film documentaries with their teachers. They overcame traffic difficulties and language barriers to produce their films, promoting and advertising Li, Miao and Han cultures to the world from their own perspective in the process.
 Translated by Jiang Tuanji, Zeng Hanxiang/ Modified by  Glyn David
Haikou Builds a New Business Circle
In the afternoon of February 29th the Haikou Wanda Square project between Yehai avenue and Haiyu road began construction. This project is a crucial construction objective in Hainan. The central facilities cover an area of some 145000 square meters and include a huge shopping mall, an enormous recreation center, fashionable boutique shopping, SOHO apartments, high-end accommodations and more.
The project integrates multiple businesses, such as shopping, entertainment, culture, food and beverage and hotels. The whole development area expands to some 530,000 square meters, with an investment of close-on 7 billion RMB.
An International Yachting Race Held in Haikou
The "Aloha Cup" 7th Hainan International Yachting Roundabout Race  East Rally had a stage finishing line in Haikou, with a yacht named Xiaoyu taking the pennant for being first to cross into Xiuying port.
The next day, the 12 yachts taking part continued to compete in the East Rally Roundabout Race, arriving back in Sanya on April 20.
The first three placed yachts were the Haikou-based Xiaoyu, the Lingshui-based Jiou and the Sanya-based Zhongfan.
Leaders of Taiwan's Minority Ethnicities Celebrated "March 3" with Hainan's Miao Ethnicity
On April 9, 40 people from Taiwan's Paiwan, Amei and Taiya ethnic groups were invited to celebrate the traditional Li and Miao festival of "March 3" in Hainan Baisha Li Autonomous County.
During the "March 3" festival, Hainan Baisha Li Autonomous County, Qiongzhong Miao Autonomous County and Wuzhishan city celebrate with various activities.
Tencent Build a 10,000m2 "Internet + Ecological Village" in Hainan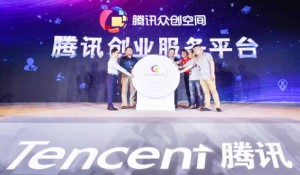 On May 24,2016 the Tencent Spring News conference was held in Hainan. Hou Xiaonan from Tencent and general manager Yang Chunzhi from Hainan's leading eco-zone jointly announced the detailed launch of the Tencent "Internet + Ecological Village ",and disclosed the layout plan.
Since 2014, Tencent has made Hainan a focal point. In November,2014,the Tencent Creation Zone opened in Hainan's leading eco-zone, the Hainan Ecological Software Park.  The first "Free Internet Start-up Business Age" attracted 143 enterprises in just 2 days. In November,2015, Tencent signed a contract with Hainan Ecological Software Park, and announced the creation of the "Internet + Ecological Village ".
The World Chinese Golf Alliance (WCGA) Established at a Ceremony in Haikou
On 16th of April, the WCGA, a joint venture between the Kay Capital Management Group and Haikou Mission Hills, held its launch ceremony at Haikou Mission Hills, attended by representatives of more than 150 Chinese golf teams and golfers. More than 200 teams are registered in the alliance, from provinces and cities nationwide, including Beijing, Guangdong, Liaoning, Fujian, Shanghai, Yunnan, Sichuan as well as overseas Chinese from countries all over the world.
Haikou Establishes a Friendly Exchanges City Relationship with Lahore of Pakistan
On April 29, representatives of Haikou signed documents on the establishment of a friendly exchanges city relationship with their counterparts from Lahore of Pakistan. Mr. Yu Boren, the Chinese Consul General in Lahore attended the signing ceremony.  Located in northeastern Pakistan and boasting a history of over 2000 years, Lahore was once the capital of the Mughal Empire. Assuming the titles of garden city and the second largest city of Pakistan, Lahore is the capital of the Punjab, the richest province in Pakistan with a population of 10 million. Serving as an economic, cultural and transportation hub, Lahore is also called the heart of Pakistan.
2016 China Dragon Boat Competition Held in Wanning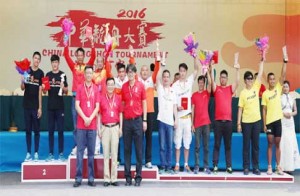 The 2016 China Dragon Boats Competition took place in Wanning on April 9.  36 dragon boat teams competed at the event, with Chinese teams securing 3 gold medals. The women's 100m winner was the South China Sea team, and Liaocheng University came first in the women's 200m and men's 500m races in the youth group. This year saw the first entry by teams from the Philippines, who secured fourth place in the men's 100m and qualified for the 200m.
Hainan Airlines Opens the First Direct Flight from Beijing to Tel Aviv
At around 07:20 local time on May 28, Hainan Airlines flight HU7957 from Beijing landed at Ben Gurion Airport, Tel Aviv, Israel. Hainan Airlines is the first direct service from China to Israel.  General Manager of Hainan Airline's Tel Aviv offices, Mr Li Liang, informs us that the new wide-bodied service will operate three times a week, on Tuesday, Thursday and Sunday.
The president of Hainan Airlines added when interviewed that Israel is a important country in "One Belt One Road", and this new flight will promote the development of the "One Belt One Road" initiative.
Building Hainan Demonstration Province Started in March
On March 26,  a "whole Hainan and media blend" summit was held in Boao. National level think tank experts, representative heads of China whole area tourism demonstration units, some leaders from national media outlets and national provincial level party newspapers discussed matters revolving around "building and corporation of whole area - how media power can participate in and promote building of whole area". At the meeting, the Party Secretary, Director Sun Ying from Hainan tourism development committee and the secretary of the Party committee from Hainan Daily Newspaper Group all delivered speeches.
Source:Hainan Daily/Haikou Evening News/hinews.cn
Translated by Zhou Zhonghui,Yun Fei,Guo Zeyan/ Modified by  Glyn David
Several Thousand Russian Visitors per Month Received in Haikou
In the morning of 5th of May, a chartered flight with 245 Russian tourists from Russian Vnukovo airport landed at Haikou Meilan Airport, just one of the charter flights recently restarted by the Russian RussTour Company and Beijing Longxing Yuanda International Travel Agency. The flights will bring two thousands visitors directly from Moscow to Haikou every month.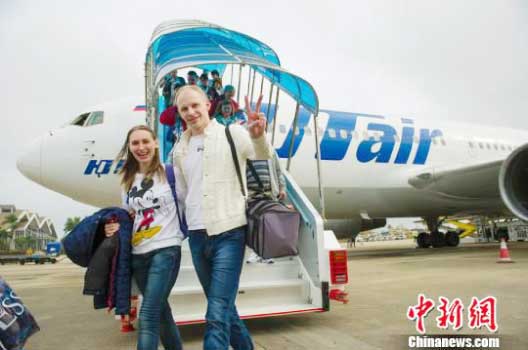 Flight Lands at Bo'ao Airport
A Hainan Airlines Boeing 737-800 landed safely at the new Hainan Boao Airport on March 3rd, a timely arrival as Boao prepared for the annual Boao Forum for Asia conference. Following safety and quality inspections and the receipt of its operating license, official operations began on March 8th.
Boao airport is an earmarked project for the Boao Forum for Asia. It is located in Zhongyuan town in Qionghai, 15km from the Boao international meeting center. It covers over 1,821,333 square meters, and represents an investment of over 1 billion RMB. The project was started in May 2015, and began trial operations by the middle of February this year.
According to the airport's construction manager, Hu Wentai, Boao airport has a runway length of 2600 meters and width 45 meters, 2 parallel taxiways, 25 aircraft parking stands, an 85,000 square meters apron and a 9,900 square meters terminal building. Flight operations are cleared to level 4C presently, which means operations up to Airbus A320 or Boeing 737 size aircraft. It is planned to upgrade this to a 4E rating in the future, which means Boao will be able to accommodate B747 size aircraft.