Local hiking group explores Hainan Island – Join them!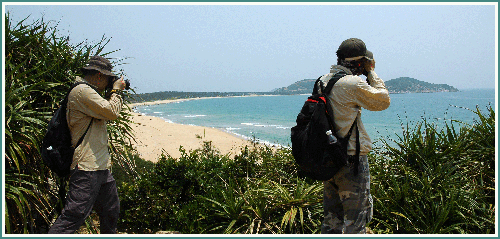 7:30 Saturday morning and as the sun rose slowly over the roof tops, the donkeys, laden down with backpacks began arriving in ones and twos at their usual meeting place eager to begin another day's adventure. The donkeys in question were of course not real donkeys but Haikou residents, some of whom have been meeting regularly for close to 5 years to take part in weekly hikes through some of Hainan's less well known but still spectacular beauty spots. At 8 o'clock everybody climbed onboard a rickety old bus fitted with too many seats packed so close together that we felt like the human equivalent of sardines in a can. 20 minutes later, with everyone seated and the gear stowed we were off on our journey to Wanning and our day's hike. Everybody was in a good mood and onboard games and activities kept everyone in good spirits and our minds off the cramped conditions.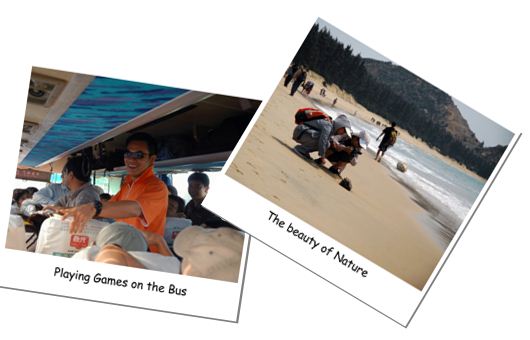 Two and a half hours and two toilet stops later we arrived at our destination, a magnificent unspoiled beach just outside Wanning City, and we had it all to ourselves. For many, the hikes are just as much about photographing the landscape as the walk itself, and nature didn't let us down. The beach was beautiful and the view was equally as impressive.  The best however, was yet to come. At the end of the beach the hikers made their way onto the rocks and we began to climb. The going became more difficult the higher we climbed as large rocks gave way to loose stone and gravel beneath our feet. 40 minutes later, after a few slips and bumps we finally reached the summit and a fantastic view of the coastline and islands spread out below us. Cameras clicked and whirred as photographers recorded the moment while others sat back content to relax and take it all in before they began the climb back down.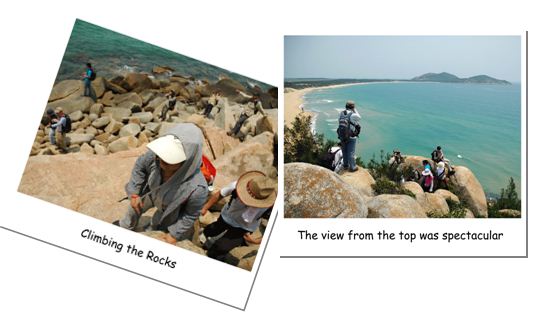 We stopped for lunch in a small grove which gave us shade from the noon sun and gave me a chance to meet out intrepid leader. His name was "Sunflower", and he has been hiking all over Hainan for about 5 years. "On these hikes", he told me, "everybody uses a nick name and nobody talks about work or how much money they earn." "Everybody works together and helps one other and we leave the countryside exactly as we found it, the only things we leave behind us are our footprints".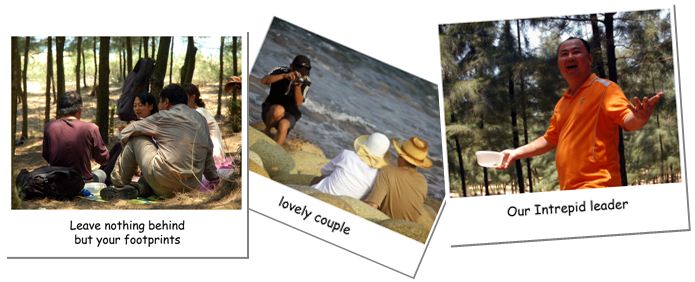 We rested under the shade of the trees for close to 2 hours before continuing on the last and most impressive leg of our journey. We continued on up the coastline until we reached a wonderful secluded little bay which was to be the final destination of our day's hike.  As we stood overlooking the bay, large, smooth, egg shaped rocks of various sizes stretched out before us down to the water's edge.  The hikers lost no time as they clamoured out over the rocks, cameras in hand eager to get the perfect shot. It was the ideal place to finish the hike and we sat there, nestled between the rocks for the longest time chatting while others snoozed or explored the bay before we finally and reluctantly made our way back to the bus and our journey home. On our way back we stopped at a restaurant in Qionghai which served us a local speciality of Jiazi duck, boiled and served with a dip of sesame oil, finely chopped ginger and garlic with a splash of vinegar all washed down with a couple of cold beers. A perfect ending to a perfect day. We arrived back in Haikou at 9:30 pm tired, but happy. At the beginning of the day we paid 100 Yuan per person, as the hikes are not for profit however any money that is not spent is returned at the end of the trip. Altogether the bus, the trip and the meal cost less than 70 Yuan, making new friends and spending time in good company, priceless. If you wish to take part in the hikes you can contact Sunflower at: QQ: 779694722 or tel: 13307658913