Marriott International join hands with BMW China to elevate green travel experience in Hainan
Press Release: Sanya, China, 25 March 2019 — Marriott International Inc. (NASDAQ: MAR) today announced to strengthen the strategic cooperation initiative with BMW China in Greater China market. As one of the first batch of enterprises to make green commitments following the releasing of the Hainan New Energy Vehicles Development Plan, Marriott International will gradually deploy 100 BMW i3 electric cars in total to all properties in Hainan Province and facilitate the affiliate charging piles from this March. This collaboration with BMW China aims to enhance the green travel experience while providing more added value products and experiences to hotel guests. It's another meaningful practice to improve guest experiences by taking advantage of and strengthen the mutual relationship since 2016 when the cooperation framework agreement signed between the two companies. Meanwhile, it also underlines Marriott International's commitment to sustainable development.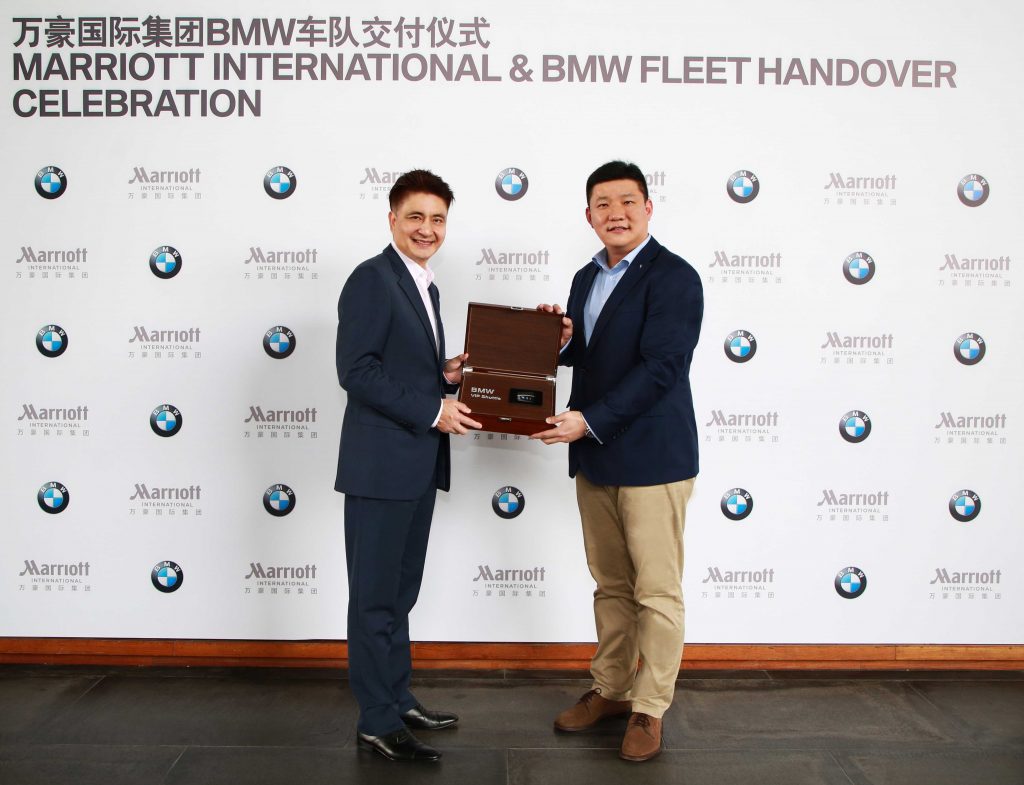 According to Hainan Government[1], by the end of 2020, the province aims to have more than 30,000 new energy vehicles (NEVs) on its roads with more than 28,000 electric charging piles; Hainan will ban the sale of gasoline-fueled vehicles throughout the island by 2030 and uplift the clean energy usage level of this province to a leading position across the world. Since Marriott International joined hands with BMW China and launched the strategic cooperation of green travel and energy saving last year, 9 JW Marriott Hotels in 6 cities of China have been fully employed with NEVs. As the response to NEVs promotion plan of Hainan, the two parties will continue to promote environmental cooperation this year, and extend the scope of cooperation by employing NEVs in all Marriott International's wholly-owned hotels in Hainan Province for concierge use, which will profoundly combine sustainable development concept and hotel service goal. Marriott Hotels around Taihu Lake area in Suzhou will thoroughly implement the NEVs promotion plan in the next step.
"Marriott International is steadfastly committed to its "Serve 360: Doing Good in Every Direction" in all aspects of our business, as well as striving to explore better ways of travel environment-friendly." said Henry Lee, Chief Operating Officer and Managing Director of Marriott International, Greater China. "We continuously pursue a closer cooperation with BMW China since 2016, by emphasizing our respective strengths, we are offering much more added value products and services, also established a remarkable collaboration foundation in Green Travel area. The NEVs will provide more choices of green travel for today's environmentally conscious travelers to explore destinations. In future, Marriott International will keep enhancing the environmental-friendly experiences in Greater China through various ways."
Dr. Michael Liu, President of BMW China said: "It is a great pleasure to witness the cooperation between BMW China and Marriott International. Both companies attach great importance to environmental protection and sustainable development. The delivery of BMW i3 as concierge fleet to provide environment-friendly travel services is a perfect example of deepening cooperation between the two sides and actively promoting innovative low-carbon travel using our core resources."
Marriott International has always advocated for corporate social responsibility and supported sustainable strategies in its business development and governance. The company's corporate initiatives extend to the communities around its properties across the world. These initiatives include efforts to protect valuable natural resources and preserve the environment for future generations. Back in 2017, Marriott International set one of the most challenging environmental sustainability and social impact goals in its corporate history. By 2025, it aims to reduce the amount of waste its hotels generate by 45 percent, and to select suppliers based on their own corporate environmental policies. The cooperation is a perfect reflection of the two enterprises' environmental protection concepts and the extension of sustainable development strategy business.
The collaboration between Marriott International and BMW China underlines the hotel group's continued commitment to its corporate social responsibility in China and around the world. It is a positive step towards preserving a green and livable planet for the enjoyment of future generations of travelers and guests around the world.