Miss world 2015, Hainan, Sanya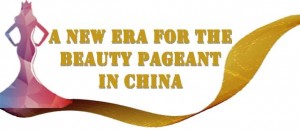 The connection between Miss World Finals and Sanya City dates back to 12 years ago. On October 26th, 2002, a contract to jointly host the 2003 Miss World Final was officially signed by Chen Sunwen, former mayor of Sanya City, and Mrs. Molly, President of the Miss World Organization headquartered in the United Kingdom. Sanya had been preparing this significant event for two years. Li Bing, winner of New Silk Road Miss Sanya in 2001, participated in the 51st Miss World contest in South Africa on behalf of Sanya and won fourth place. Hainan girl Wu Yingna won fifth place and the title of Beauty Queen of Asia and Oceania in London on behalf of China in 2002. This got the attention of Hainan Province to beauty events, which laid the foundation for hosting Miss World Finals in Sanya.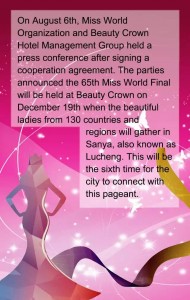 As the 2003 Miss World Final was successfully held in Sanya, the door of this mysterious oriental country was opened to the world. This event also got the highest click-through rate on websites at home and abroad at that time. In the following eight years, Miss World Finals were held in Sanya five times, respectively in years 2004, 2005, 2007 and 2010, which also contributed 30% to 40% of the tourism growth for this city.
Starting from the Miss World event, Sanya has placed emphasis on developing her "Beauty Economy" and accelerated the construction of the "International Famous Coastal Tourism City". Many international major events have been held in Sanya, such as Tour of Hainan International Road Cycling Race, Volvo Ocean Race, the World's Strongest Man, and Ladies European Tour Sanya Open.
During these twelve years, Sanya has greatly improved the urban infrastructure construction and reception capacity by protecting and taking advantage of her unique natural ecological resources. Sanya Bay, Yalong Bay and Haitang Bay are the premier coastal destinations for domestic travel. Haitang Bay International Shopping Mall, the world's largest singular duty-free complex, has become a shopping paradise for tourists at home and abroad. Sanya Phoenix Island International Cruise Terminal will also become one of the biggest and best cruise home ports in Asia.
Written by Hu Yongjun
Translated by JingJing
Presented by Sanya Daily New Media