Bars in Haikou: Nearby Evergreen Park
Near By Evergreen Park
Haikou's most famous attraction is probably Evergreen park. However, the surronding area has plenty of places to keep the tourist entertained. Night clubs, tropical bars and German themed bars are all near by. They usually open from around 8 in the evening and stay open all night.
German Beer House
This bar has a unique feel to it. It's wooden furniture, leather seating and various western decorations give it a genuine European atmosphere. The staff are always friendly and keen to converse with foreigners. They will even take song requests to play via the bar's computer.
The selection of beer on offer is impressive as well. Foreign beers such as Erdinger are available as well as domestic beverages too. Red wine is on offer, along with some spirits. Baileys, often so expensive back home, is around 30 yuan for a small glass. Snacks such as nuts, barbecued beef and various are there for customers to enjoy too.
The Mansion
Night clubs in China can often be tacky, over priced and just feeling a little fake. The Mansion doesn't have this problem however. Foreign DJs regularly take charge of the night's music and always do their best to get everyone dancing.
The Mansion is ok price wise and has a decent drinks selection but the music and genuine night club experience is what keeps people going there. It has become a popular spot for foreigners and you can expect to find a lot of other expats there on any given night of the week.
German Beer Cafe
This place is about as quiet as bars in China can get. A small place comprised of two sets of couches and tiny tables. The staff are always very polite and friendly. Prices are a little expensive and the selection is mainly beer, as the name suggests. Other beverages are available but aren't cheap.
German Beer Cafe also has an outdoor seating area for those who want to feel the evening breeze whilst enjoying a drink and a chat.
Realm
A large bar located inside the evergreen park. This place doesn't try to paint itself in a foreign style, it very much gives the customer a tropical vibe. It's wooden hut style design with it's palm trees remind you that you're in the Chinese Hawaii. The beer and other drinks are pricey however the surrondings make it feel worth it. And then there's the food. Not full course meals but small barbecued snacks and top quality sea food are on the menu. The oysters, smothered in garlic and spices are a must try for anyone who enjoys good sea food.
How to get there
The Realm is located beside the West Gate of Evergreen park. From the park's main gate on bin hai avenue cross the street using the bridge. Walk down along bin hai avenue, there should be hotels on your left and the road to your right. Head in this direction until you come to the junction, take a left here and stop at the next junction. Turn right and walk straight, this will take you onto jin mao road. The German Beer Cafe, The Mansion and The German Beer House are all on this street next to each other.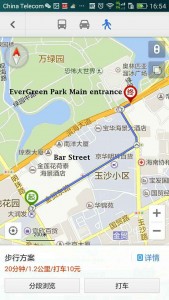 Bars in Haikou Nearby Evergreen Park