免费向世界推荐您的业务 Promoting business, culture & tourism on Hainan Island
tropicalhainan.com is a Chinese – Irish owned website based in Haikou that is dedicated to promoting tourism, business and culture on Hainan Island to the world. We are still quite small but growing day by day, here are the statistics for the number of page views we've had for the month of August 2015.
tropicalhainan.com 是地处海口,由海南人与爱尔兰人共同合作,致力于向世界,促进海南岛旅游、商业和文化发展的一个网站。我们的网站虽然还比较小但在与日俱增,这是2015年8月统计页面浏览量的数据。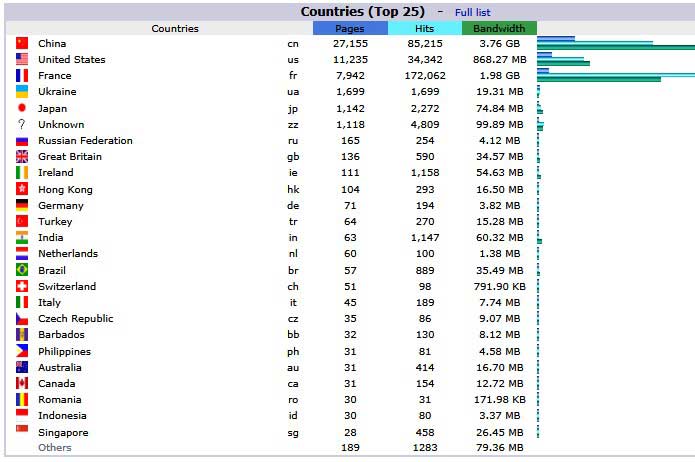 For the month of August we've had a total of around 50,000 page views from countries all across the world including China 27,000, America 11,000, France 8,000 and many other European countries.
仅在 8月份,我们已经总共有来自世界各国各地约 50,000 页面对的浏览量,包括中国 27,000, 美国 11,000, 法国 8, 000, 以及其他欧洲国家。
Each month we will promote one local Hainan business to the world for free. Just add us to your wechat and email your details to patrick@tropicalhainan.com. English preferred but we will accept Chinese.
每个月我们将免费向世界促进一个海南本地业务。只需添加我们 wechat 并将您的细节发到我们的电子邮件。
There are a number of conditions,
You must be in Hainan.
Your organization must present a positive image of Hainan to the world,
We will only promote businesses and organizations that offer good quality goods or services.
条件如下: 1. 您一定是在海南。 2. 您的组织必须向世界呈现出海南的正面形象。 3. 我们只推广能提供高质量商品和服务的业务和组织。
Due to the number of responses we will not be able to answer every email sent only those selected for promotion.
鉴于回复的数量,我们将只回复被推广的用户,而非每一封邮件,敬请谅解。
No member of tropicalHainan.com is allowed to accept payment in cash, goods or services for this promotion. Failure to comply with this will result in their instant termination from tropicalhainan.com.
任何 tropicalhainan.com 的成员不得以推广名誉接受任何形式的现金付款,商品或服务。未能遵守此条款者将即时解约于 tropicalhainan.com。
tropicalhainan.com, Promoting Hainan Island to the world.
tropicalhainan.com, 将海南岛推向世界。
Click on the Qr code below to add TropicalHainan.com to your we-chat