2017 tropicalhainan.com top 5 recommended Hotels in Sanya, Hainan Island
At tropicalhainan.com we take our hotel recommendations very seriously. We receive no payment or freebies for including establishments on our list. Over the next few weeks we will expand this list to include the top 10 hotels, so for now, here's the top 5 hotels in Sanya.
   # 1 Mandarin Oriental Sanya, Hainan
Location
The hotel is set in 12 hectares of tropical gardens on the southern tip of the island, Sanya. It's in close proximity to many world class golf courses and cultural attractions. It's within easy reach of Sanya's major shopping area and only 20 minutes to Sanya Phoenix International Airport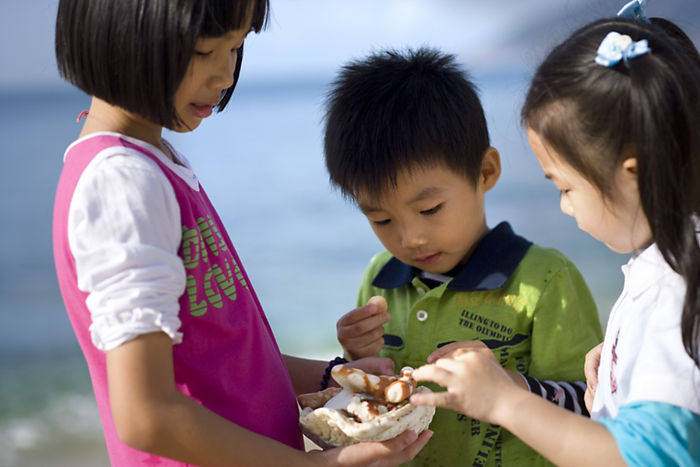 Family friendly
The hotel is well known locally for being family friendly, providing baby cots, highchairs, baby baths, bottles and sterilisers, milk warmers, buggies and children's car seats. They also have babysitting services, movie nights, children's clubs and children's menus.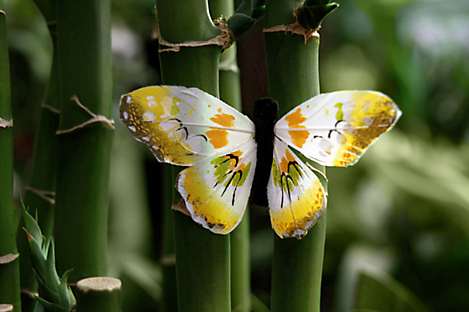 Things to do
There are 3 outdoor swimming pools and a private beach with coral reef. For children there's the Coco Kids' club with complimentary daily activities, recreation centre with video games, pool table and table tennis. For the adventurous there's water sports and  cooking classes for both adults and children. All these hotels are in close proximity to 10 world class golf courses located at most an hour from the resorts. To really relax you can learn Tai Chi and Qi Gong from a Shaolin Kung Fu Master.
   # 2 Park Hyatt Sanya, Hainan
Location
Park Hyatt, Sunny Bay Resort is located on a private inlet named Sunny Bay, 5 kilometres from Yalong Bay. The resort is a 40 km / 40 minute drive from Sanya Phoenix international airport.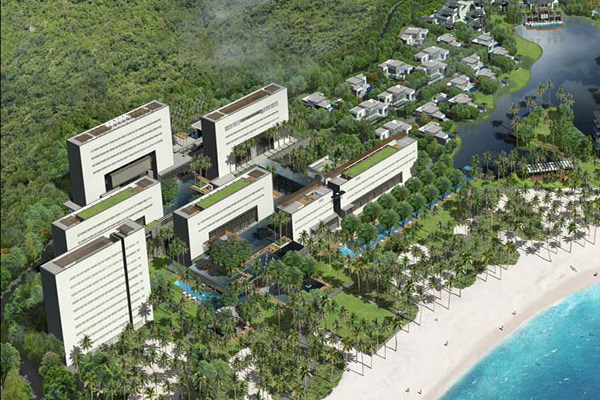 Noteable features
The hotel has a Library for personal time or social gathering, where guests can read and relax throughout the day & evening
There's a terrace where cocktails, premium whiskies, cigars & snacks are served in an elegant indoor & outdoor setting with spectacular views of Sunny bay
24-hour in-room dining offering a healthy balance menu, breakfast & Western & Chinese comfort dishes and wide ranging selection of beverages.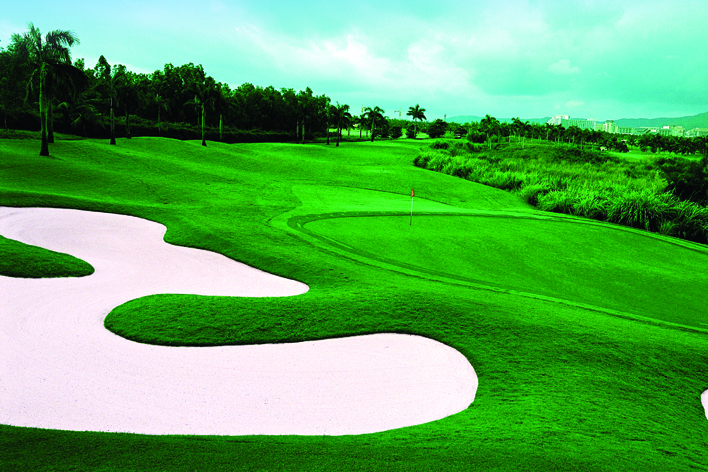 Things to do
Points of interest nearby include again, a number of world class golf courses, spas, swimming pools and fitness centres. Butterfly valley, Nanshan Temple, Yazhou city ruins and Ganzaling nature reserve are worth a visit. 
   # 3 Anantara Sanya Resort, Hainan
Location
Located on Luling Road in Sanya, the southernmost city in the Hainan province of China, Anantara Sanya Resort is only 25 minutes from Sanya Pheonix International Airport, and 15 minutes from the heart of Sanya city.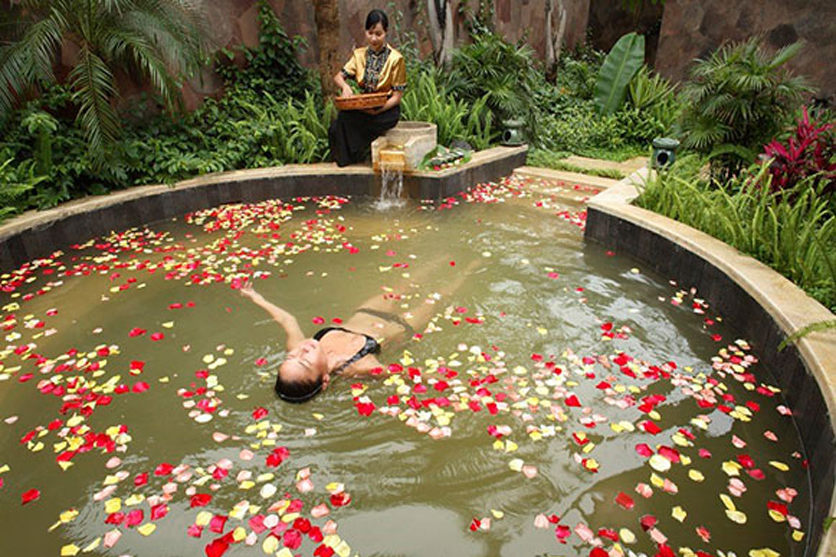 Featured activities
Nantian Hot Springs: Nantian natural hot springs are located 20 minutes from downtown Sanya and are the perfect location for healing and relaxation.
Diving: At the time of writing, diving in Sanya is not up to western standards and not recommended.
Golf: you can read more about golf in Sanya here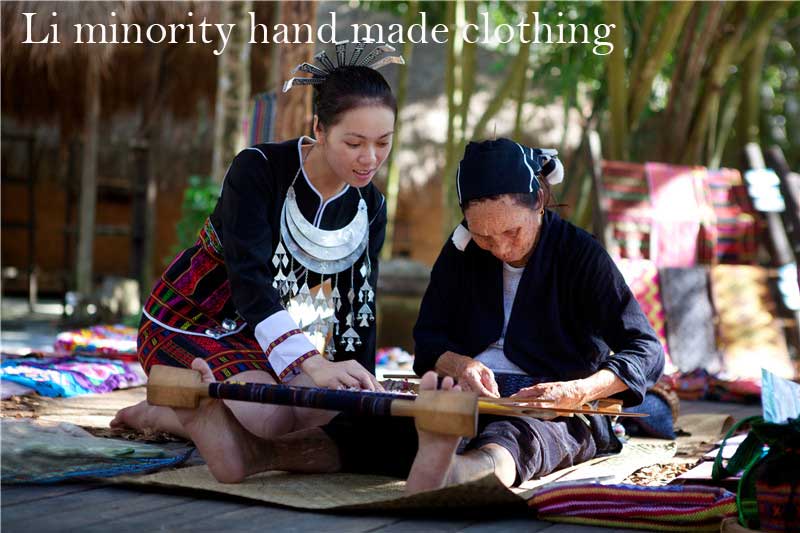 Things to do
Hainan Yanoda Rainforest: day trips to this primal tropical rainforest are available; it's a lush forest with an abundance of natural flora and fauna, cascading waterfalls and definitely worth an visit. trips are also organized to local Li villages, li cloth is famous worldwide and UNESCO has added Li minority weaving and embroidery to the list of Intangible heritages in need of urgent safeguarding. you can read more about Li Minority here
Location
Located on Luling Road in Sanya, the southernmost city in the Hainan province of China, Anantara Sanya Resort is only 25 minutes from Sanya Pheonix International Airport, and 15 minutes from the heart of Sanya city.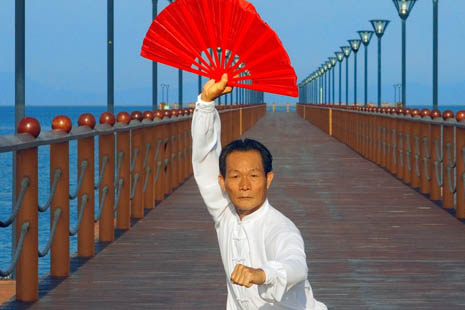 Featured activities
Tai Chi classes
Enjoy family sessions of Tai Chi, this centuries-old Chinese martial art is an offshoot of Qigong, an ancient oriental discipline rooted in traditional Chinese medicine practices. Banyan Tree Sanya's Tai Chi classes run on Saturdays from 5.30pm to 6.30pm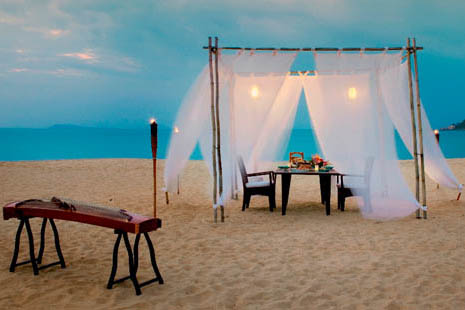 Things to do
Relax on  the the resort's private beach or spend the day in drowsy leisure within the sanctuary of a quiet cabana.
Three different culinary experiences are on offer in the hotel, "The Legend of Lovers' Bay", "Under the Banyan Tree" and "Sunset Seduction at the Veranda" 
Visit Yalang Bay Tropical Paradise Forest Park, 25-kilometres from Sanya, the park spans 1,506 hectares and is rich in cultural and natural resources to make for a fascinating day of exploration.
   # 5 THE RITZ-CARLTON SANYA, YALONG BAY
Location
The Ritz-Carlton Sanya, Yalong Bay
Yalong Bay National Resort District, Sanya, Hainan 572000, China Featured activities
For parents wanting a bit of quiet time, Kids' Passport is a great activity which gives children a variety of tasks to complete at the hotel. Kids will receive their certificate once they completed all the missions in Kids' passport.
There's a diverse collection of activities based on the four pillars of the program – water, land, environmental responsibility and culture – kids are introduced to a range of things from coral reefs and rainforests, to recycling and sustainability, storytelling, art and even food.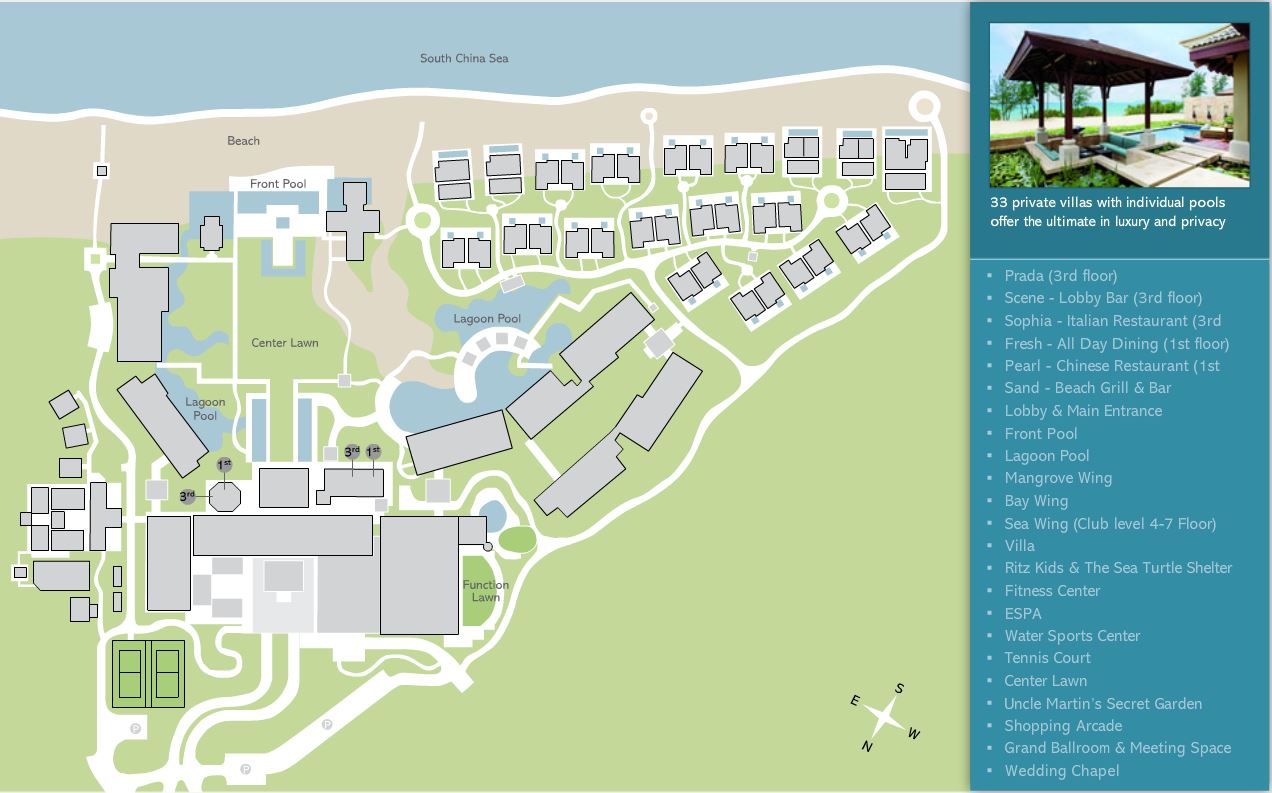 Things to do
The hotel boasts 33 villas all with private pools, there are tennis courts, secret gardens, a shopping arcade, numerous restaurants, a protected mangrove reserve. The hotel even has its own wedding chapel.