Tropical depression to hit coastal areas of Hainan on 12th, bringing 3 days of strong winds and rain
Due to a South China Sea monsoon system and tropical depression, there will be strong rain and winds in Hainan Province from the 13th.
Ships are being asked to return to harbour for shelter and increased resources are being diverted to flooding prevention, and geological disaster prevention in the central mountainous areas.
According to the monitoring system, at present (June 11), there is tropical cloud activity in the central part of the South China Sea and it is moving slowly towards the northwest.
It is expected that it will strengthen to a tropical depression in the southeast of Hainan Island around the 12th, and then continue to move to the Northwest, where it will intensify and strengthen.
It is expected to land on the southeast coastal area of Hainan Island on the 12th, and enter the Beibu Gulf on the 13th.
It is estimated that there will be heavy rain over the whole island from June 11th to 13th, and local heavy rain will occur in the eastern half of the island.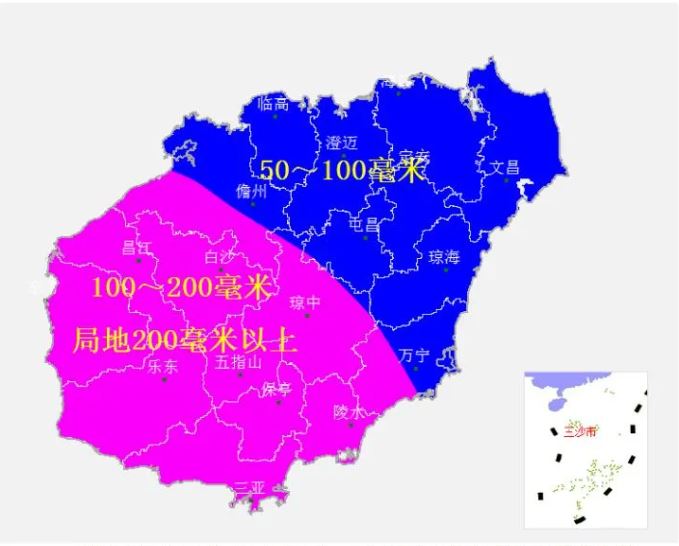 It is estimated that rainfall in Sanya, Lingshui, Baoting, Wuzhishan, Ledong, Dongfang, Changjiang, Baisha and Qiongzhong from 08:00 on June 11 to 08:00 on June 14 will be 100-200 mm, and local rainfall could be more than 200 mm; Danzhou, Lingao, Chengmai, Tunchang, Haikou, Ding'an, Wenchang, Qionghai and Wanning are expecting from 50-100 mm.
In addition, from the night of the 11th to the 13th, there will be gales reaching magnitude 6-7 and gusts of magnitude 8 along the coastal areas around Hainan Island.
If you go travelling around the island this holiday, stay safe and be aware of the possibility of flooding and possible land slides in mountainous areas.
Related article: Hot tips for keeping your doggies cool this summer