Tropical depression to unload heavy rain on Hainan, flooding expected
The tropical depression which formed west of the Philippines will have ideal conditions to further strengthen before reaching Hainan later today
Warm ocean water and low wind shear will allow for gradual strengthening as it moves west-northwestward, however it's expected that the window for strengthening will only last through Wednesday before interaction with land begins to have a negative effect on the storm.
AccuWeather meteorologists expect this tropical depression to strengthen into a tropical storm and be given the name Wipha before the end of the day.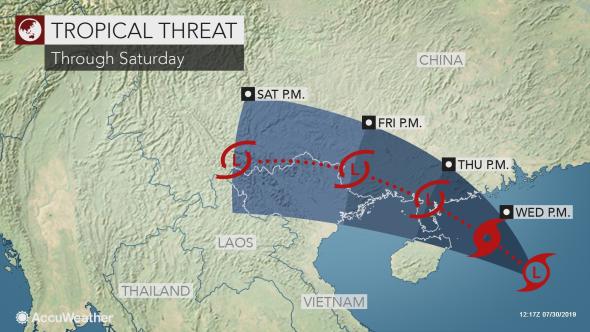 Locations from southeast China into northern Vietnam and northern Laos will need to be on alert for potential flooding downpours and a heightened risk for mudslides. Locations from northern Hainan Island to the Leizhou Peninsula may take a direct hit from this storm tonight or early Thursday morning with a second landfall possible in Guangxi or northern Vietnam.
Heavy rainfall will be the most widespread concern with this tropical threat as downpours can lead to flash flooding and mudslides. Total rainfall of 100-200 mm (4-8 inches) is expected across the region with an AccuWeather Local StormMax™ of 380 mm (15 inches).
Source: acuweather.com