Weather warning, Hainan to see continuous 40℃+ from the 28th
From May 1 to May 24, a total of 13 cities and counties in Hainan experienced high temperatures above 35℃, and the number of consecutive high temperature days in many places have reached or exceeded the local historical extreme values for May.
As of May 24, a total of 5 cities and counties in Hainan were in a state of moderate or severe meteorological drought. It is expected that many places in Hainan will have continuous high temperature weather again from May 28.
According to statistical data from 19 national meteorological observation stations in Hainan, from May 1 to 24, 2021, there was a large-scale, long duration, high-temperature weather system in Hainan.
A total of 13 cities and counties had high temperatures above 35℃, and Chengmai and Ledong had a total of 20 high temperature days.
In Danzhou, Dingan and Lingao, the number of consecutive high temperature days reached 15-16 days, exceeding the local historical extreme value for May, with the longest consecutive high temperature days in Haikou reaching 14 days.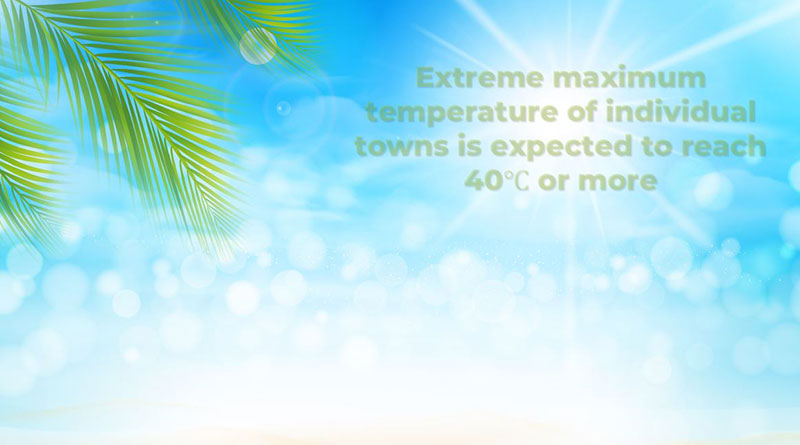 According to the Hainan Provincial Automatic Weather Station, there were 168 towns in 18 cities and counties (except Sansha) experiencing highest temperatures of over 37℃.
Among them, there were a total of 48 towns (districts) in Changjiang, Danzhou, Qiongzhong, Lingao, Ding an, Chengmai, Tunchang, Haikou, Baisha and Dongfang having reached a highest temperature of over 40℃, the highest on May 22 was 44.2C in Qicha Town, Changjiang.
The meteorological drought was affected by continuous high temperatures and less rain than usual in May.
As of May 24, Ledong was in severe drought, Wenchang, Changjiang, Dongfang and Sanya were in moderate drought, Tunchang and Qiongzhong had no meteorological drought, and other cities and counties in the province were in mild meteorological drought.
Weather modification operations as of May 24:
A total of 10 cities and counties in Hainan province implemented cloud-seeding operations on Hainan Island a total of 33 times, with a total of 61 rockets launched and 23 seeding flares.
According to the Hainan Meteorological Observatory, the high temperatures in the province will ease from May 25 to 27.
The highest temperature in the northern, western and central regions will then rise above 37℃ again. Details are as follows:
From May 25 to 27, affected by the southeast airflow, the whole island will be cloudy with showers or thundershowers and local heavy to heavy rain.
From May 28 to June 3, thunderstorms are expected in some areas north of the Wuzhishan area in the afternoon.
The temperature in most areas will increase day by day, with the maximum temperature in most areas continuing above 35℃.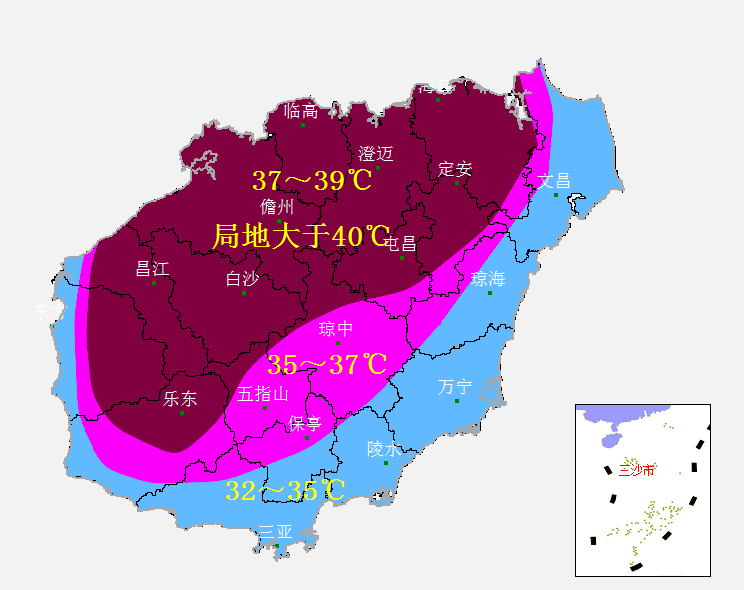 There are 10 cities and counties including Haikou, Chengmai, Lingao, Danzhou, Changjiang, Dongfang, Baisha, Tunchang, Ding an and Ledong which are expected to experience high temperatures of 37 to 39℃, and extreme maximum temperature in some towns will reach over 40℃.
Tropicalhainan.com launched it's official mini programme. Scan / long press the Qr code to keep up to date with news, sports, entertainment, travel, opinion, restaurants / bars, things to do, jobs and much much more.
Related article: How to book an appointment at the Haikou People's Hospital