Which professional services are encouraged in the hainan FTP?
In conjunction with many institutional documents such as the Regulations on Certified Public Accountants and the Regulations on Lawyers in the Hainan Special Economic Zone as well as the Regulations on Diversified Dispute Resolution in Hainan Province, Hainan Free Trade Port has advantages in terms of establishing professional service enterprises, business operations and private practices etc.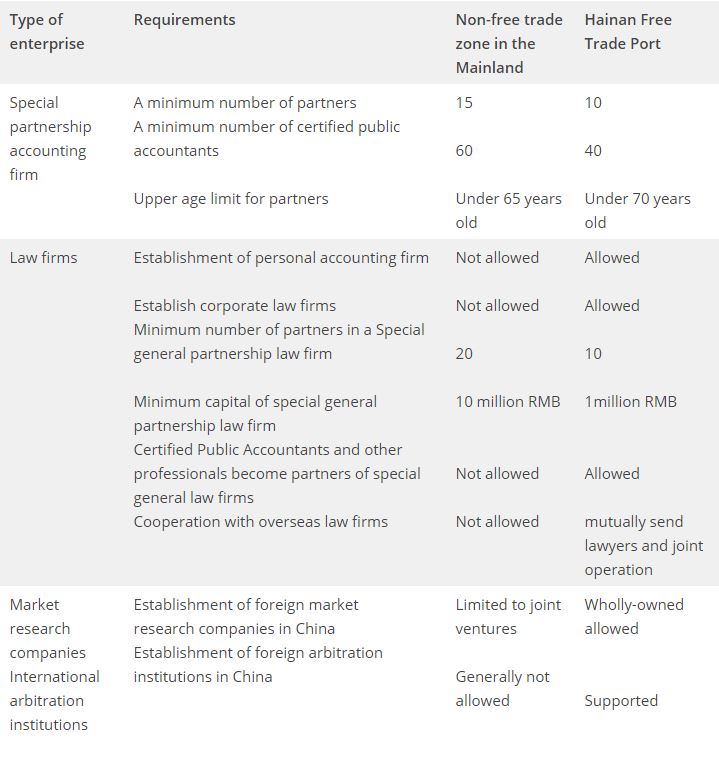 Practice of professional service personnel in the Hainan Free Trade Port
Vocational qualification examinations for overseas personnel: Management Measures for Overseas Personnel Sitting Vocational Qualification Examinations in Hainan Free Trade Port (Trial) allow overseas personnel to sit nearly 40 occupational examinations.
One-way recognition of overseas professional qualifications: The vocational qualifications recognised under the Management Measures for the Practice of Overseas Personnel in Hainan Free Trade Port (Trial) involve over 200 types of vocational qualifications in more than 20 countries as well as Hong Kong, Macao and Taiwan regions.
Key areas
Accounting firms
Law firms
International arbitration institutions
Market research companies
Intellectual property service agencies
Recommended areas for investment in the Hainan Free Trade Port
Haikou Jiangdong New Area
Sanya Central Business District