We are excited to announce that tropicalhainan.com has been granted the opportunity to offer you free tickets to a special concert, proudly sponsored by Flora's International Preschool. The concert will be a delightful performance by "The Hainan Link Choir," a talented local choir. We're giving away these tickets in sets of two (3 sets in total), and they will be allocated on a first-come, first-served basis.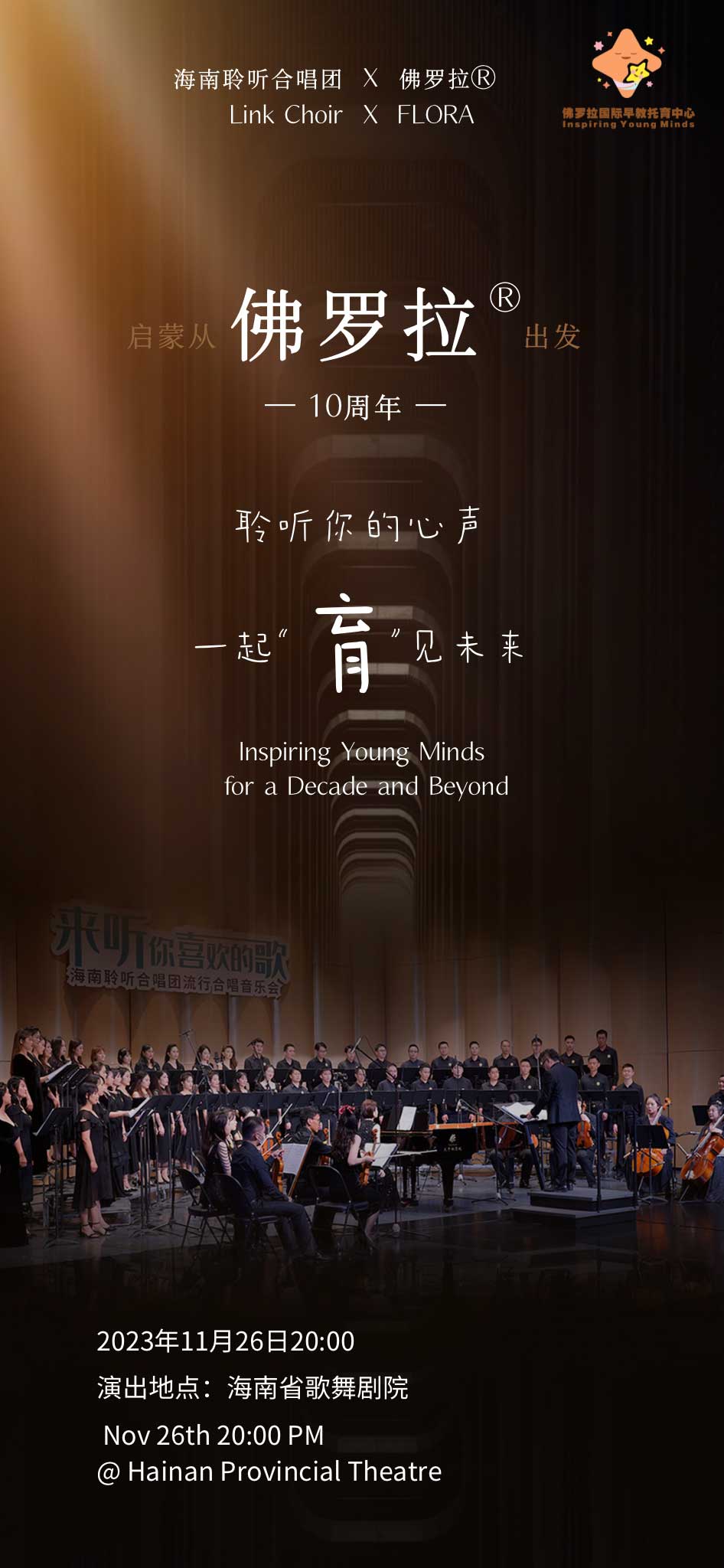 About "The Hainan Link Choir": Formed in February 2016, The Hainan Link Choir is a dynamic ensemble comprised of highly skilled and passionate music professionals and enthusiasts from various backgrounds. They have gained musical acclaim for their captivating renditions of choral classics, infusing each performance with their unique artistic flair. They skilfully blend diverse musical genres, creating an enchanting and memorable auditory experience for all music lovers.
Important Information:
The concert is set to take place on November 26th, 2023, starting at 20:00.
Location: Hainan Provincial Grand Theatre
The duration of the concert is approximately 110 minutes, with a 10-minute intermission.
Ticket Prices: 480 RMB, 380 RMB, and 280 RMB
Please note that children under one meter in height won't be admitted.
About Flora's International Preschool: Flora's International Preschool is a well-established childcare institution with a decade of dedicated service in Haikou, Hainan. To celebrate "inspiring young minds for a decade and beyond," they have proudly sponsored this concert as a celebration of their commitment to early childhood education and care in Hainan Island.
How to Apply: To secure your chance to attend this concert, please PM me on WeChat with the subject line "Concert Tickets."
A Few Friendly Reminders:
As tickets are in high demand, please only apply if you're certain you can attend the event.
Dress your best and be ready to enjoy the music!
Don't miss this wonderful opportunity to enjoy an evening of beautiful music with friends or family!
Related article: Find out more about Flora's International Pre-School

If you would like to make a comment, compliment or complaint about any aspect of living or working in Hainan Island, we'd love to hear from you. We pass all communications on to the relevant services. Please keep it polite and to the point.