Looking to hire a car and go on a short road-trip this summer or just get off the island for a short mini break to the mainland?
Good news, since June 1st, Haikou Xinhai Port has opened a new ferry link to Xuwen Port on the mainland just for cars and passengers.
The "special passenger car" ferry only carries cars and passengers, but not trucks, buses or other vehicles.
The ferry leaves Xinhai port Haikou at 10:30 and 14:30, and Xuwen port at 11:05 and 14:05 every day.
The ferry:
According to the ferry authorities, in order to improve the experience of drivers and passengers on board, the route uses large ships for transportation, equipped with business class with dining and comfortable seating etc.
If the original ship is temporarily replaced due to production needs, a ship of the same level will be selected as a replacement.
Q: How long does it take to cross?
Crossing time for the ferry is about 90 minutes.
Q: Is there anything I should pay attention to when taking the ferry?
Drivers and passengers should arrive at the port at least 60 minutes early.
Q: How to contact the port customer service?
24-hour customer service hotline:
Xinhai: 0898-9693666
Xuwen Port: 400-9300003
Drivers and passengers can also scan the Qr code below for related consultation.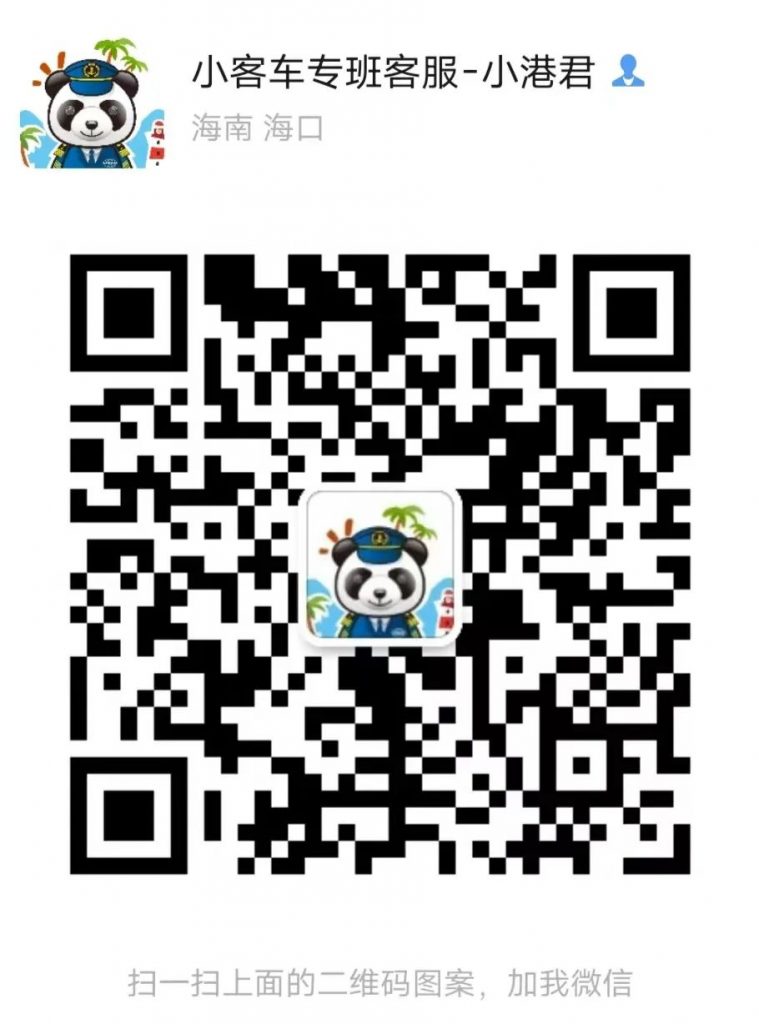 Q: How to buy a ferry ticket?
Step 1. Copy and paste 琼州海峡轮渡管家 into wechat search bar and click search.
Tip: tap the image and pinch out to zoom in.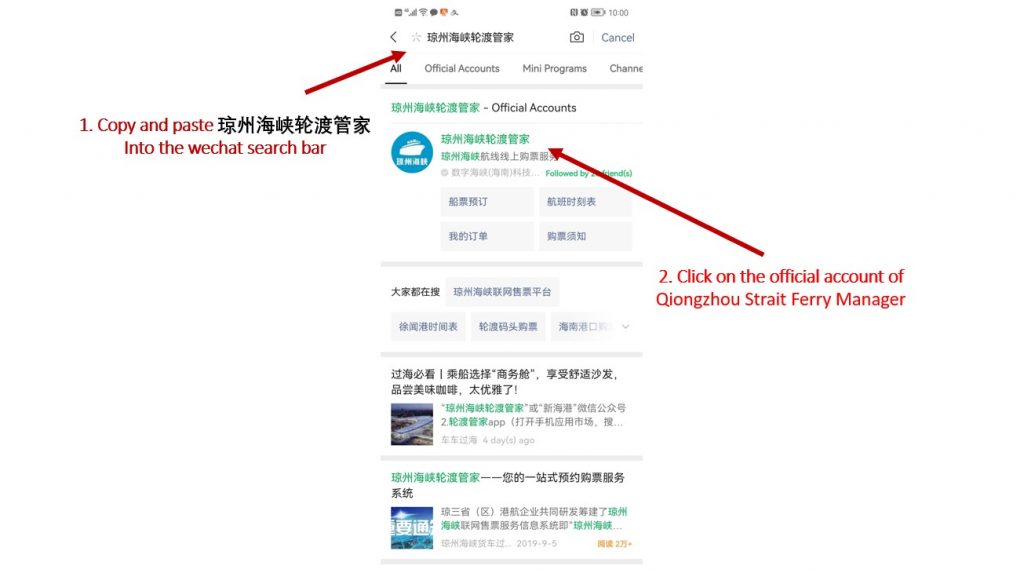 Step 2. Follow the official account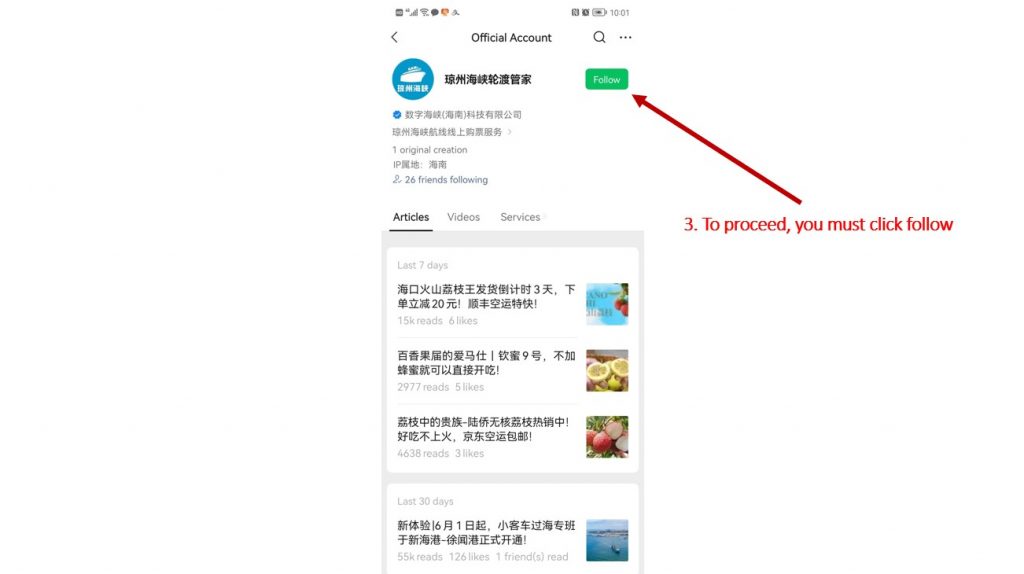 Step 3. Booking tickets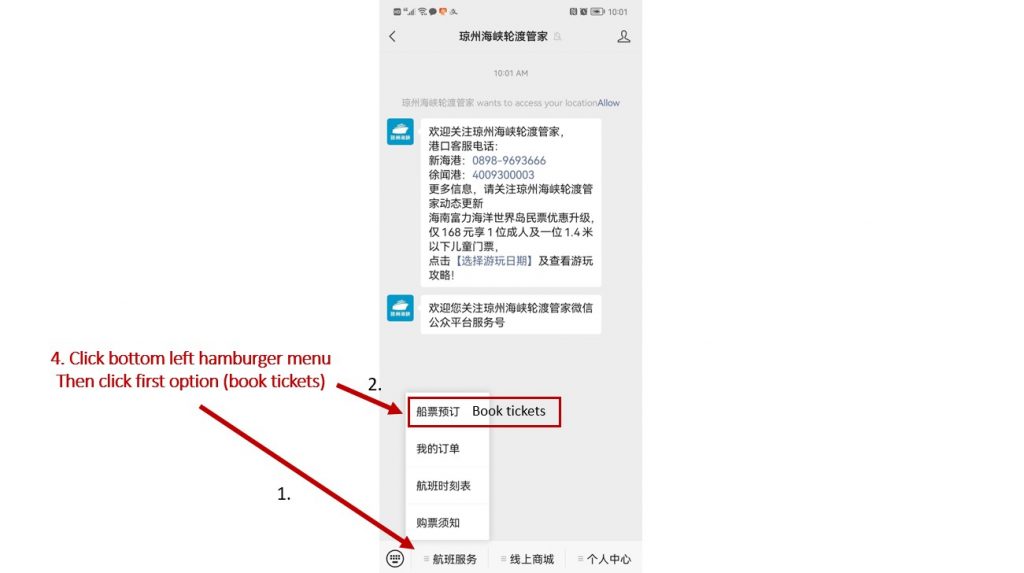 Step 5. Select your leaving port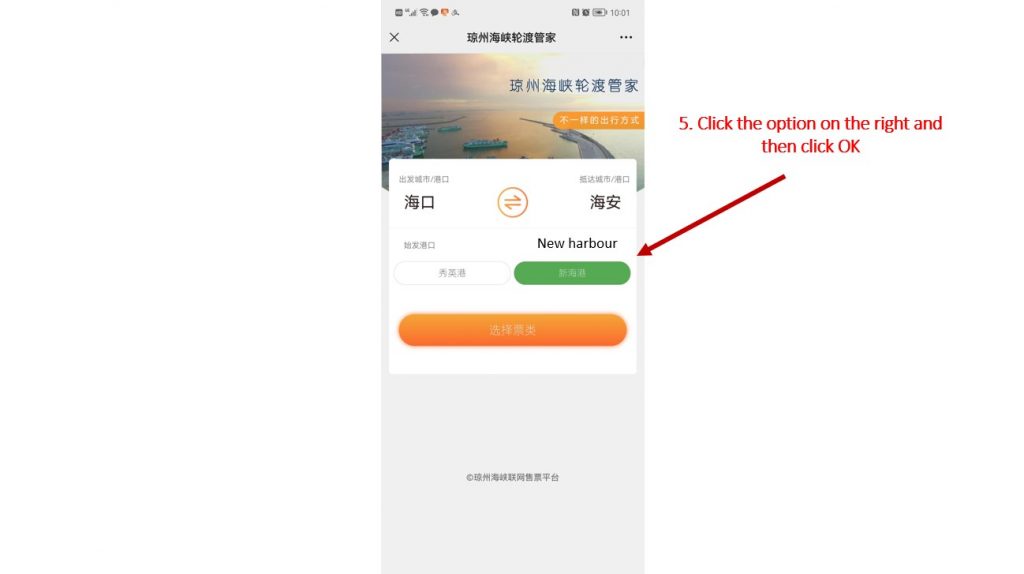 Step 6. Selecting tickets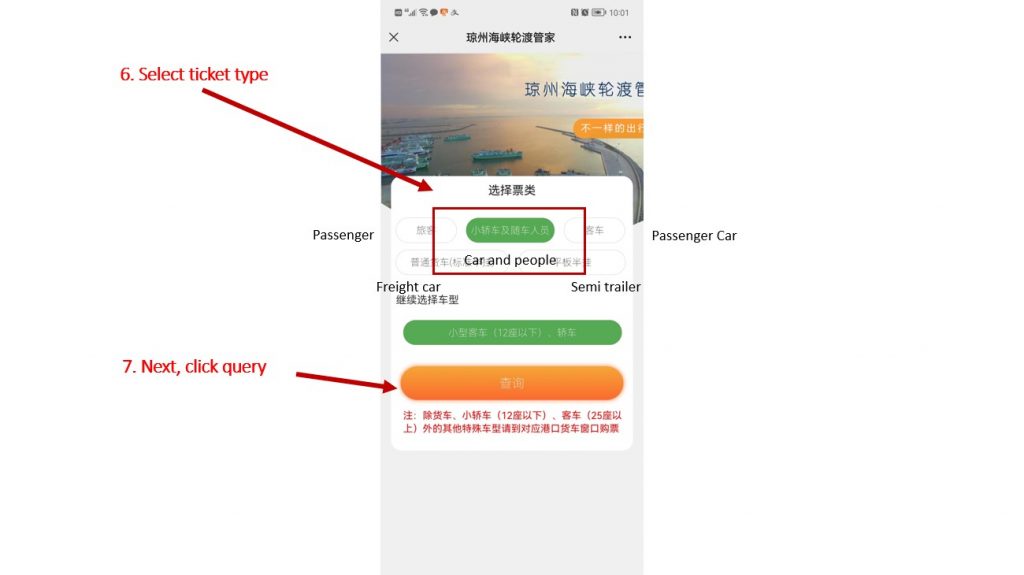 Step 7. Choosing dates and ferry times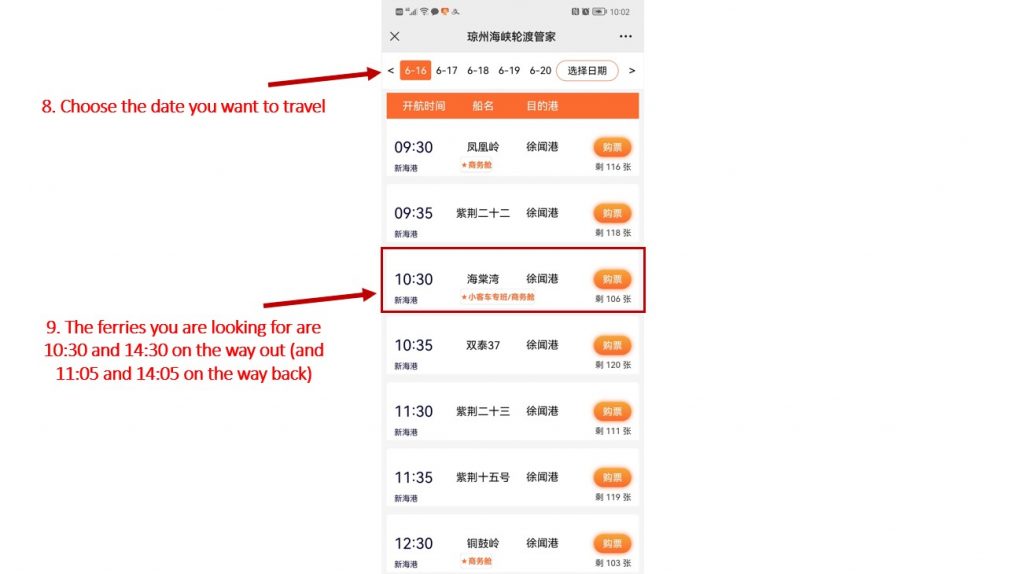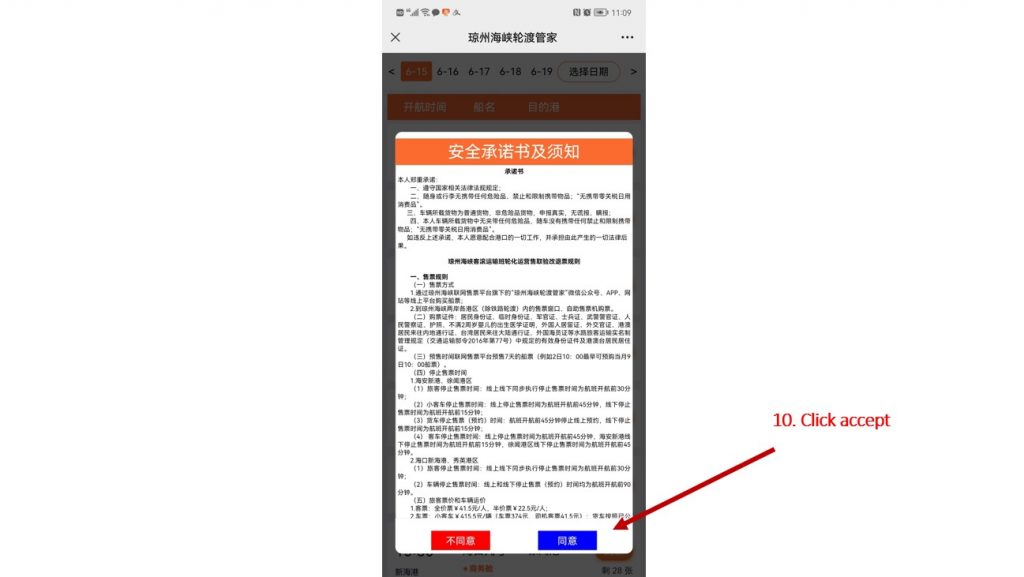 Step 8. filling in your information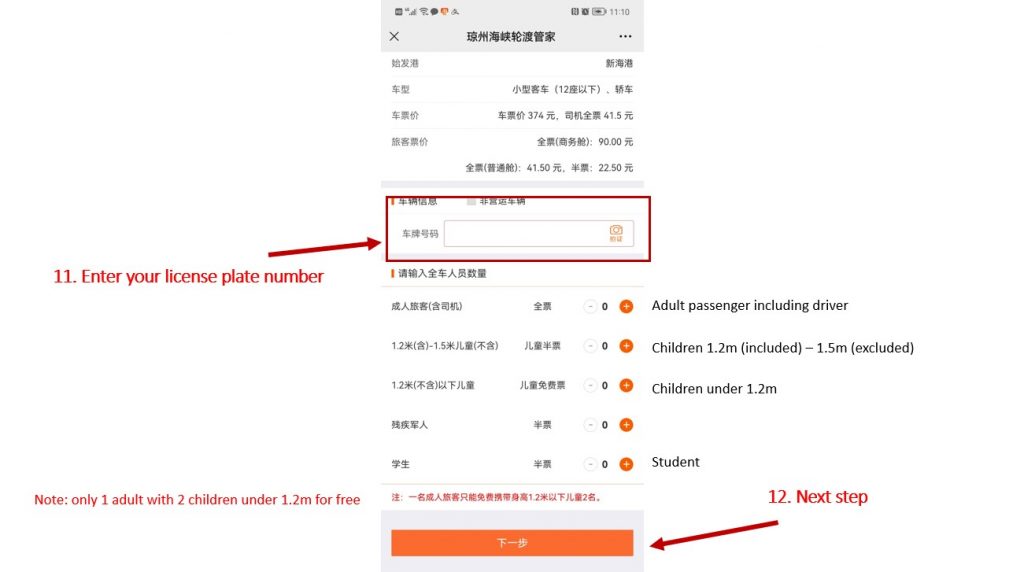 Note: if you wish to avail of the extra services you must choose business class. At the time of writing, business class tickets cost 90 Yuan and ordinary class tickets cost 41.5 Yuan.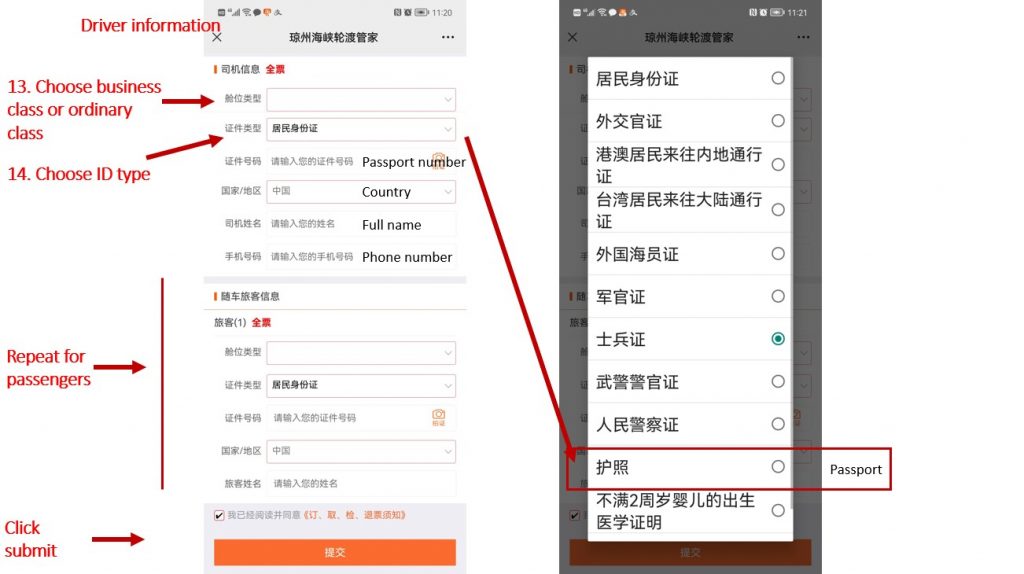 Click submit and pay for your tickets, you'll receive a prompt to double check license plate and other info as it cannot be changed afterwards.
Related article: How to book tickets online for the Haikou Bay Performing Arts Centre