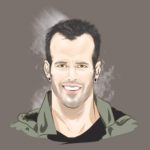 By Garett Reid, Pangu Strength Gym, Haikou
Haikou is quickly being a hot destination for all water sports, especially Kiteboarding. From December 1-4 China Kiteboard Union came to Haikou to hold their fourth tournament for 2017. China Kiteboard Unions' Haikou Kiteboarding Open is evidence that kiteboarding is a growing sport in China with Hainan being one of the main destinations for kite boarders and water sport enthusiasts.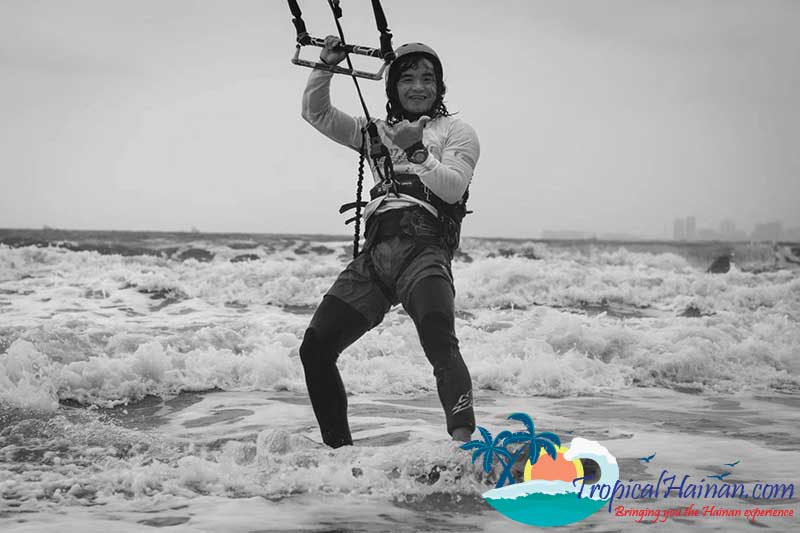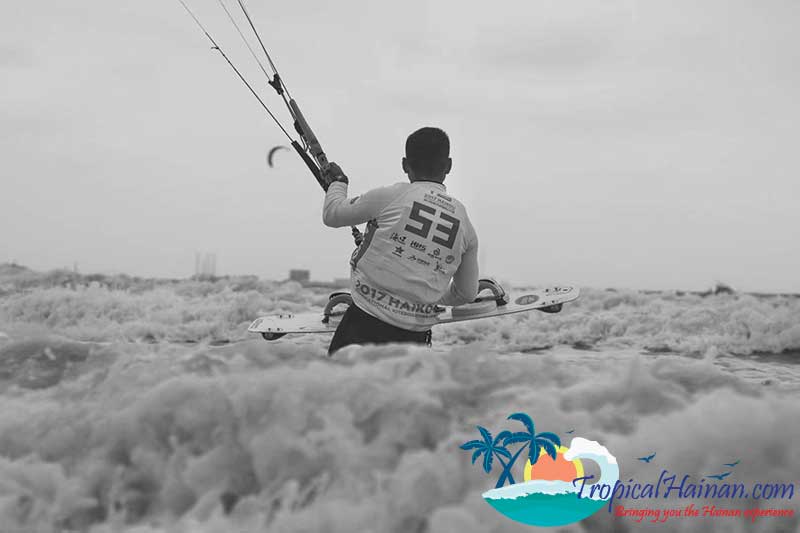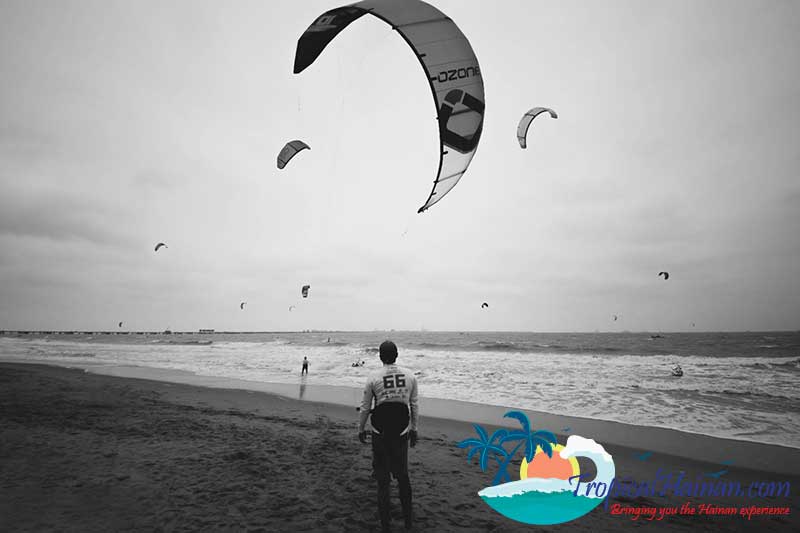 What is Kiteboarding?
Kiteboarding a.k. kitesurfing, is a water surface sport in which an athlete rides on a board while holding onto a large kite. By harnessing the power of the wind, the rider uses his kite to pull, jump, and speed across the water. it's not uncommon for advanced athletes to able to reach speeds of 50/KMH and jump considerably high; the world record kitesurfing speed record is 104/KMH and highest jump is 26.7 meters! With these numbers it's easy to see that kiteboarding is a challenging, fast, and exciting sport. Kiteboarding is growing all over the world. As of 2012 their are more than 1.5 million riders worldwide with kitesurfing looking at becoming an Olympic Sport in Beijing 2020.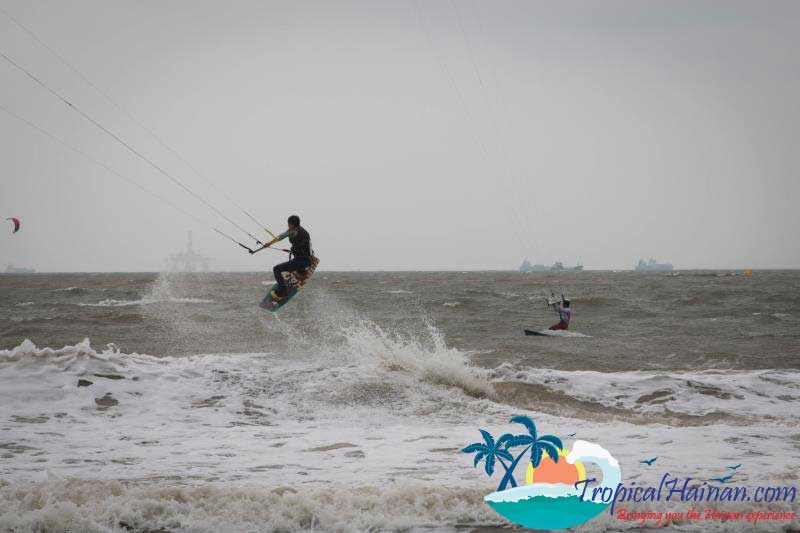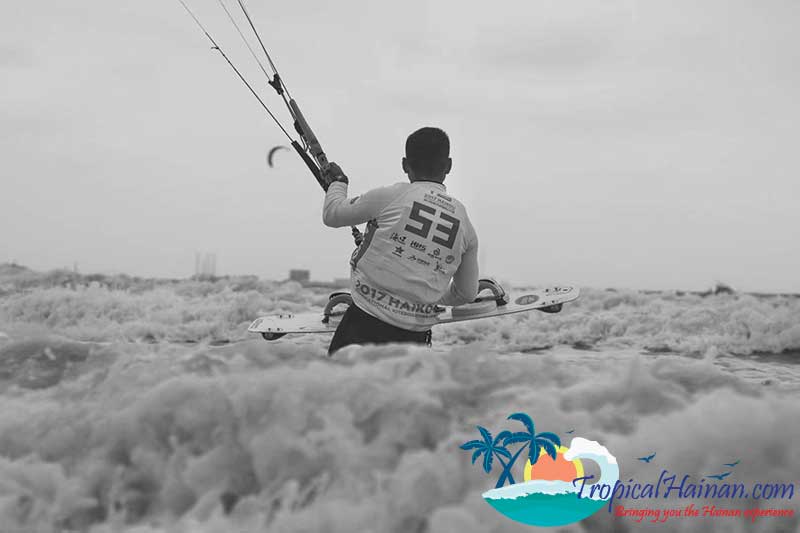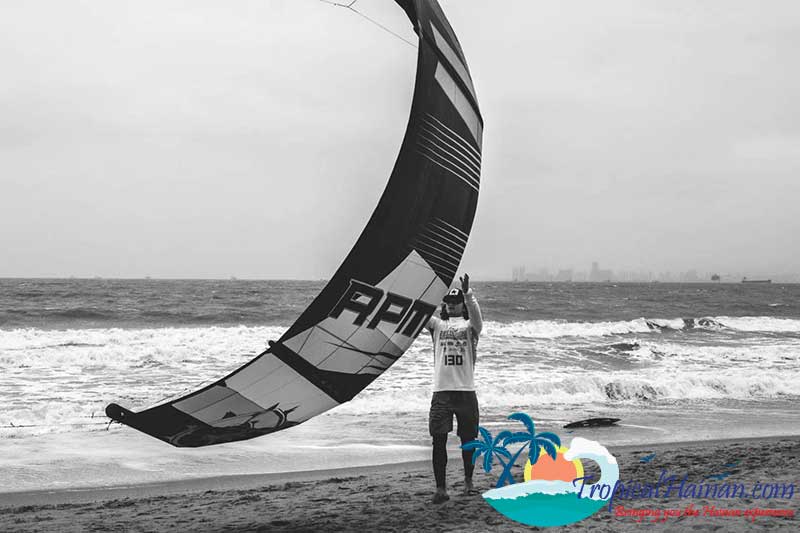 Kiteboarding in Haikou
One of the reasons Hainan has become a destination is for it's year round warm weather and beautiful beaches. No matter what time of year it is, you can always find somewhere to kitesurf in Hainan. After talking to my friend Daniel from Mandarin Surf who is an expert in all water sports as to when and where should one go when looking to kitesurf. He suggested Haikou from October-March, Bo'ao from March-June, and Dong feng from March to September. As you can see, Hainan has somewhere to go all year round.
Haikou Kiteboarding Open
This year, China Union came to Haikou from December 1st -4th to hold their Kiteboarding Twintip Course Racing competition. This years event prize money was $50,000 and drew in over 70 competitors from China, Hong Kong, Italy, Ukraine, and Russia; both male and female. The weather that weekend was cold and windy, something riders look forward to in order to go as fast as they can. In course racing, the objective is simply a race to the finish line. This years competition had 5 categories of races.
1) Men's International Twintip
2) Women International Twintip
3) International Hydrofoil Racing
4) Chinese Men Elite
5) Chinese Women Elite; being seperated by skill level and styles.
Twinboard, the most common style, is characterized by a board with a symmetrical shape, much like a skateboard, so that it can maneuver in either direction. A Hyrdrofoiling is a subcategory of boards which features a hydrofoil that sits underwater. This hydrofoil will lift the rider out of the water at certain speeds allowing for a faster, less smooth ride. The winner of these races were as follows
1) Men's International Twintip Dengxiaocheng
2) Women International Twintip Chenjingle
3) International Hydrofoil Zhanghaoran
4) Chinese Men Elite Fengfan
5) Chinese Women Elite Hexin
How to get started in Hainan
For those living in Haikou you can contact my friend 大鸟 from  玩海人帆船帆板俱乐部 (Hainan Sailing and Windsurfing Club).
Contact Information
Phone: 大鸟(Big Bird) 18189852696
Address: 海口市西秀海滩玩海人帆船帆板俱乐部
All others can contact me and I can put you in touch with some people all aorund Hainan. My wechat ID is ingauged00
If you love the beach, love fitness, and want a challenge, think about starting this awesome, fast paced sport.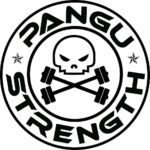 Article by Garett Reid of Pangu strength and fitness gym, Haikou.  (c) Copyright tropicalhainan.com all rights reserved, images or text may not be copied in part or full without express permission in writing.