Travel bugs across China spent the last year in gloom thanks to Covid-19. As the situation has improved, this year's five day May holiday is set to be one of the busiest for tourists.
According to Ctrip, the number of travelers during this year's May Day holiday is expected to break 200 million which is around the same as 2019.
Big data from major tourism platforms reflect a rising trend in sales of cross-provincial tour packages with Hainan's popularity increasing as a holiday destination.
According to a report released by Tongchen Travel, inbound and outbound flights to Hainan are in high demand and there have been significant sales of discount tickets on routes such as Guangzhou-Haikou, Beijing-Haikou and Changshan-Haikou.
On Donkey mama's a popular Chinese travel platform similar to Ctrip, domestic long-haul travel bookings are the most popular. Sanya ranks top of the list for popular tourist destinations and trip packages such as "Sanya Atlantis round trip for 5 days and 4 nights" are very popular.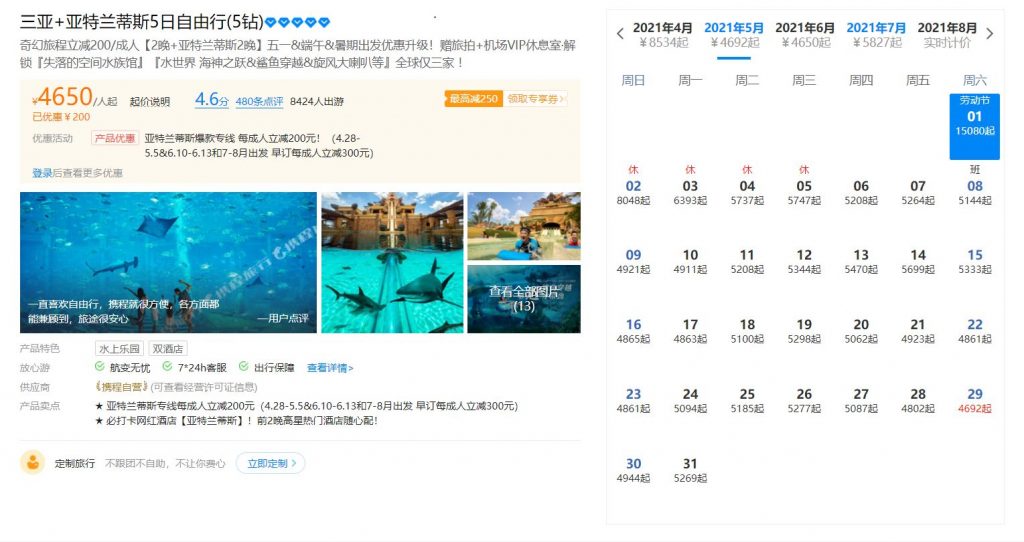 According to the travel registration information on Ctrip.com, the number of car rental bookings during the May Day holiday has increased by 126% compared with the same period in 2019.
Sanya, Chengdu and Haikou are ranked the top three popular destinations with car rental orders in Sanya alone having increased by 240% compared with the same period in 2019.
According to data from Ctrip, the number of May Day holiday hotel orders has increased by 43% compared with the same period in 2019, and many higher end hotels are fully booked.
Among them, Sanya Atlantis Hotel and Sanya Horizon Resort are among the top 10 most popular holiday hotels during the May Day holiday.

Related article: 200 million people on the move over the May holiday
Tropicalhainan.com launched it's official mini programme and WeChat account, scan the Qr code to keep up to date with news, sports, entertainment, travel, opinion and more.