China Construction Bureau No. 3 South China Company and the General Contracting Company jointly won the bidding for the general contract of the Haikou Tower project. The contract amount of the project is 3.365 billion yuan, and the construction schedule of the project is 1,734 days.
The tallest building in Hainan
The Haikou Tower Project is located at Lot D15, Guoxing Avenue, Haikou City.
The Haikou Tower Project will be a business exchange platform for the Free Trade Port, and a super high-rise building integrating 5A office buildings, apartments, super five-star hotels, high-end restaurants, sightseeing as well as other functions.
The project consists of a 428-meter tower with east and west wings on either side.
The project has a construction land area of 34198.02㎡, building area of 3900,57.7 ㎡, including an above ground building area of 277,806.7 ㎡, underground building area of 112,251 ㎡, plot ratio is 7.0; building density is 24%; and a greening rate of 20.2%.
When completed, the Haikou Tower will be the tallest building in Hainan and a new landmark for the city and Hainan Island.
Masterplan
Haikou Towers are projected to become the heart of the new Central Business District of Haikou.
The Masterplan comprises an ensemble of 10 Towers ranging from 150 to 450 meters tall with an overall building area of 1.5 million square meters.
Two facing series of towers line up along the central axis of the new Central Business District and culminate in two landmark towers framing the central plaza of the district.
On ground level the office towers will be connected by a continuous undulating podium that accommodates the adjunct commercial facilities.
The public realm between podium and boulevard expands with lush green spaces and water basins.
Related article: Yangpu Bay is about to get a major facelift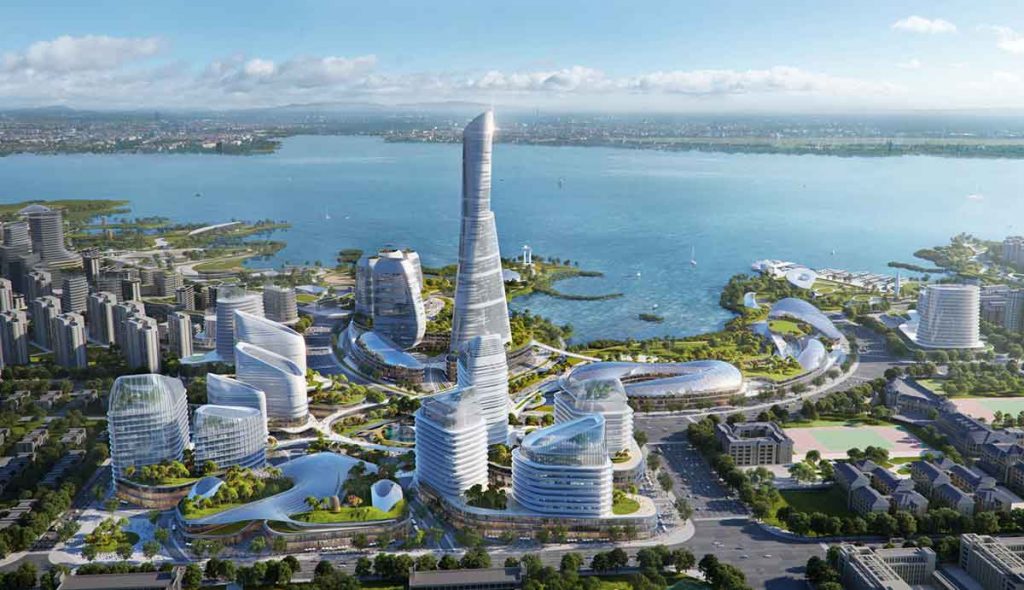 If you would like to make a comment, compliment or complaint about any aspect of living or working in Hainan Island, we'd love to hear from you. We pass all communications on to the relevant services. Please keep it polite and to the point.