After experts' research and judgment, to further reduce the flow of people, cut off the source of infection and block the route of transmission, the municipal epidemic prevention and control headquarters decided to implement three-day temporary control measures from 0:00 on July 10th.
Public entertainment and leisure places (including but not limited to KTVs, internet cafes, bars, chess and card rooms, foot massage centers, bathhouses, steam rooms, and teahouses), places where people gather (including but not limited to weight rooms, gymnasiums, and yoga studios), public cultural activity venues (including but not limited to indoor attractions, cultural centers, libraries, museums, and theaters) will be closed for 3 days.
Prisons, welfare homes, nursing homes and other such special places will be closed to outside visitors.
Unless absolutely necessary, all group activities shall be canceled, and gatherings of people shall be controlled. During this 3-day period all large-scale conferences and offline training shall be cancelled.
Party and government bodies, enterprises and institutions, communities, public places, transit vehicles, outdoor attractions, food and beverage suppliers (including takeaways), and supermarkets must strictly implement measures such as scanning health codes, checking patrons' temperatures, standardised wearing of masks as well as ventilation and disinfection.
Requirements for epidemic prevention and control when leaving the island: Starting from 0:00 on July 10th, all persons leaving the province via any mean will need to present their health code and arrow code, will need to have a normal body temperature (<37.3℃), and will need to have a 48 hour valid negative Covid test before they are allowed to proceed with check in, boarding or any other procedures for leaving the island.
Since the Omicron variant is more contagious, and spreads faster, it is common for infected people to be asymptomatic or have atypical symptoms. As a result, the methods by which transmission happens are less clear. Temporary control measures are being taken to reassure people to the best of our ability, to reduce mobility, to quickly identify potential risk factors, and to reduce the risk of cross infection. A temporary period of "quiet" is the way in which "action" is taken and which ensures that all citizens, residents, and visitors are free to move about as soon as possible.
The above measures will be adjusted in due course according to the epidemic prevention and control situation.
Danzhou City Epidemic prevention and control headquarters
July 9, 2022
According to reports, on July 8th, Danzhou City received notification from other provinces on an investigation of a positive infection case of the virus.
The positive infected person had a history of living in Haihua Island in Danzhou from June 30th to July 2nd.
Related article: Haikou issues notification on 3 new cases of asymptomatic infection (with activity track)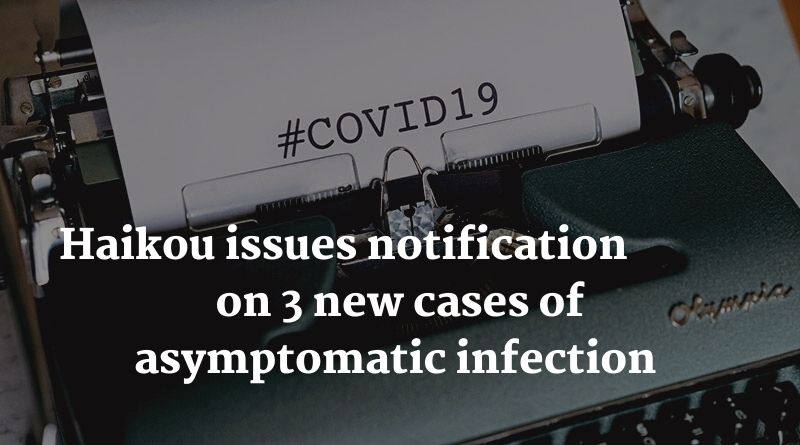 If you would like to make a comment, compliment or complaint about any aspect of living or working in Hainan Island, we'd love to hear from you. We pass all communications on to the relevant services. Please keep it polite and to the point.