Lin'Gao Shipyard Shipbuilding Techniques Passed Down From One Generation to the Next
The setting sun cast rays of dying light on the ongoing construction of five fishing vessels at Lin'Gao Port.
Hainan Island is encircled by the sea on all four sides. Hainanese people have learned to live with the ocean at the same time that they learned to speak and walk. Their entire lives they are accompanied by the ocean and the waves and an understanding of the life that can only come from a food supply borne from the dangerous tides. The ocean is pregnant with infinite possibility; to advance toward the deep sea is to open yourself to the wider world. The first step is to create a ship which can withstand the test of the storms of the sea.
So called as southern China's fishing township, the more than 50,000 people of Lin'Gao have over 5,400 fishing vessels registered with the Maritime Safety Administration. The population of fishermen in Lin'Gao is high and the shipbuilding craft in this town is second to none within Hainan. In Lin'Gao's shipyards artisans do not need to design a blueprint before they begin construction on a vessel which may displace hundreds of tons. The features and the shape of the vessel are burned deep within the very essence of their being. Building a beautiful yet rugged wooden boat takes dozens of skilled workers months to do. When it comes to modern shipbuilding, Lin'Gao is also highly developed. However, many of the local fishermen's preferred vessel is a wooden boat like the one that their fathers and their fathers' fathers used.
This year, in March, Hainan Province announced the fifth instalment of the provincial-level Intangible Cultural Heritage List. This time, the shipbuilding of Lin'Gao's shipyards made it on to the list. With great curiosity, this report went to Upper Huanglong.
Every step of the construction in a boat which will displace hundreds of tons is done by hand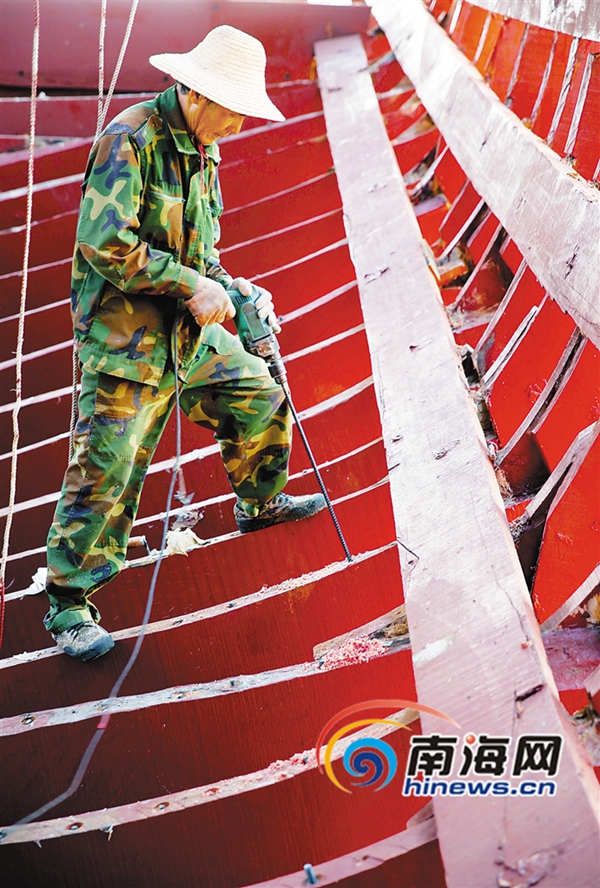 A worker drilling a hole in the skeleton frame of a fishing vessel under construction.
It's 10 o'clock in the morning. On the sandy beach in front of Upper Huanglong Village, a large open air shipyard is busy at work. The skeletons of two large boats have already taken shape. The craftsmen are quickly getting ready to lay the hull.
In Lin'Gao, fishing is the most important industry. The whole county is engaged in the fishing industry or in related peripheral industries." In order to facilitate his work, shipyard manager Wang Jiaxing wears thick waterproof clothing. Wang Jiaxing says that he started fishing at sea when he was only 14 years old. His father would often take him with him. Sometimes they would be at sea for a few months at a time. In 1983, at the start of the national household contract responsibility system, he and his father abandoned the drifting life of the sea, and began operation of their first shipyard. He reckons that it's been 34 years already.
As Wang Jiaxing remembers, the work of artisanal shipbuilding is a trade which was taught to him by his father's hand. His father learned from his grandfather. Wang Jiaxing is the fourth or fifth generation of men from his family who have built boats. Previously, the shipyard only built smaller boats with displacement up to a dozen tons or so. However, those boats were unsuitable for the necessary conditions of deep sea fishing. All of their boats were made of local pine wood. Now, with the expansion of the scale of the shipyard, the level of shipbuilding has been raised. They are able to build large storm resistant boats with hundreds of tons of displacement. These boats all use imported hardwood.
Lin'Gao's shipbuilding craft is a style that is similar to that of Guangdong and Guangxi provinces. In some details, however, there are also differences." Wang Jiaxing said that on Hainan the fisheries and fishermen from Danzhou, Sanya, Dongfang, and Wenchang all envy the wooden boats from Xinying Town and Dialou Town have requested giant wooden boats approaching 200 tons of displacement. These enormous boats are able to go all the way to Nansha for deep sea fishing. When compared with a steel boat, wooden boats are less rigid. Over the life of the vessel, the maintenance costs have a clear advantage and many fishermen continue to choose wooden boats.
No blueprints, only feelings
From buying the wood to painting the completed boat, the construction of a single boat is a long and complicated process. When people from Lin'Gao build a boat they do not do so from blueprints or drawings but from the feelings learned with decades of experience. "After I graduated high school in 1976, I immediately started to build ships. I don't need to follow pictures. Everything is already written inside my head." Artisan Zhang Chaobo from Upper Huanglong Village has been in the shipbuilding industry for more than 30 years. As he talks to the reporters, he sketches the drawing of a ship. His experience in the shipbuilding industry is very important. As a craftsman, he needs only to have the materials for construction and he can build a ship.
There are more than 100 steps which must be completed in order to build a ship. Each one of these tasks must be done conscientiously if the ship is to be solid and secure." Wang Jiaxing says that choosing the wood is the first step in the shipbuilding process. Builders of ships often like to use black Hopea wood. They also use tropical hardwoods such as Shorea and Japonica. For the bones of the boat and the hull and the keel different woods are used according to their different characteristics. Once the wood has been bought, it has to thoroughly dry out. It is only once the wood has been dried that the process of shaping and cutting can begin. When the wood is prepared well, then the shipbuilding can really begin.
According to these people who live along the shorelines and make their living from fisheries, properly building a ship is of great importance. The ship-owners would normally choose an auspicious date, on that date they will give thanks to the god of the sea, tie a red cloth to the keel of the boat, and set off a string of firecrackers. Once the boat's skeleton frame has been constructed, then other steps can be done - often at the same time. Hull planks and decking are installed, machinery is put in place, the deckhouse is built. Suddenly, it is no longer a frame and has become a boat. When the boat is nearly finished, an auspicious day will be chosen to dedicate it. They will beat drums and set off firecrackers in order to scare away any evil spirits and to make sure that the work is blessed.
When people from Lin'Gao make a ship, they use tung oil and coconut and quicklime to improve the water resistance of the hull." Wang Jiaxing said that in Lin'Gao the craft of shipbuilding is very similar to Guangdong and Guangxi. Of course, it has special characteristics that are unique only to Hainan as well. Once a ship has left the yard, it has a useful life of about 20 to 30 years.
Post 90's generation Ancestral Shipyard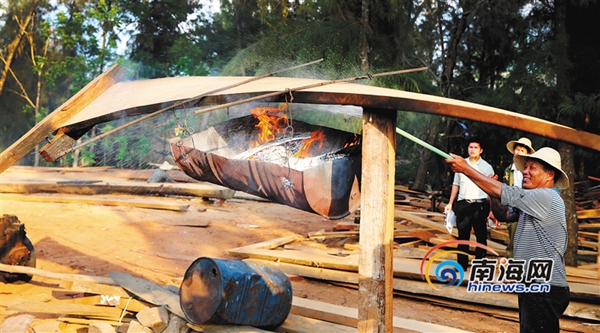 Using local methods to shape the planks.
Now that Lin'Gao's methods of building ships have been listed as a Provincial level intangible cultural heritage project, Wang Jiaxing is very happy. He stated that there should be greater efforts to protect the craft of shipbuilding. These days, more and more young people who otherwise want to work in the field of shipbuilding are faced with the awkward dilemma of being unable to support themselves. He has taught his three sons the craft of shipbuilding in order to make sure that the skill is passed on to another generation.
This year Wang Jiaxing's son Wang Haiyun is 25 years old. He graduated from school in 2009. After graduation he immediately began to study shipbuilding. Wang Haiyun has recently been studying how to make fiberglass boats with the goal of helping his father expand their shipyard. "The structure of fiberglass boats is similar to that of wooden boats but the materials and manufacturing tool are not at all the same. I want to try this for a little while and see if this new field suits me." Wang Haiyun said. Born by the seaside, he grew up by the seaside and he has always had great interest in shipbuilding even since he was a very young child. He hopes that by making better boats, he will help give local fishermen a better life. He said that even though shipbuilding in a rural area does not have the colourful existence of city life, he wouldn't give it up for anything. He wants to continue to adhere to his grandfathers' craft.
Lin'Gao has been building ships out of wood ranging in sizes from dozens of tons to hundreds of tons for countless years. There are records dating back as far as the Tang Dynasty which show that the woodcraft of shipbuilding in Lin'Gao was already quite advanced at that time. To curve and shape the wood, it would be heated but not burned over a fire. This is a precious traditional craft." Lin'Gao County Cultural Museum Curator Chen Jianrong said. Lin'Gao County's boats have a large wooden hull with distinctive proportions and styling. When moving, they are like a giant dragon swimming on the surface of the vast ocean. Shipbuilding craft is handed down from generation to generation. In folk society, it has a profound cultural foundation and is a valuable source of traditional cultural habits.
He explained. In October of 2016, they applied to be recognized as an important part of the province's intangible cultural heritage and, in March of this year, were formally included in the fifth instalment of the provincial-level intangible cultural heritage list. This year, they also plan to apply to the relevant national departments in order to request that Lin'Gao shipbuilding techniques be included on the national list of Chinese Intangible Cultural Heritage.
Reproduced with permission from www.hinews.cn
(c) Copyright tropicalhainan.com, images or text may not be reproduced in part or in whole without express permission in writing from tropicalhainan.com 
Translated by Haikou #1 translation agency