Segarra Art is a contemporary Western Art Gallery, co-working studio and artist incubator that seeks to bring international arts and culture to the Sanya community and tourists.
The idea for the international art space has been long in the making, and will finally be realized with a grand opening on May 8th. Sanya's first foreign-owned gallery was recently founded by three big dreamers: Americans Angelo Segarra and Dean Merritt, and (Happy) Liang Yu, from China.
Since then, founders Angela M. Dekenah (South Africa) and Denique Widodo (Indonesia) have joined the team. "Our collective goal is to bring awareness to the beauty and creativity of all forms of art, starting with contemporary painting" says Segarra.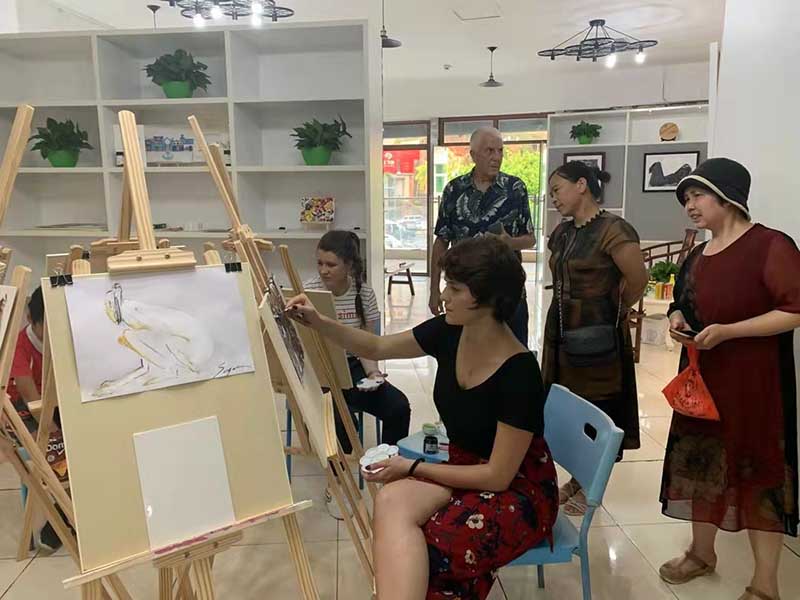 Segarra has been creating his unique contemporary style of painting for the past 40 years.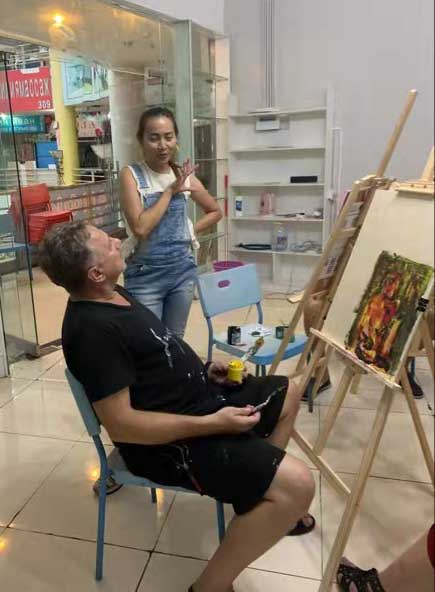 He started in his studio in New Mexico, USA where he went on to open his first gallery. In 2012, he relocated to Harbin, China where he gained recognition as an Honorary Fellow with Heilongjiang Contemporary Art Institute. Now, his artworks are displayed in museums and exhibitions around China and other countries across the world.
Segarra relocated to Sanya, Hainan in late 2020, where he works with the help of the other founders to build up an art community around his latest gallery and studio.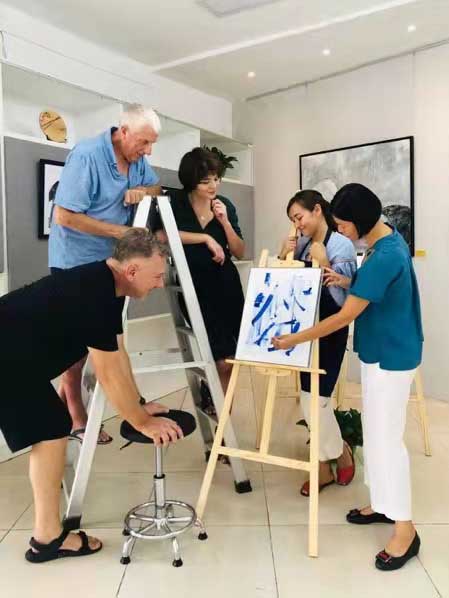 Located at Room 214, 2nd Floor, DaDongHai Ruihai Shopping Park, next to Summer Mall is the Segarra Art studio and gallery. Here you can find Segarra most days of the week: painting, drinking coffee and talking to curious gallery-goers about art. The paintings on display are all originals, painted using acrylics on canvas or paper, watercolors, and ink drawings.
Merritt, who has been helping entrepreneurs start and grow businesses for over 40 years, considers Segarra's paintings an investment. "High quality Segarra original art is something that will continue to grow in value because they are one of a kind – he paints a limited number of originals every year"
The way the team sees it, an opportunity exists to engage in cultural exchange and to add to the growth of Sanya as an international travel destination. They hope that by assisting in the development of a multicultural art community, other foreign and Chinese artisans will be inspired to create more spaces that add to Sanya's pool of diversity and talent. "We want this place to become a major attraction for tourists and have the feel of other international cities around the world" says Merritt.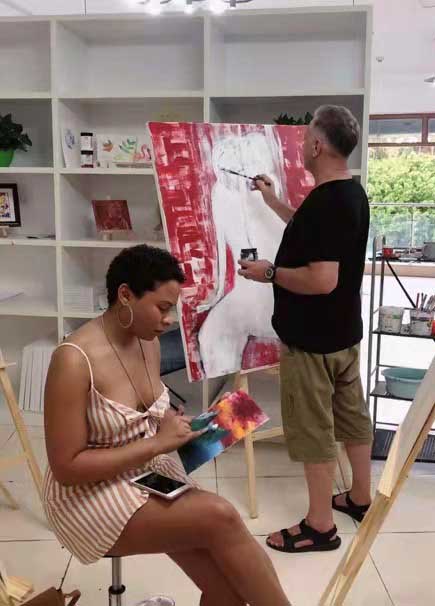 Dekenah, who acts as the media and events manager for the gallery, adds that, "spaces like this where people can easily engage in intercultural exchange are essential. They help us to see things through new eyes, and allow us to explore and empathize and gain wisdom about the lives of others".
On Wednesdays at the regular "art jams", all the founding team members meet up around the easels and paint. Widodo is an especially talented artist, whose intricate watercolors and bright illustrations have been printed on calendars, cards and cookie boxes. She brings to the gallery the perspective of a self-made art entrepreneur, who wants to inspire and be inspired. Widodo values the community that has sprung up around the gallery and enjoys being around other artists and businesspeople.
The Co-Working Art Studio is designed to be a welcoming place where artists can come, work together, and learn from each other. Segarra Art offers regular talks and workshops, as well as a package deal where artists can have their own workspace in an active studio and create alongside an experienced international artist. As Segarra says, "Artists will be able to display their paintings for viewing and for sale through our consignment program, participate in workshops and events, share their knowledge with other artists and be part of the international art community in Sanya".
The studio stands out in that it aims to serve as an incubator for other artists. "Our goal is to help artists with a dream to turn their passion into a viable business" says Merritt. Segarra Art seeks to provide artists a place where they can get started, gain recognition, obtain mentorship, and be equipped to start businesses of their own.
"It's been an exciting challenge and an adventure for all of us to work on this project together, and to see the gallery and the community growing" says Dekenah. Widodo, who paints for hours alongside Segarra almost every day, agrees and adds that "being around these passionate, artistic people has been a source of motivation for me".
"I have spent my career working with up and coming entrepreneurs in many different industries which at times created a great deal of stress. Working with the team and building Segarra Gallery and Studio has been an absolute pleasure" Merritt says. "I am also amazed at how art can relieve stress. It is like active meditation".
Want to become a part of the Hainan art community? Want to know more about worskhops or attend the grand opening? Add Angela M. Dekenah on Wechat (angieinchina) to join the Segarra Art group or to enquire about events
The Activities and Events
Planned events include:
Workshops for artists and inspiring artists that wish to learn new techniques or styles
Fun community events for adults and families
Art shows
Talks by visiting international artists
Related article: Haikou Urban Sketchers recent outing to the Haikou Clock Tower
Tropicalhainan.com launched it's official mini programme and WeChat account, scan the Qr code to keep up to date with news, sports, entertainment, travel, opinion and more.