According to government researchers and officials, bronze aged treasures unearthed at the Sanxingdui site in Guanghan, Sichuan, belonged to a highly-developed civilisation that may have lasted for thousands of years but never actually appeared in any historical records.
A massive dig which started in 2019 unearthed more than 500 artefacts made from gold, bronze, jade and ivory dating back to more than 3,000 years ago, including a gold mask that may have been worn by a priest.
Now, farmers near the Sanxingdui archaeological site in Guanghan, Sichuan province, have created a giant reproduction of the famous Bronze Age gold mask – on their rice fields.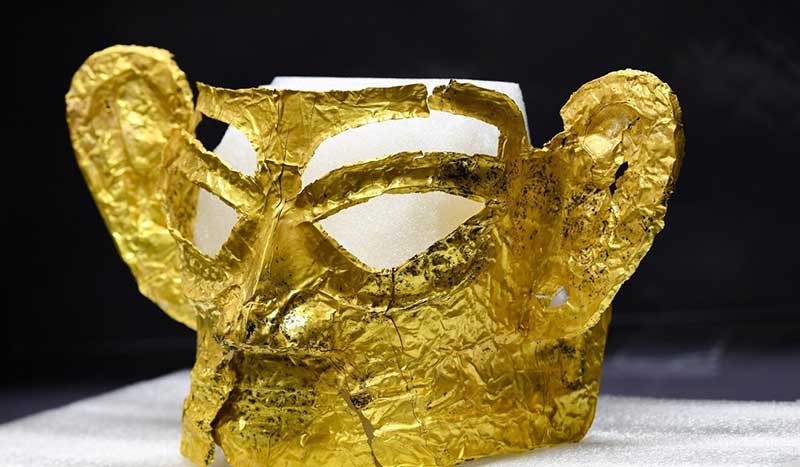 In March, archaeologists revealed the discovery of a broken gold mask, possibly worn by a priest, along with more than 500 other artefacts at Sanxingdui, or "Three Star Mound", one of China's most important archaeological sites.
Farmers created the mask pattern by planting three types of rice – yellow, purple and green reported the Red Star News, an online outlet under the Chengdu Economic Daily.
The 50-acre mask design, accompanied by a series of mysterious symbols, was "painted" on a 100-acre field, about the size of 75 football pitches, just in time for the Mid-Autumn Festival harvest season.
Around 100 villagers were involved in planting the rice for the massive agricultural artwork, according to Wang Mingjun, the Communist Party secretary of Shanglin village.
Related article: Notice on workdays adjustment for Mid-Autumn Festival and National Day holiday