The Best Surf in all of China…
Sun and Moon Bay (日月湾) is rightfully known as the number one place to surf in Hainan, and, arguably, the number one place in China. Technically a part of Wanning city (though, in reality, it is actually located closer to the city of Lingshui) Sun and Moon Bay, with it's very well-known left-hand breaks, offers an incredible surfing experience.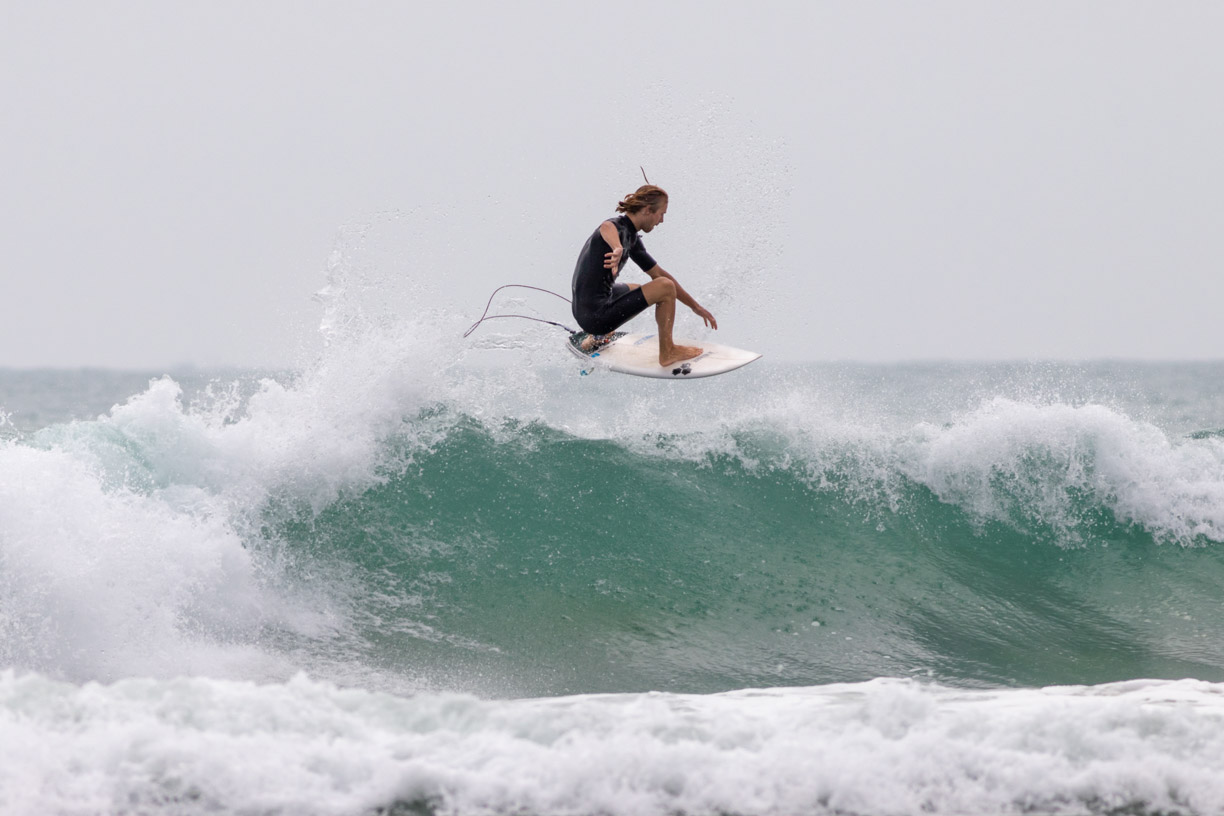 Where do I Surf?
Of the five surfing spots in Sun and Moon Bay, there are 3 standouts that we will highlight, leaving 2 (Taiwanese Village & Back Beach) for you to discover on your own! Make friends with the local surfers and they might just take you to a few hidden spots!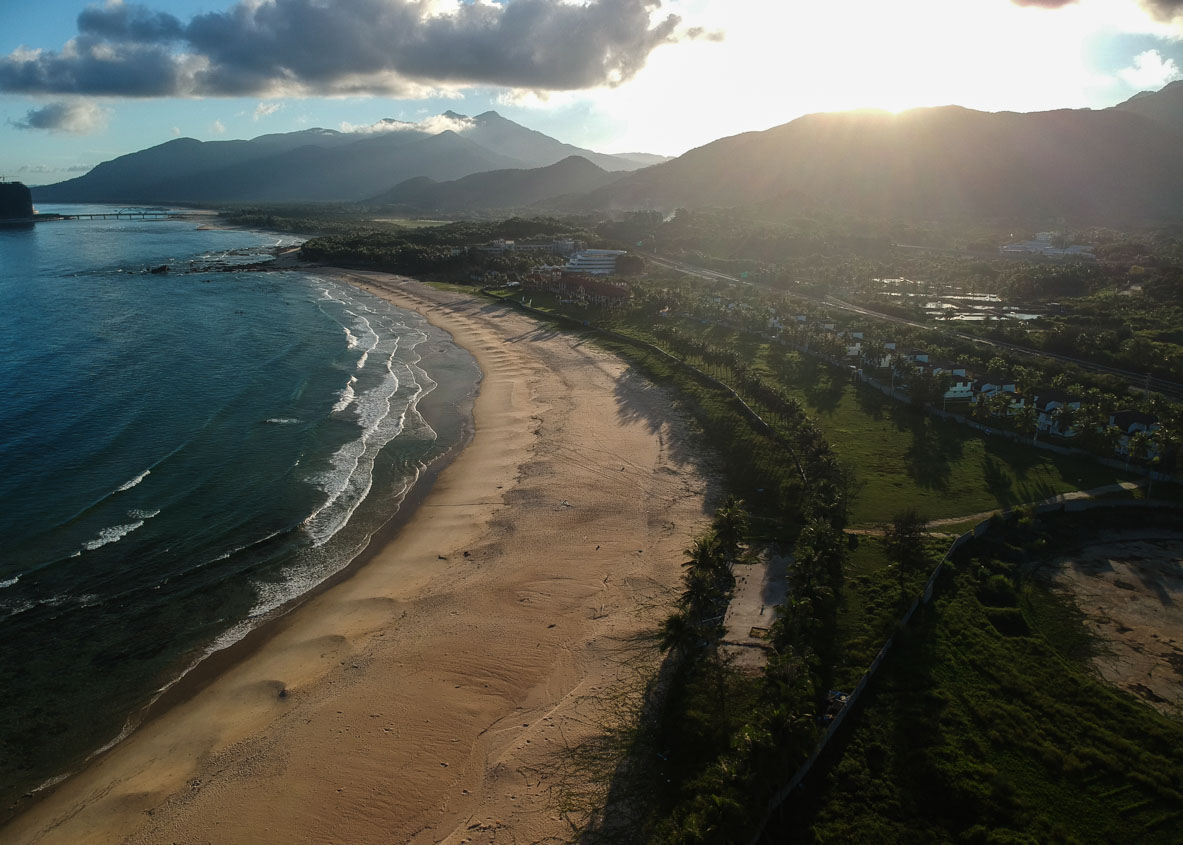 Beachie
Difficulty Level:
Beginner to Advanced
Located just in front of Riyue Bay Surf Club, this year-round surf spot offers a beach break that is extremely strong during big swells, and super chill during small swells, with whitewater that makes the spot an easy place for beginners to get some practice, and advanced surfers a place to strut their stuff. As stated above, this is a great year-round spot.
Main Point
Difficulty Level:
Intermediate to Advanced
Site of the Surfing Hainan Open, Swatch Girls Pro, and ISA events, this long-ride offers an easy channel paddle out with short waits for some long left-handed breaks, that are a great ride for Experts, as well as a great spot for the Intermediate to learn how to handle a point break wave. Best ridden in the winter months from the end of October to the beginning of March.
Ghost Hotel
Difficulty Level:
Advanced ONLY
Offering the best waves not only in Hainan, but all of China, Ghost Hotel surf spot. Located at the bottom of the hill under the shadow of the "Ghost Hotel" the eponymous surf spot is prone to having huge swells and great left-hand breaks. Being that this a beach break with half of the "beach" being a massive rock face, caution should be exercised at all times. Repeat: This spot should ONLY be attempted by experienced surfers. Best in winter, but still great in summer.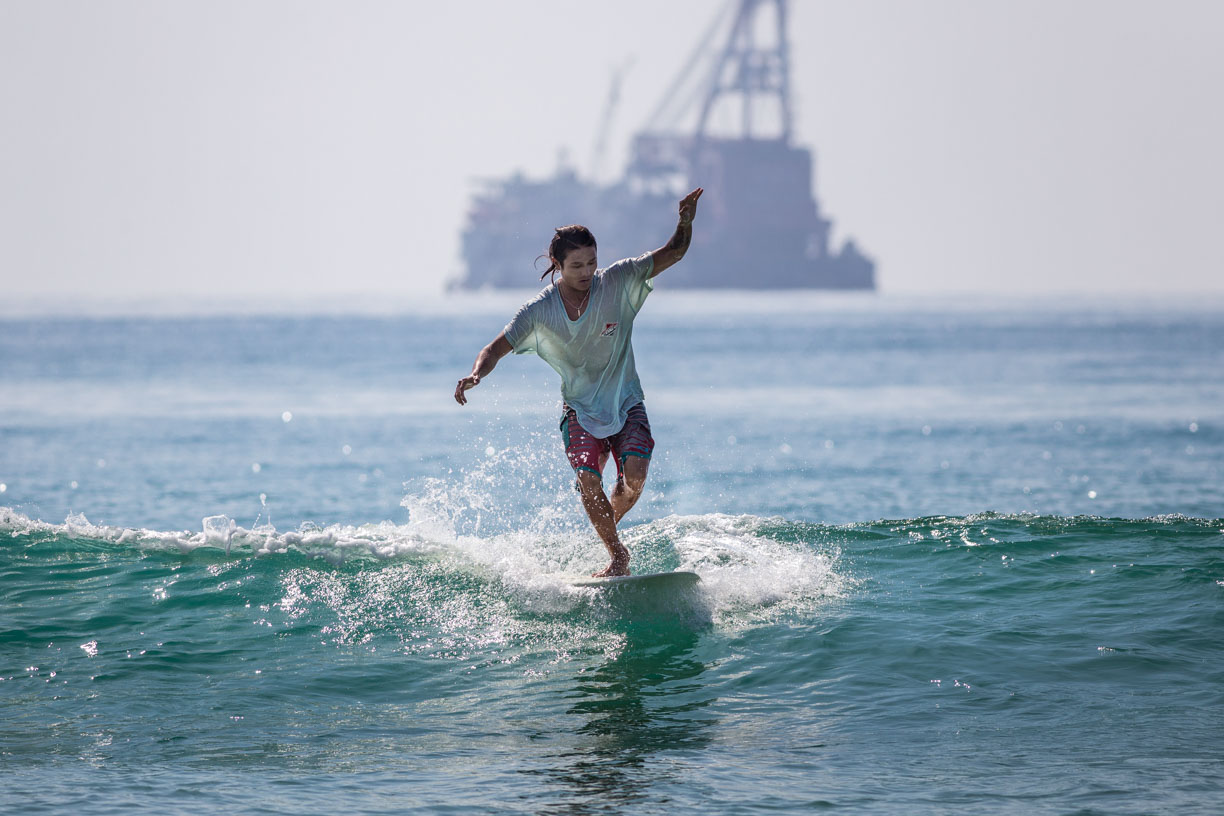 IMPORTANT SAFETY NOTICE:
Though Sun and Moon bay is both an excellent place to both swim and surf please be aware that there riptides that are strong in summer and extreme in winter. If you are not a confident swimmer or surfer, do not venture out too far from land, and, even if you are experienced, make sure you know how to survive a riptide.
Where do I stay?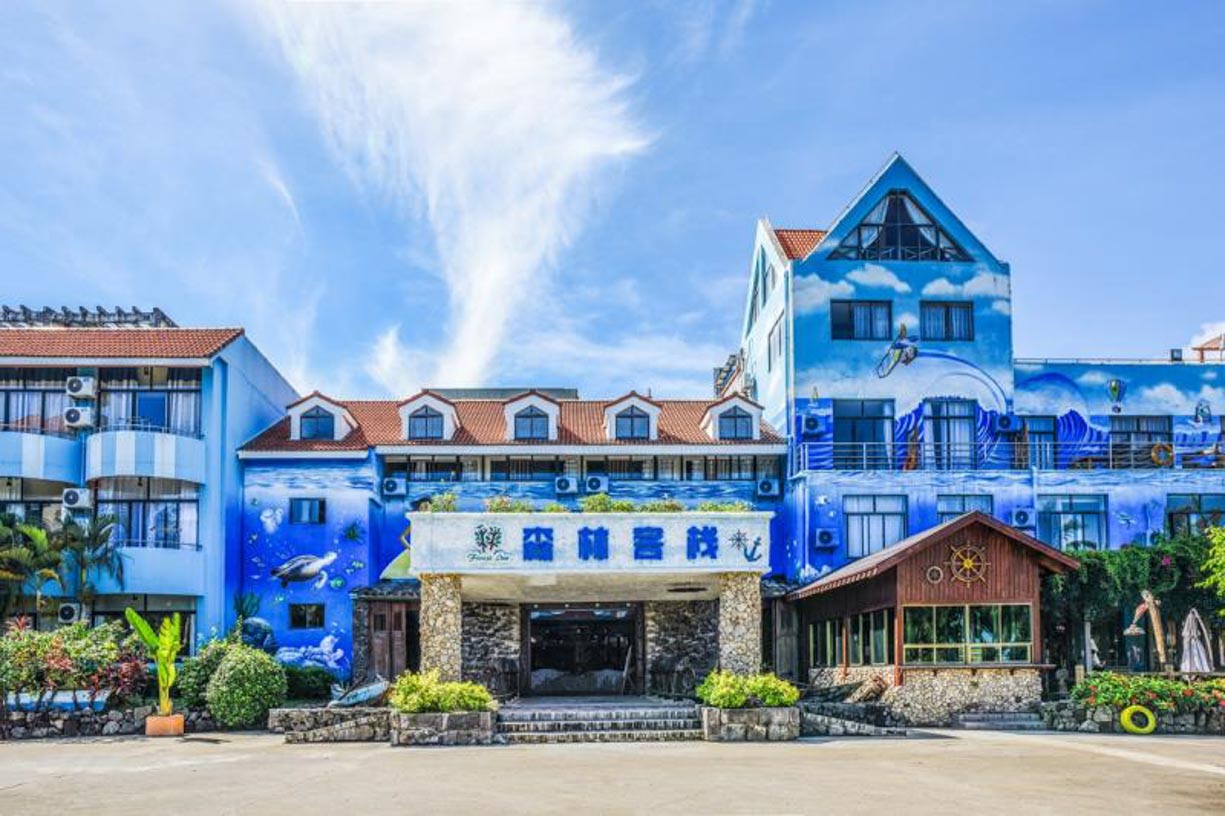 There are a few options for accommodation at Ri yue wan. There's a choice between the hotel pictured above, air BnB which will be much cheaper and the surfing hostel on the eastern side of the beach. Camping is also quite popular, it is recommended you set up camp on the eastern part of the beach, this is where most people will camp and it's much quieter in the evenings.
All of the surf clubs have shower facilities but we recommend visiting Shaka surf, it's right on the waterfront and you can also rent boards and book surfing lessons from the club. The food is also great and they have a wide selection of imported beers and spirits.
Also nearby
A few kilometres up the mountain behind the surf clubs is a small plunge pool and natural waterfall slip 'n' slide. Roads to the plunge pool are country lanes so pinning it on a map the roads won't be visible. It's best to call into one of the surf shops and ask for directions. Some of the local surfers with cars or bikes would also take you for a small fee.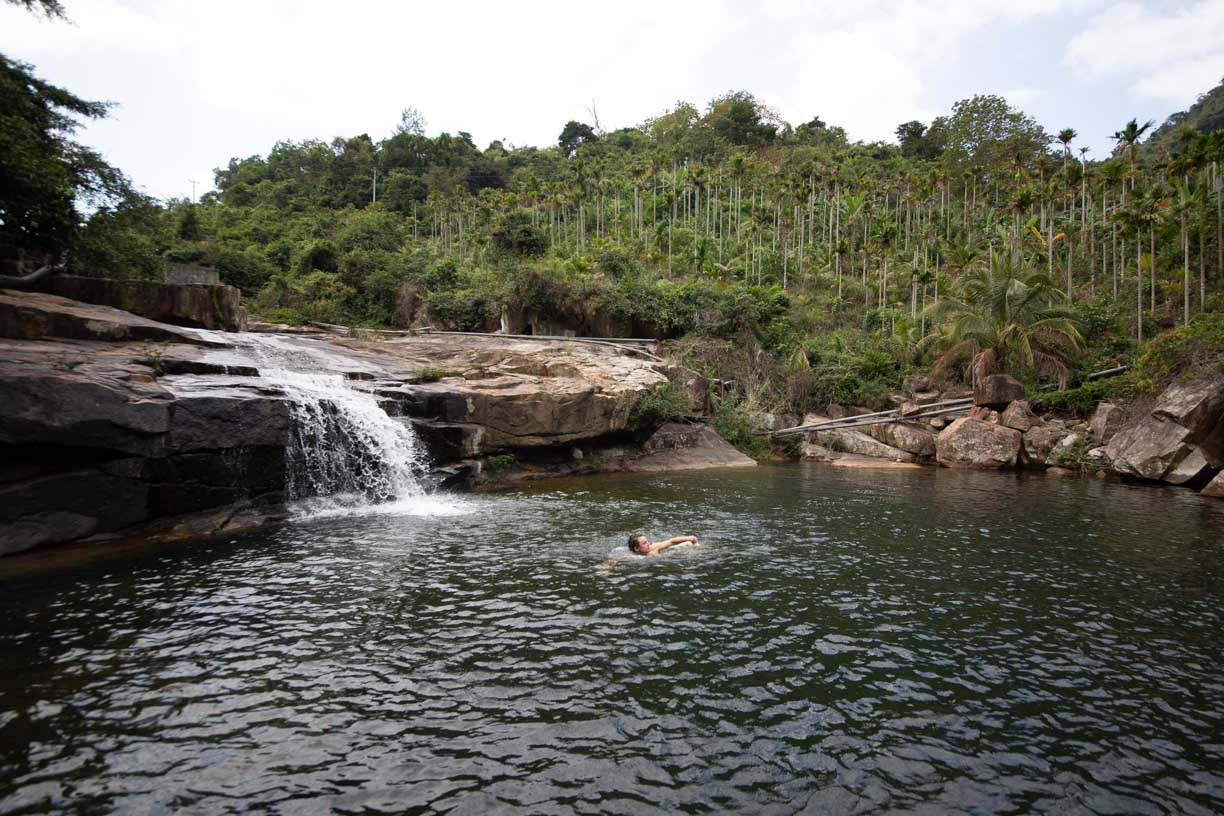 How do I get there?
The best way to get to Ri yue wan is by train to Wanning station then take a taxi.
Taxi:
Taxis at Wanning Station are plentiful. Ignore the touts and head directly to the taxi line upon exiting the station.  The total travel time should be no more than 40 minutes, with a usual trip taking 30 minutes. It is a long, and slightly expensive road, but it's worth it!
A taxi from Wanning station will cost around 100 RMB 
Please take me to Ri Yue Bay.
请带我去 日月湾
Address: Ri Yue (Sun Moon) Bay Surfing Tourism Area, West Side.
地址: 日月湾旅游度假区内,水上运动训练基地西侧 ,近东线高速公路日月湾路口
Thank you!
谢谢您!