According to the latest reports, at present, pharmacies across Hainan Province are operating normally, and people can buy over-the-counter antipyretic, cough and antiviral medicines both online and offline.
Patients who need to go to the hospital for treatment are required to have a negative nucleic acid test results taken within 48-hours to see a doctor. Unfortunately, most of us cannot predict 48 hours in advance when an emergency is going to land in our laps, so either you get tested every 48 hours, or go to the hospital without a test result.
Medical institutions are not allowed to refuse patients to see a doctor on the grounds that they do not have a negative nucleic acid certificate.
Patients who visit the emergency department and who have a negative nucleic acid test result taken within 48 hours can enter the emergency treatment area directly. 
Those who do not have nucleic acid test results within 48 hours will be directed to an emergency buffer area where they can take a rapid antigen and nucleic acid test at the same time.
We had to visit the hospital on Saturday after my son broke his wrist and needed emergency surgery and neither my son nor myself had 48 hour negative tests. The paperwork and tests took about 45 minutes (15 -20 minutes waiting for the rapid test results), before we could be admitted. The whole process was friendly and effficient and the line of people waiting for tests was very short, but expect this to change as more and more people get infected.
Point to note: only one person is allowed to accompany patients, and nucleic acid requirements are the same as admitted patients. The wards adopt closed management; except for special medical needs, patients and their companions are strictly prohibited from going out.
Medical institutions will conduct nucleic acid tests on all admitted patients, and arrange independent areas to admit patients with positive nucleic acid results. They separate positive diagnosis and negative diagnosis outpatient treatment areas and receive patients accordingly.
If the antigen test is positive; if there is no need for hospitalization and you meet the conditions for home isolation, a nucleic acid test will not be performed, a prescription can be issued and you can return home for isolation and self-medication. 
If hospitalization is required; the nucleic acid test will be performed, and hospitalisation will be provided according to the situation.
Consultation Q&A hotline
Hainan is organising medical health experts to set up on the provincial 12345 hotline platform, and each city and county will arrange a sub-platform to provide consultation on home isolation and health monitoring for asymptomatic and mild patients. Given past experience with 12345 however, I would not expect this to be available in English.
Related article: 48 hours negative nucleic acid results for hospital treatment and 24 for admission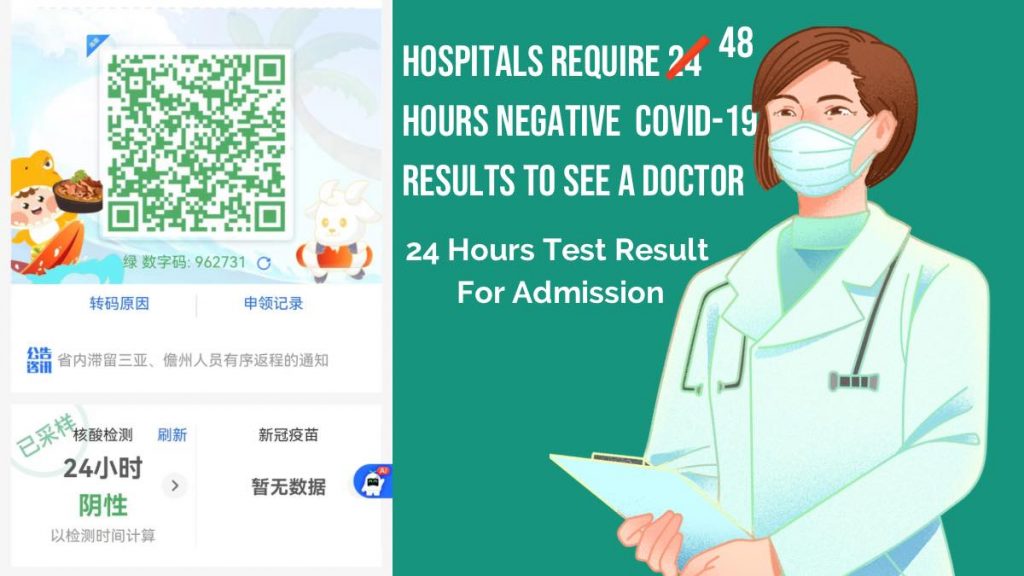 If you would like to make a comment, compliment or complaint about any aspect of living or working in Hainan Island, we'd love to hear from you. We pass all communications on to the relevant services. Please keep it polite and to the point.