Haikou Highlights: Aged Salt Lemonade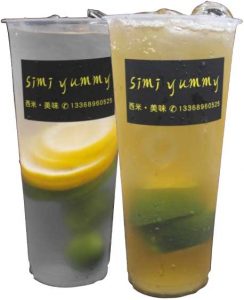 Aged salt lemonade
Lemon drinks are becoming popular in China, and this is exemplified in Hainan by a new favorite, aged salt lemonade. Aged salt lemonade is the latest craze in Haikou this summer. It has joined qing bu liang as a favorite local concoction.
What does Aged salt mean?
Aged means old in Chinese, but can also mean salt which has been stored for a long time. Aged salt is considered good for the treatment of colds, coughs and fever and is also particularly efficacious for smokers, for whom Aged salt-water can clear and cleanse the throat.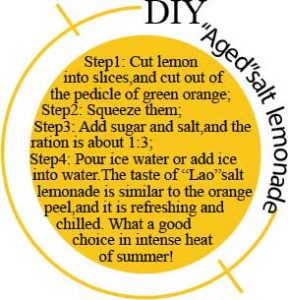 In China, the ancients realized that life without salt would caused edema. If people consistently eat a salt-free diet for a long time this would cause systemic edema and limb weakness. For a very long time, Hainan islanders have picked up crystalline sea salt dried on reefs and other natural features near the seashore. They added it to cooking and discovered it enhanced the flavor. Later, salt was deliberately produced by evaporating brine. According to Shuo Wen Jie Zhi, "brine is the most natural state of salt".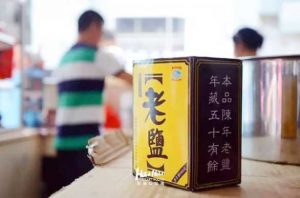 Lemonade with Aged salt has abundant benefits. Firstly, It can supplement vitamin C for immunity enhancement and good for the throat, which means that at the beginning of a cold, Aged salt lemonade can relieve a sore throat. 500-1000 milliliters of lao lemonade is said to cure a cold without medicine. It is also considered to stimulate appetite and digestion.  Last but not least, it can remove phlegm, and the effect is more obvious than oranges. Aged salt lemonade is considered to have many other effects beneficail to health for both young and old, male and female.