Museums are a lot more than just a collection of artifacts, they are great examples of informal learning environments.
With a visit to a museum, you can get in-depth information on a subject, and spend as little or as much time as you like exploring exhibits that interest you.
In many cases exhibits can be inspirational, especially for children as they explore attitudes, values, skills, resources and knowledge from the past.
So, if you're looking for a positive experience this weekend, consider checking out the latest animal shaped cultural relic exhibition at the Hainan Museum.
Tomb Guardian Beasts:
Tomb guardian beasts were common "monsters" found in ancient Chinese tombs. Their shape and form were imaginative, and their role was to exorcise evil.
They were placed in special positions around the tomb according to funeral rituals of the time.
The earliest form of tomb beasts is the wooden painted "Chu style" from the Warring States period (475–221 BCE).
During the Sui (581–618 CE) and Tang (618–907 CE) Dynasties, it became common practice to combine human faces with animal bodies.
Kylin:
The Kylin has a deer's body, oxtail, wolf hooves, dragon head and horns. Many ancestral halls and temples, stone pagodas and homes in Hainan were decorated with Kylin.
There is a folk tradition that says, Kylin will bless virtuous families with sons so that these families will prosper for future generations. It was said that when children sent by Kylin grew up, they would become virtuous ministers to help govern the country.
Dragons:
Wang Fu of the Eastern Han Dynasty (25-220 CE) once wrote, "Dragon horns look like deer's, it's head looks like a camel's, the eyes like a ghost, the neck like a snake, the abdomen like a carp, the claws like an eagle, and the ears like an ox."
Over the years, the image of the dragon has changed according to people's beliefs and culture.
Today's dragon combines the characteristics of a variety of animals along with various meanings.
The raised forehead represents wisdom, the sword eyebrows symbolise valour, the tiger eyes show majesty, the lion nose symbolises wealth, the antlers represent the country and longevity, the eagle claws represent bravery, the snake body is flexible and the teeth symbolise diligence and kindness.
Lions:
Stone lions have been placed at the door of large buildings in China since ancient times to restrain all other animals and ward off evil spirits.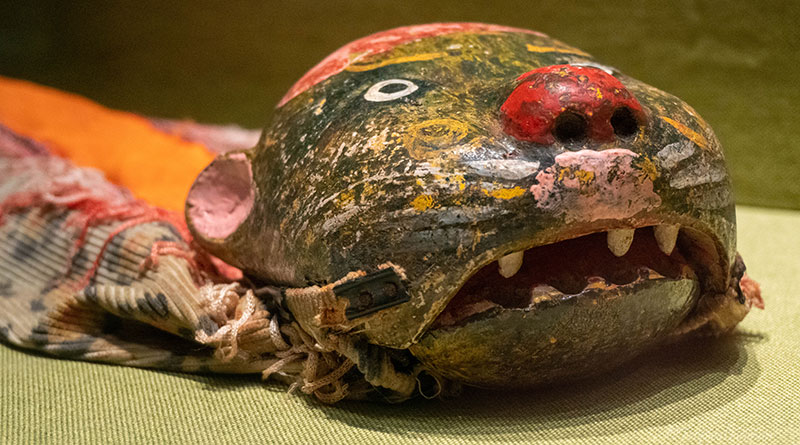 Pigs:
According to the museum, domesticated pigs in China can be traced back 9000 years to the Jiahu site in Wuyang in Henan province. In Shuowen Jiezi (an ancient Chinese dictionary) written by Xu Shen in the Western Han Dynasty (206 BCE – 09 CE), it is said that "for the house" and "for the pig" were combined into "home" demonstrating the importance of the pig in ancient culture.
Cattle:
Cattle have been domesticated in China for more than 2000 years, they first appeared in Gansu, Qinghai and Northeast China.
In the transition from a slave to a feudal society, cattle became representative of advanced production.
Cattle images in cultural relics mainly include yellow cattle, buffalo, yak and bison and classic images include cattle lying down, farming and zodiac cattle.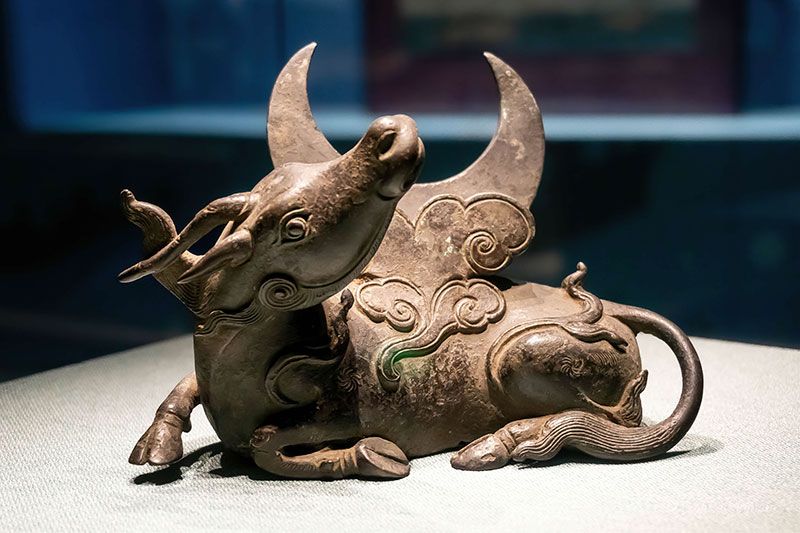 Opening times:Tuesday – Sunday 09:00 – 17:00 (closed on Monday)
Ticket price: Free (take your passport for entry)
Address: 海口市琼山区国兴大道68号
Related article: The Hainan Museum
If you would like to make a comment, compliment or complaint about any aspect of living or working in Hainan Island, we'd love to hear from you. We pass all communications on to the relevant services. Please keep it polite and to the point.