At about 9:11 a.m. on February 19, Cai Moujing, a villager in Hutou Village, Youai Village Committee, Sanmenpo Town, Haikou called the police and said that he and his wife were both stung by wild bees.
Cai Moujing informed them that at 9 am that day, he and his wife Li Mouqing were busy in the fields when a group of wild bees flew out from the nearby woods and attacked the two of them.
Li Mouqing became exhausted from running away from the bees and jumped into the paddy field beside him and covered his head with his jacket.
By the time the vicious attack had ended, Li Mouqing, and a total of 6 villagers had been stung.
According to Chen Yan, a policeman from the Tan Wen Police Station, last year, several people were attacked by wild bees in that very same area.
After receiving the alarm, Chen Yan and his colleagues rushed to Cai Moujing's house and found that Li Mouqing was in a semi-conscious state.
Chen Yan and his colleagues worked together to lift Li Mouqing into the police car and sent him to Tanwen Health Center for examination and treatment. Subsequently, Li Mouqing was transferred to the Second Affiliated Hospital of Hainan Medical College.
After going door to door, checking on local residents, the police and the fire department cleaned up the wild honeycombs on the betel nut trees to eliminate potential safety hazards.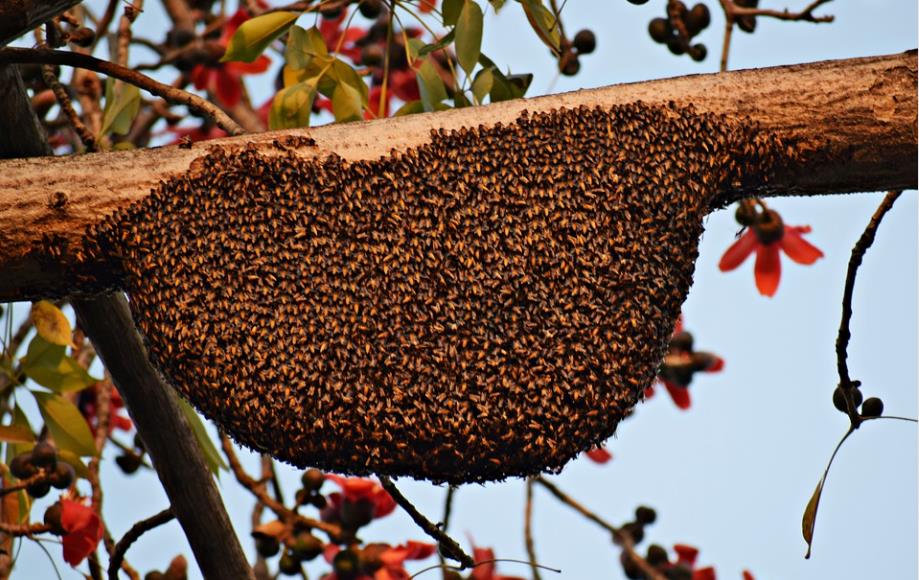 Wild bee stings
After being stung by a wild bee, the wound will have redness, swelling, heat, pain, and blackening in severe cases.
Petechiae and tissue necrosis may occur. Petechiae are pinpoint-sized spots of bleeding under the skin or mucous membranes and necrosis is the death of body tissue. It occurs when too little blood flows to the tissue.
Reactions may include dizziness, headache, nausea, vomiting, chest tightness, dyspnea, and allergic reactions such as erythema and itching, which may disappear within a few hours in mild cases.
In the case of being stung by multiple bees, severe poisoning reactions may occur, including hemolysis ( rupture or destruction of red blood cells), bleeding, difficulty breathing, and even respiratory failure.
What to do if attacked by wild bees
The power of bee venom should not be underestimated, but bees generally do not actively attack. In case of a wild bee attack, immediately protect your head and neck with clothing.
If the wind is strong, you can run against the wind, or lie down on the ground. Don't fight back, otherwise, you will attract more bees to attack.
Do not approach beehives or bee colonies. Brightly colored clothes are more likely to attract bees.
If a beehive is found in a residential area, it is best to call the fire station or other professionals to deal with it.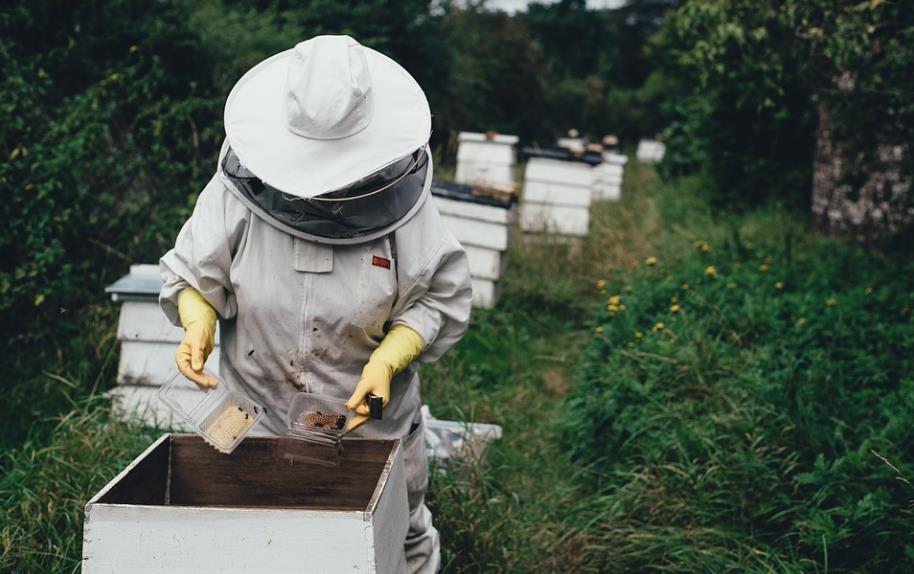 How to deal with bee stings
First, check whether there are stingers remaining in the skin. The stingers can easily break off in the skin. They can be peeled off after sticking with tape or pulled out with tweezers.
Second, neutralize the venom. Bee venom is acidic, so you can use soapy water and 5%-10% sodium bicarbonate solution to wash the wound.
In the wild, you can also consider using urine (the main component is ammonia water, which is alkaline) to wash the wound.
The venom of wasp stings is alkaline, and the wound can be washed with acidic substances such as vinegar, 3% boric acid, 1% acetic acid, etc.
Third, to treat pain and redness, reduce activities and movement of the stung limb(s). Ice packs can also help to reduce the absorption of toxins.
Patients with obvious systemic symptoms should go to the regular hospital for treatment as soon as possible.
Multiple skin rashes on the whole body, difficulty breathing, oliguria or hematuria, loss of consciousness, palpitations and chest tightness, blood stasis and bruises, black stools, etc. are all signs of a dangerous condition and should be treated immediately.

Related article: Autonomous trash cleaning robot put to work on Haikou's lakes

If you would like to make a comment, compliment or complaint about any aspect of living or working in Hainan Island, we'd love to hear from you. We pass all communications on to the relevant services. Please keep it polite and to the point.