The green sandpiper represents an ancient lineage of the genus Tringa; its only close living relative is the solitary sandpiper (T. solitaria). They both have brown wings with little light dots and a delicate but contrasting neck and chest pattern. In addition, both species nest in trees, unlike most other scolopacids.
Green Sandpipers are quite popular in their range regions and have been given the conservation status of Least Concern.
The green sandpiper breeds across subarctic Europe and east across the Palearctic and is a migratory bird, wintering in southern Europe, the Indian Subcontinent, Southeast Asia, and tropical Africa.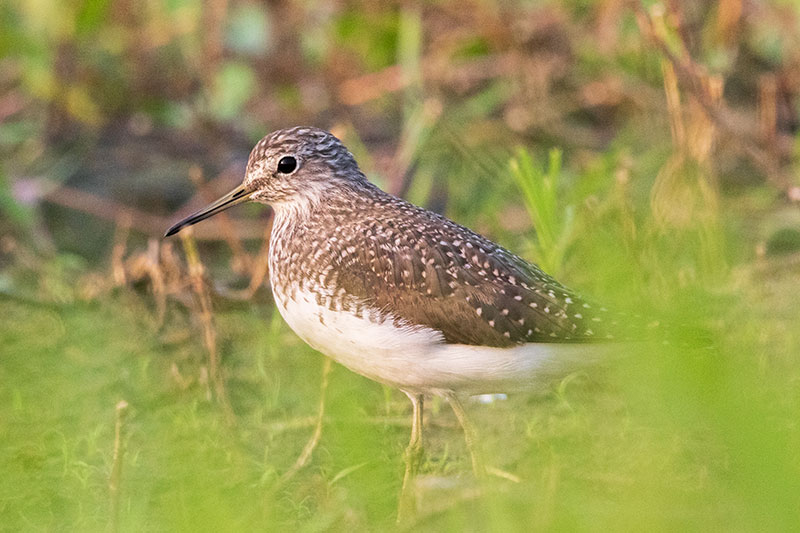 Food is small invertebrate items picked off the mud as this species works steadily around the edges of its chosen pond.
They prefer tropical or subtropical habitats among forests, wetlands, swamps, flooded grasslands etc.
They feed in freshwater wetlands, such as the edges of lakes, ponds, rivers and even streams and ditches and are rarely seen at coastal estuaries.
It frequently bobs up and down when standing. It often appears nervous and will fly off with a low zig-zagging flight when disturbed.
This bird breeds between April to June, builds nests in trees and usually has a clutch size of two to four eggs with an incubation period of 21 days.
Related article: Birds of Hainan: The Green Sandpiper

If you would like to make a comment, compliment or complaint about any aspect of living or working in Hainan Island, we'd love to hear from you. We pass all communications on to the relevant services. Please keep it polite and to the point.