Construction of Hainan's "No. 1 National Coast Scenic loop highway" is underway!
Construction of the Hainan No. 1 National Coastal Scenic highway has started. Construction began on 31 December 2020 and once completed it will loop around Hainan's coastline 988.2 kilometres in length.
General introduction
The tourist loop highway is a scenic route that will showcase Hainan's geographical features and the natural cultural characteristics of the island.
The highway will pass along cliffs, beaches, wetlands, farmland, forest and other diverse scenic areas on Hainan Island.

It is one of 25 national ecological scenic corridors proposed in the National Eco-Tourism Development Plan (2016-2025).
The road will adopt 5G technology, GPS positioning, big data, internet of things and other scientific and technological means needed to be a modern smart highway.
Planning and layout of the coastal scenic line
The main line of the project is 988.2 kilometres long and it will run through 12 coastal cities and counties including Haikou, Wenchang, Qionghai, Wanning, Lingshui, Sanya, Ledong, Dongfang, Changjiang, Danzhou, Lingao, Chengmai and the Yangpu Economic Development Zone.

Along the highway loop, there are 84 scenic landscape areas, 22 coastal headlands, 25 lighthouses, 68 bays, 26 coastal lagoons, 16 mangrove forests, 40 courier stations, 31 A-level scenic spots, 21 tourist resort areas and 261 coastal scenic spots and historical sites.
Seven natural scenery sections
Among them, 70% will be made up of natural scenery and ecological sections, 20% of urban landscape and 10% natural scenery and multifunctional experience areas.

The natural ecological scenery sections include a coastal defence forest section (136.5km), pastoral section (94.7km), wetland section (89.6km), coconut forest section (23km), windmill section (45.9km), estuary section and cliff section (5.2km).
The total length of the natural ecological scenery sections is about 374 kilometres, accounting for 80% of the designed sections of the project.

The estuary section includes 24 bridges including Century Bridge, Xindong Bridge, Tanmen Bridge, Yacheng Bridge and Yangpu Bridge.
Nine bridges have been built and 15 bridges are yet to be built.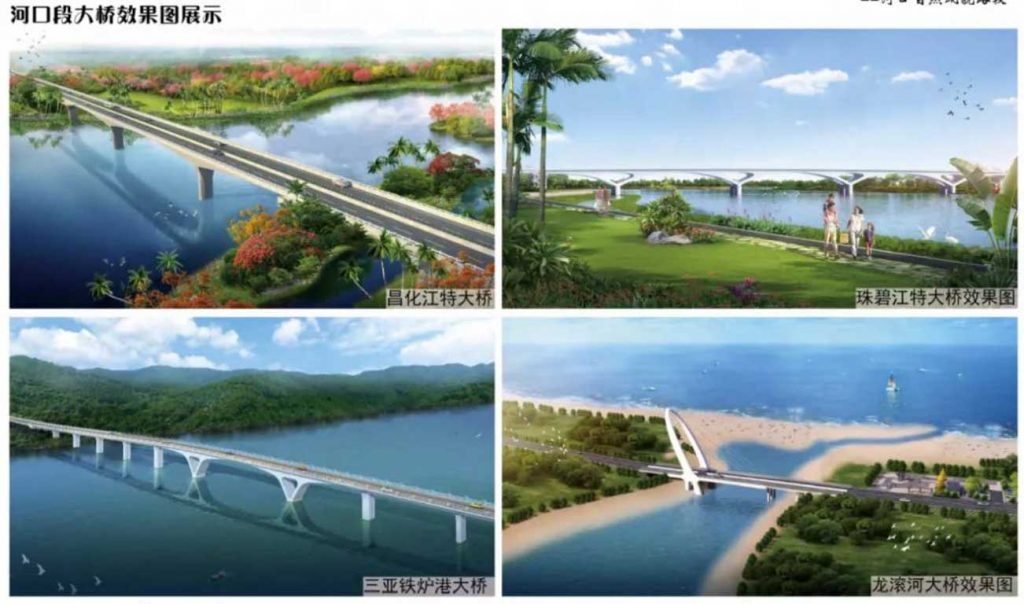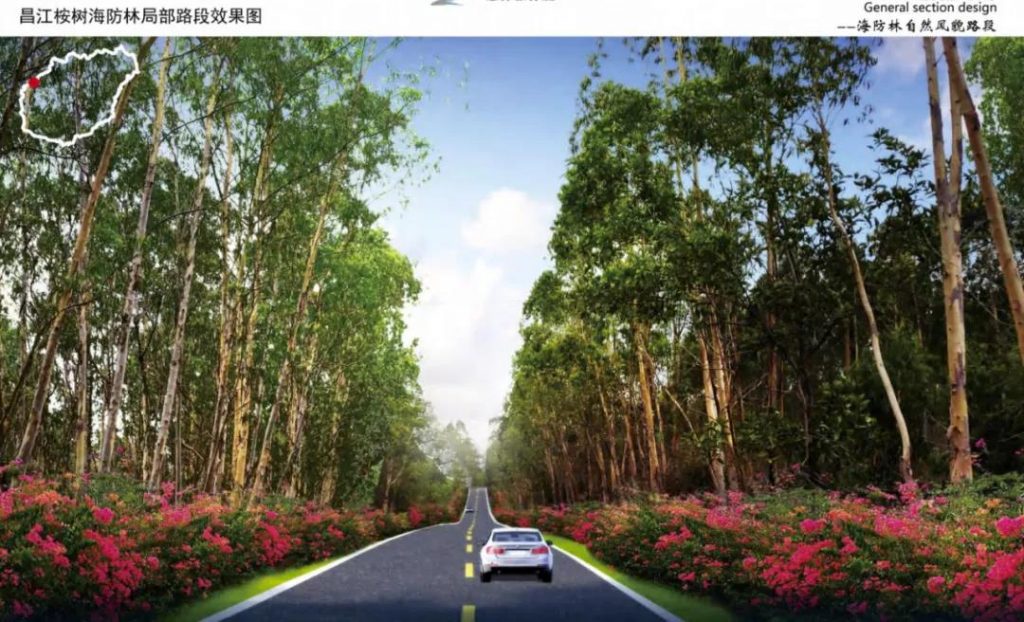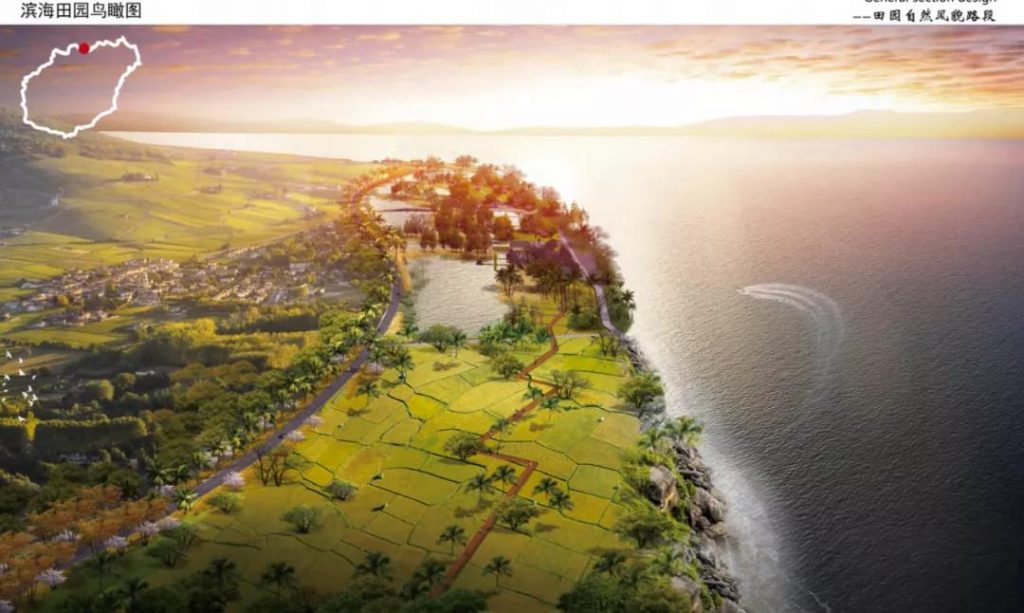 Two Urban sections
The township road section – a combination of urban and rural areas.

Includes Shangxi Village Lingshui, Shayutang Village Changjiang, Haiwei Town section, Danzhou Yangpu Development Zone section and Lingao Dialou Town section.
A total length of around 23.4 km, accounting for 5% of the overall design of the project.

The township road section will also incorporate 5-10 meters of green space either side to prevent dust and noise to surrounding residents.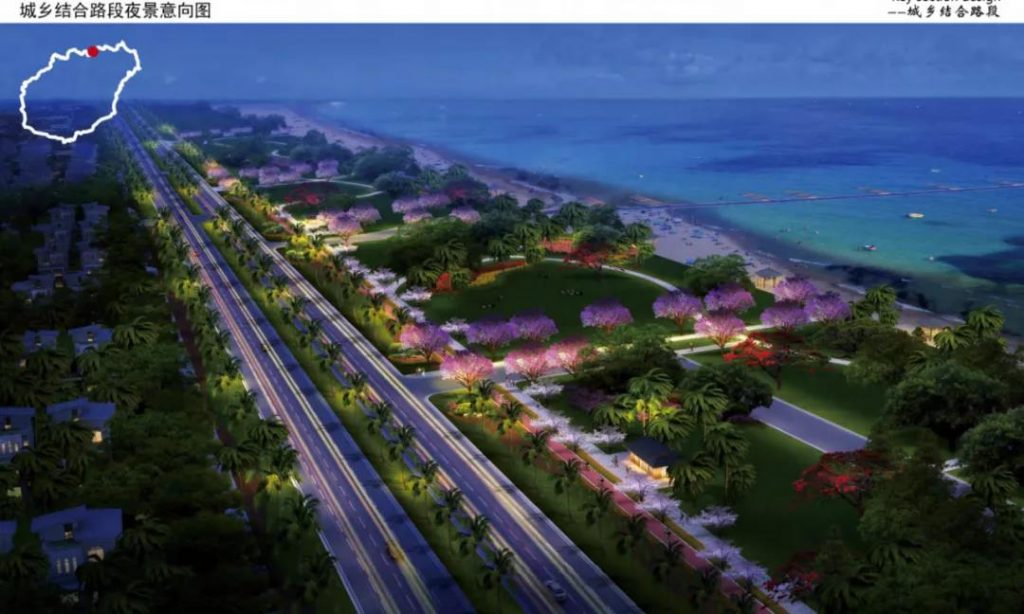 Combination of culture and travel road section
The scenic sections of the highway include the coconut forest in the eastern suburbs of Wenchang, the former site of the Soviet government in Lingshui, the Haiwei Wetland Park Changjiang, the Lingaojiao Scenic Area and Fuli Mangrove Bay in Chengmai with a total length of 27.9 kilometres.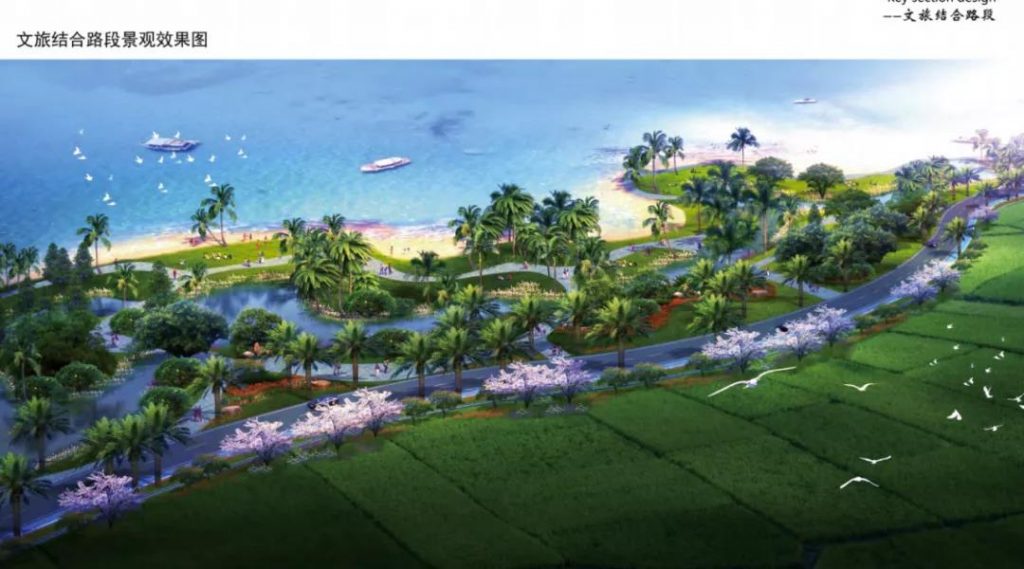 Parking lots
A total of 25 parking areas are to be set up throughout the project. The parking areas will be equipped with benches, lounge chairs, shaded areas, emergency telephones, toilets and other facilities.

In addition, each parking area will have a location and information map of the next scenic spot to provide tourists with convenient tourism information.

New energy supply stations
A total of 14 energy supply stations will be set up throughout the project which mainly meet the functions of energy supply and vehicle maintenance along the tourist highway.
Observation platforms
A total of 45 viewing platforms have been set up in places with good landscape and panoramic views.
Related article: Looking for something to do? Explore more of Hainan here
Tropicalhainan.com launched it's official mini programme and WeChat account, scan the Qr code to keep up to date with news, sports, entertainment, travel, opinion and more.