Haikou bus lanes, what you need to know on how to use them correctly
How to identify Haikou bus lanes, whether or not private vehicles can use them on weekends and holidays, and how to implement lane changes are some of the most common questions asked by the public.
How to identify Haikou bus lanes?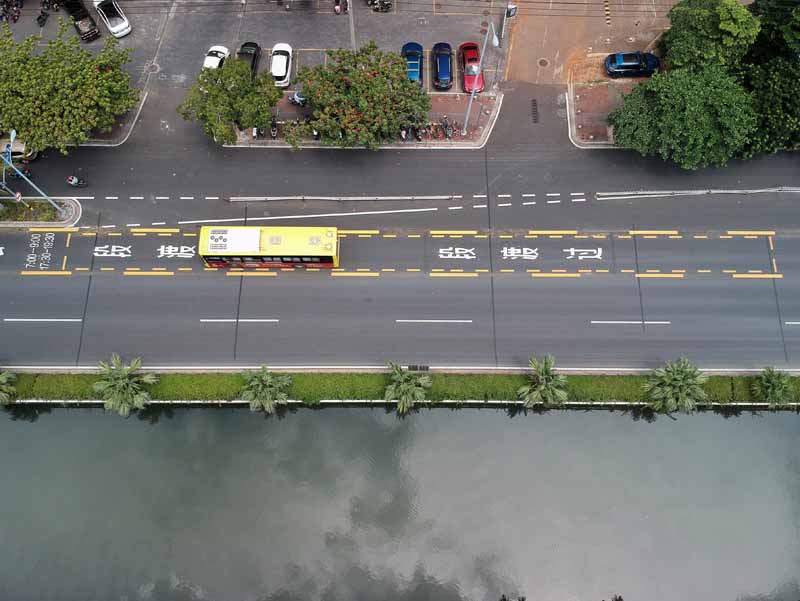 The six bus lanes that Haikou has launched in 2019 are in accordance with national standards.
The bus lanes are highlighted with yellow dashed lines and white characters in Chinese and English, indicating that other vehicles and pedestrians are not allowed to enter the lane during certain times.
The yellow dashed line segments have a length and spacing of 400 cm and a width of 20 cm or 25 cm.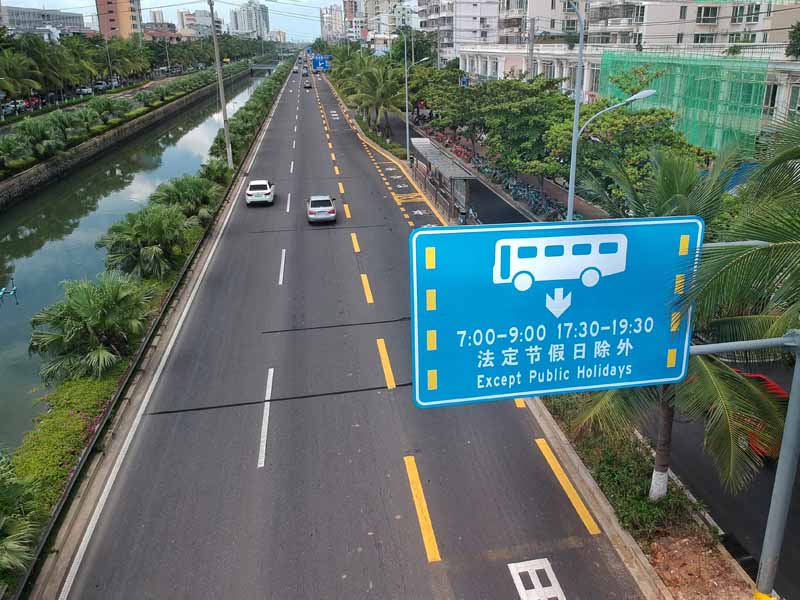 At the start and end of the lane, text on the road and signs are on display, with additional road signs along the way depending on the length of the route.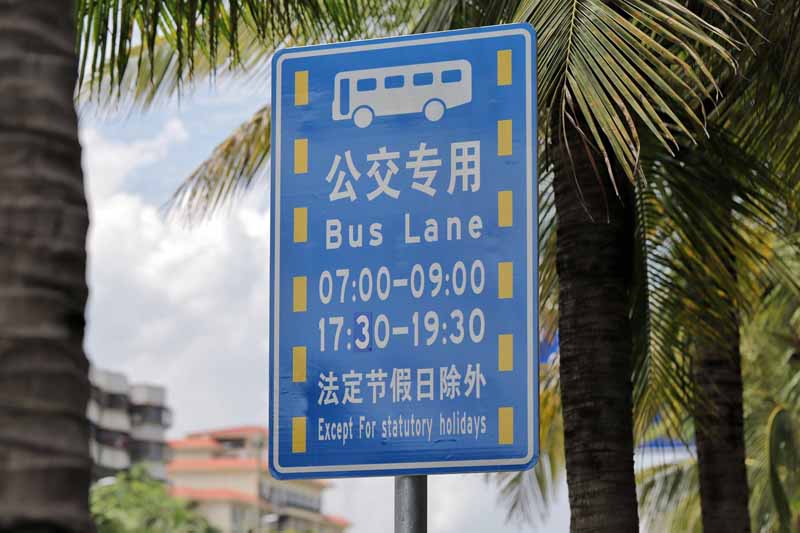 Can a private vehicle enter a Haikou bus lane on weekends?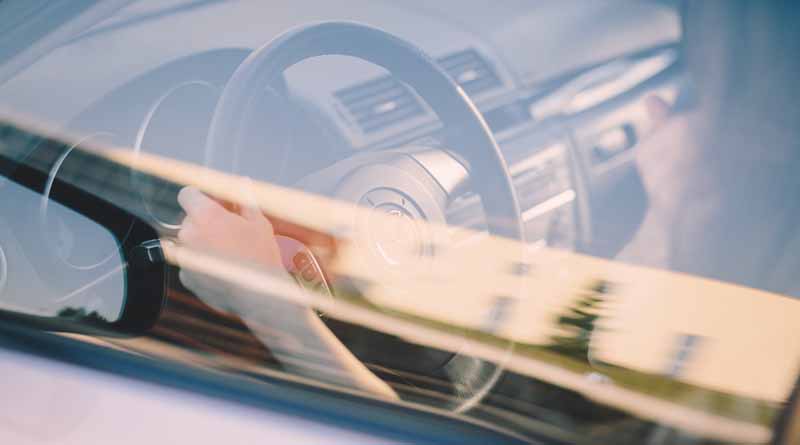 The bus lane is used for two time periods: 07:00-09:00 am and 17:30-19:30 pm on normal working days.
Private vehicles can use the lanes normally on statutory holidays and weekends, and all other hours of normal working days.
How do private vehicles change lanes through a bus lane?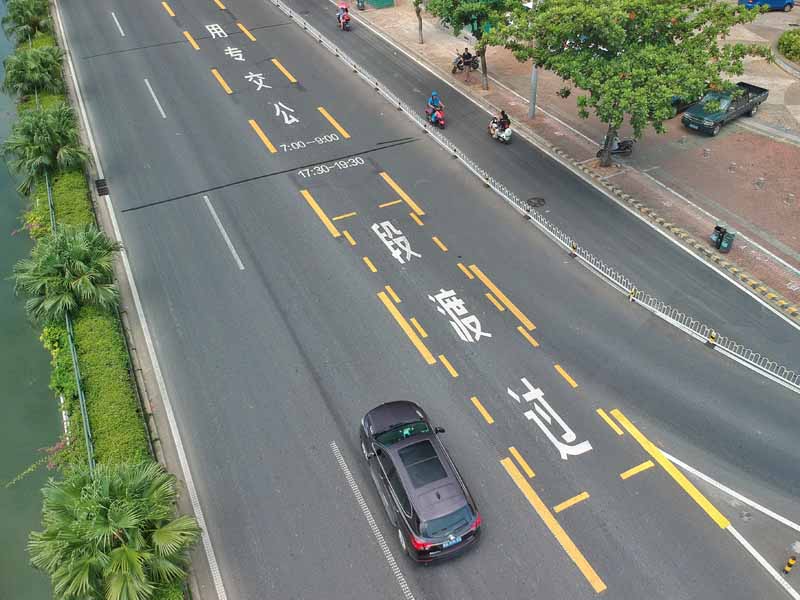 In order address the problem of traffic entering and leaving residential areas along the routes, all bus lanes are provided with "transition sections" near intersections (yellow dotted box, text: "transition section").
Vehicles may temporarily use the "transition section" to enter and exit the lane. But should promptly drive out the bus lane at their earliest convenience.
Can a commuter bus or taxi take a Haikou bus lane?
No. According to the provisions of Article 37 of the Road Traffic Safety Law, if a bus lane is set on a road, only the prescribed vehicles shall be allowed to drive in the dedicated lane, and other vehicles shall not enter.
Commuter buses and taxis are not allowed to occupy bus lanes or occupy stations along them during their times of operation.
They can enter auxiliary roads or bypass roads along the route, and temporarily park without affecting normal traffic, i.e. for drop off.
Does a bus have to stick to the bus lanes?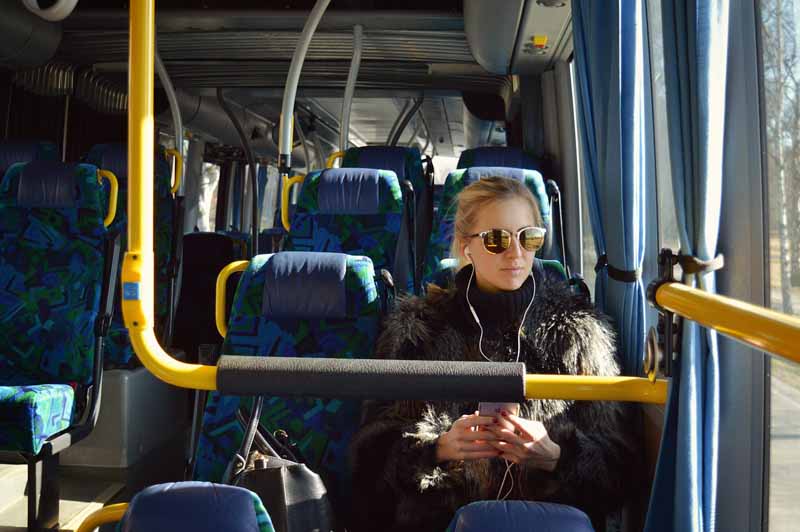 In some cases it will be necessary for buses to leave the bus lane, to implement lane changes or to avoid traffic obstacles, and to enter normal lanes, which is not a traffic violation.
However, if found to be deliberately not using the special lanes and occupying other lanes, the traffic police in accordance with Article 90 of the Road Traffic Safety Law and Article 64 of the Hainan Province Implementation of the Road and Safety Law can impose a penalty fine of 100 Yuan.
Source: http://www.haikou.gov.cn
Related articles:
How to get a temporary driver licence for tourists to Hainan
Design and budget for national highway G360 Wenchang to Ding'an and Ding'an to Lingao approved