International talent recruitment fair, Wed 18th December
A recruitment fair for international talents in Hainan will be held at the Langham Hotel on Wednesday 18th December. The fair has attracted a large number of top companies from across Hainan who have positions open for graduates and international talents.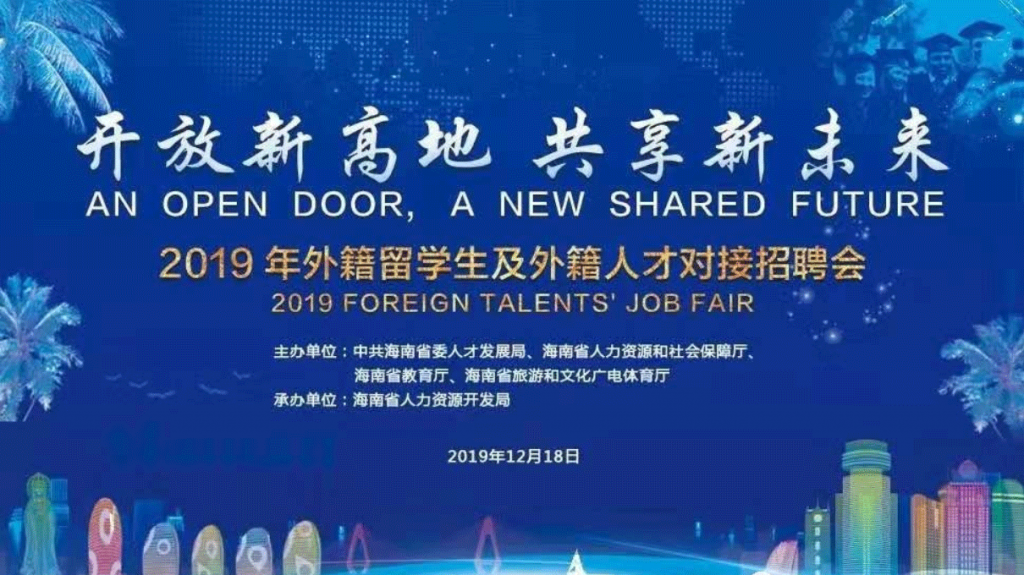 Companies attending the job fair will be recruiting on-site so dress smart and take a few copies of your resume along. Salaries offered from companies at the fair range from around 300,000 – 500,000 per year, and there are to be around 200 jobs on offer at the fair.
A policy advisory area will be set up at the event to provided policy advisory services to talents attending and answer their questions on employment.
Below is a list of some companies who are attending the job fair and Positions offered. 

| | | |
| --- | --- | --- |
| Hainan Maicheng education Co., Ltd | Hainan Maicheng education Co., Ltd | English teacher; |
| University of Sanya | University of Sanya | teachers; Management service post; Assistant teacher; Intern teacher; |
| Silk road foreign talents exchange service | Silk road foreign talents exchange service | English Teacher; Product sales Manager; Translator; |
| Hainan Chunguang Foodstuff Co., Ltd | Hainan Chunguang Foodstuff Co., Ltd | Interpreter; Assistant; |
| Hainan Hongfan Exhibition Service Co., Ltd | Hainan Hongfan Exhibition Service Co., Ltd | sales manager; Brand Manager; |
| Hainan Natural Rubber Industry Group Co., Ltd | Hainan Natural Rubber Industry Group Co., Ltd | Project management position; Investment position Finance and audit; Human resource management position; Legal position; |
| Shangri-La Hotel, Haikou | Shangri-La Hotel, Haikou | Front Office; F&B |
| Haikou ACE International Kindergarten | Haikou ACE International Kindergarten | Foreign Teacher; |
| Hainan United Airlines & Travel Group Co.,Ltd | Hainan United Airlines & Travel Group Co.,Ltd | Tour guide assistant; foreign language operator; foreign language sales; |
| Haikou Foreign Affairs Office | Haikou Foreign Affairs Office | Hainan FTP International Promoter & Interpreter |
| Boao Yiling Life Care Center | Boao Yiling Life Care Center | English; Russian; Arabic; French; Korean; German; Biomedical Researchers; Biopharmace-utical Researchers; |
| Haikou Westin Hotel | Haikou Westin Hotel | F&B Trainee; Grange Restaurant Supervisor; Qba Bartender Q; Bell Boy /Door Man; Guest Relations Officer; |
| Hainan Microcity Future School | Hainan Microcity Future School | Foreign English Teacher |
| Hainan Development Holdings (HDH) | Hainan Development Holdings (HDH) | Biological/Medical Technology specialist; |
| Sansha Satellite TV | Sansha Satellite TV | Foreign Expert to examine scripts; |
| SANYA Aviation and Tourism College | SANYA Aviation and Tourism College | English foreign teachers Russian foreign teachers; |
| Hainan province planning exhibition |  Hainan province planning exhibition | English guide; |
| Hainan Mission Hills Resort Co., Ltd. | Hainan Mission Hills Resort Co., Ltd. | Front Office Management Trainee; F&B Management Trainee; Chef; |
| Hainan yabao tianwei industrial | Hainan yabao tianwei industrial | Admin Specialist; HR Specialist; Sales Executive; Sales Executive; Marketing Manager; |
| Haikou Binhai NO.9 Primary School | Haikou Binhai NO.9 Primary School | Foreign English Teacher |
| Hainan Audio-Visual Network TV Co, Ltd | Hainan Audio-Visual Network TV Co, Ltd | Journalist (English speaking ) English editor; Foreign language editor; |
| Haikou People's Hospital | Haikou People's Hospital | Ultrasound; Radiology Oral and Maxillofacial Surgery; Cardiology and Endodontics Department; Cardiothoracic Surgery; Pediatrics; Interventional Radiology; Nuclear Medicine; Neurology; Pediatric Infectious Disease; Acupuncture and Massage; Ultrasound; Radiology; |
| Hilton Haikou Meilan | Hilton Haikou Meilan | Guest Relation |
| Sanya City Vocational College | Sanya City Vocational College | English teacher |
| HNA Group | HNA Group | Sales and Marketing Supervisor; Finance Supervisor Assistant; Human Resources Supervisor \ Assistant; Administrative Supervisor \ Assistant; |
| Hainan general hospital | Hainan general hospital | Academic Leader; International Outpatient Department; Central Lab Researcher; Central Lab Chief Researcher; |
| Road transportation bureau of hainan province | Road transportation bureau of Hainan province | International exchange post; Contact with foreign companies; |
| Hainan traffic planning and design institute | Hainan traffic planning and design institude | Transport Planning Analysis Consultant; |
| The Second Affiliated Hospital of HNMU | The Second Affiliated Hospital of HNMU | Medical Care; Medical Care; |
| Hainan College of Economics and Business | Hainan College of Economics and Business | Institute of International Education(teacher; College of engineering and technology (teacher; Financial management (teacher; Tourism Management (teacher; Business Administration (teacher; Humanities and Arts (teacher; |
| The First Affiliated Hospital of HNMU | The First Affiliated Hospital of HNMU | Gastroenterologist; General Practitioner; Neurosurgeon; Gastrointestinal Tumor Surgeon; Cardiothoracic Surgeon; Medical Center Physician; |
| Sanya Haitang Bay 1 Hotel | Sanya Haitang Bay 1 Hotel | Front Office Management Trainee; Food and Beverage Department Management Trainee; |
| Spice and Beverage Research Institute of CATAS | Spice and Beverage Research Institute of CATAS | Academic Leader of Resource Research Laboratory; Academic Leader of Processing Laboratory; Aacademic Mainstay of Resource Research Laboratory; Aacademic Mainstay of Cultivation Laboratory; Academic Mainstay of Tropical Ecological Agriculture Laboratory; Academic Mainstay of Processing Laboratory; Academic Mainstay of Pests and Diseases Laboratory; Academic Mainstay of Pests and Diseases Laboratory; Academic Mainstay of Processing Laboratory; Academic Mainstay of Engineering Technology Laboratory; |
| zambon pharmaceutical co., ltd. | zambon pharmaceutical co., ltd. | Instrument inspector QC; Equipment repairman; |
| Hainan Health Management College | Hainan Health Management College | English teacher; |
| Changying Hainan Culture Industry Group Co.,Ltd | Changying Hainan Culture Industry Group Co.,Ltd | Performer; Guider |
| Hainan R & F Ocean Paradise Development Co., Ltd | Hainan R & F Ocean Paradise Development Co., Ltd | Animal Operations Position; Theme park operation Position; Entertainment Position; Retail operations Position; Catering operations Position; |
| Hainan Province Construction Group Corporation | Hainan Province Construction Group Corporation | Engineering Technology; Planning and Design; |
| Oxford (Hainan) Blockchain Research Institute | Oxford (Hainan) Blockchain Research Institute | Marketing analyst; |
| Hainan Haixin Electric Power Construction Co., Ltd | Hainan Haixin Electric Power Construction Co., Ltd | Sheet metal mechanic; Electrical installation technician; Sheet metal master; Power Designer; business staff; |
| Hainan Jingchu Investment Group Co., Ltd | Hainan Jingchu Investment Group Co., Ltd | Assistant to General Manager (Affiliated Real Estate Company); Assistant to General Manager (Engineering Division) Reserve Cadres of Tourism Management Reserve Cadres of Passenger Transport Management; Reserve Cadres of Mining Management; Reserve Cadres of Low Altitude Aviation; Reserve Cadres of Engineering Management; Reserve Cadres of Marketing Management; Reserve Cadres of Project Development; Reserve Cadres of Operation and Management of Municipal Projects; Reserve Cadres of Human Resources; Reserve Cadres of Administrative Management; Reserve Cadres of Auditing & Supervision; Reserve Cadres of Financial Management; Reserve Cadres of Commercial Real Estate Operation Managemen; Reserve Cadres of Foreign Project Division; |
| Qiongtai Normal University | Qiongtai Normal University | English teacher |
| CCOIC Hainan | CCOIC Hainan | International Liaison Department |
| Danzhou People's Hospital | Danzhou People's Hospital | Medical Oncology Physician; Radiation Physician; Obstetrics Physician; Paediatrician; |
| Sanya Foreign Language School Affiliated to SISU | Sanya Foreign Language School Affiliated to SISU | Teacher; |
| Ocean Flower Island Tourism operation company | Ocean Flower Island Tourism operation company | Coastal Entertainment Center-Cruise Port Marketing Director; Coastal Entertainment Center-; Coastal Entertainment Center-Water Operations Specialist; Convention and Exhibition Center-Sales (international market); Convention and Exhibition Center-Attendant; Art Performance Management Center – Model Art Performance Management Center – Actors; Fairyland Park Management Center – Animal Show Performer(Dolphin theater performance); Fairyland Park Management Center – Animal Show Performer (Crocodile show); Fairyland Park Management Center – On-set Performer Fairyland Park Management Center – Director of Catering Atmosphere enlightening; Fairyland Park Management Center – Surfing Coach Fairyland Park Management Center – Customer Service; Fairyland Park Management Center – Receptionist; Hot Spring City-massage Technician; Castle Hotel – Concierge; Castle Hotel – Customer Service Attendant; Castle Hotel – Western Waiter; |
| Haikou Hilton | Haikou Hilton | GSM; |
| Boao Evergrande International Hospital | Boao Evergrande International Hospital | Receptionist; |
| Hainan Tropical Wildlife Park | Hainan Tropical Wildlife Park | Volunteer; Animal Feeding / Veterinary Ma; Landscape design and planning; New Media |
Where: The Langham Hotel, Haikou, 5thfloor
中环国际广场 滨海大道77号 邮政编码
Time: 9 – 12 am
Related article: Where to get a health check for your visa in Haikou