Interpretation of the overall policy program for Hainan Pilot Free Trade Zone
With a theme of New era, new Hainan the Interpretation of the Overall Policy Program of China (Hainan) Pilot Free Trade Zone was released by the Office of the Working Committee of the Free Trade Zone (Free Trade Port) of the Hainan Provincial Committee of the Communist Party of China.
On October 16, 2018, the overall plan of the Hainan Free Trade Zone was officially announced. It was a major decision made by the Party Central Committee and the State Council with a view to international and domestic development, in-depth research, and scientific planning. A major initiative to actively promote the determination of economic globalization.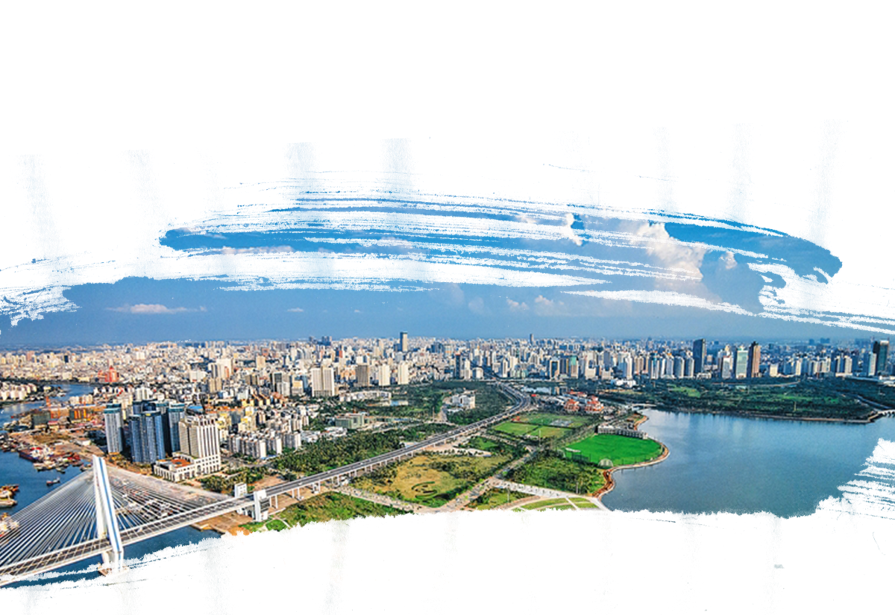 I. Policy content of the overall plan of the Hainan Free Trade Zone
The "Overall Plan" consists of 7 parts and 29 items, and gives more than 100 support policy measures to Hainan. The core policy measures applicable to foreign capital involve multiple key open areas such as tourism, the modern service industry and high-tech industry. Hainan will relax 16 foreign market access points, improve the level of trade facilitation and strengthen 16 major policy initiatives such as the "One Belt, One Road" international cooperation.
2. Differences between Hainan Free Trade Zone and the 11 other free trade zones across China
There are 6 major differences between the Hainan Free Trade Zone when compared with the other 11 free trade pilot zones in the country.
1. Different positioning
The Central People's Republic of China has asked Hainan to build a Free Trade Zone, to benchmark, promote and deepen the various institutional innovations in the current free trade pilot zone and lay a good foundation for actively exploring and steadily promoting free trade ports with Chinese characteristics. The development objectives of the Free Trade Zone are high standards of quality and high-quality construction. This is the biggest difference between Hainan and the other 11 Free Trade Zones.
2. Different scope
The implementation scope of the Pilot Free Trade Zone is the entire island of Hainan with a total area of 35,400 square kilometers. The implementation of the FTZ policy in on such a large scale that it is extremely rare not only in the country but also in the world.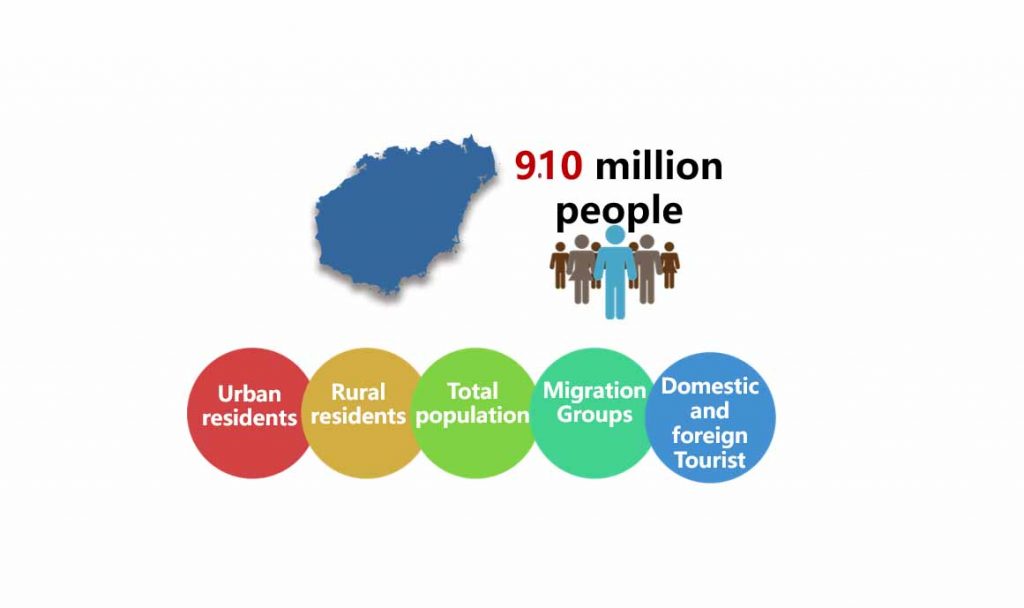 3. Target differences
Most of the 11 self-financed pilot zones in Hainan have been designated as a comprehensive bonded zones, special customs supervision zones, airports, seaports, industrial parks, etc., and many areas have many factories, enterprises, but few residents. Some areas will cover community residents, but the population is not large. The Hainan Free Trade Zone however covers more than 9.1 million people in the province.
4. Different fields
The central government requested that the construction of the Hainan Free Trade Zone should cover three industries in a comprehensive manner, deepening the opening up of modern agriculture, high-tech industries and modern service industries. At the same time, it also covers the fields of ecological civilization, marine economy and military-civilian integration. This is one of the major differences when compared to other free trade pilot zones.
5. Different policies
Vice Premier Han Zheng and Vice Premier Hu Chun hua repeatedly stressed that Hainan cannot be simply listed as the 12th Pilot Free Trade Zone. It cannot be compared with the other 11 free trade pilot zones in terms of policy considerations.
Hainan's reform measures involve the adjustment of existing laws or administrative regulations, implemented after the unified authorization of the National People's Congress or the State Council. The relevant departments of the Central Government shall, in light of the needs of Hainan's development and reform, delegate relevant administrative powers in a timely manner and give full decision-making power for reform. Hainan may implement the reform measures already explored in the 11 Pilot Free Trade Zones as needed.
6. Different systems
The Central Committee has set up a steering group to push forward Hainan's reform and opening to the outside world, with unprecedented co-ordination and greater synergy in the pilot program.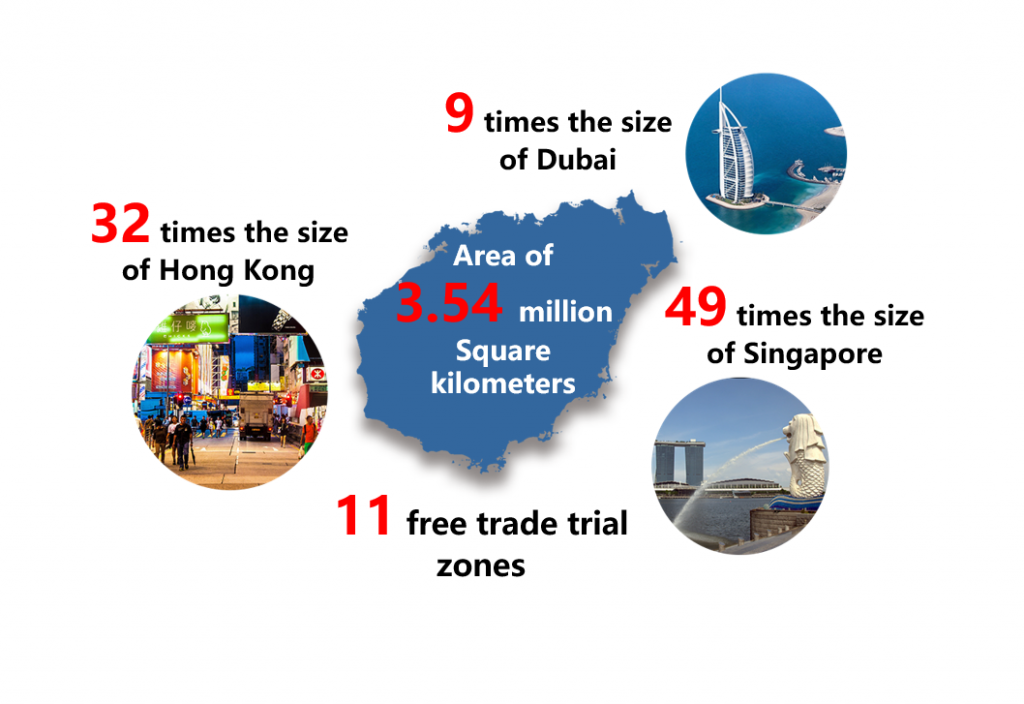 27 special policy measures granted by the state to Hainan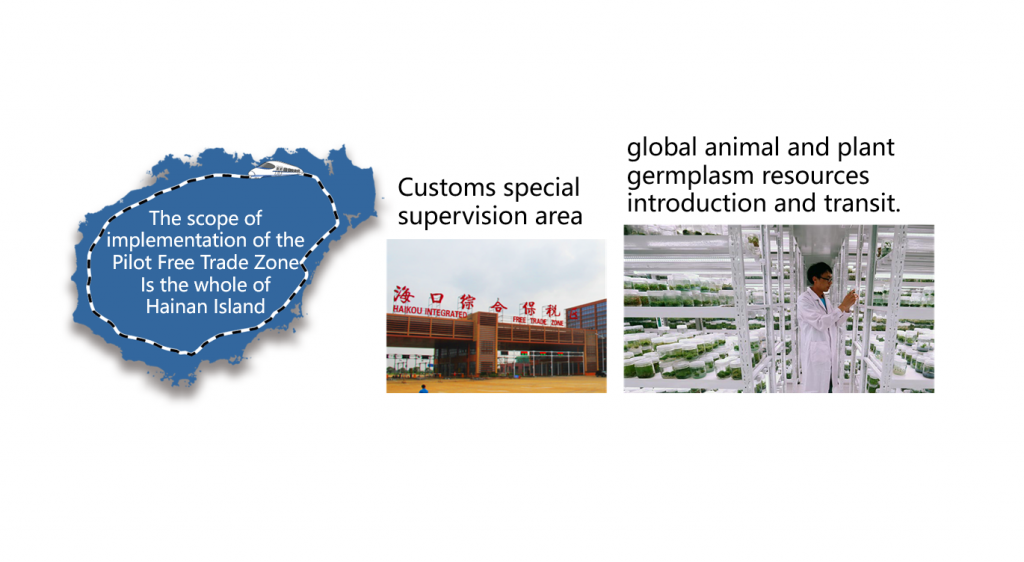 1. The scope of implementation of the Free Trade Zone is the whole of Hainan Island
2. Establishment of additional special customs surveillance areas according to development needs
3. The establishment of an additional customs surveillance and isolation area in Sanya to carry out global introduction and transit of animal and plant germplasm resources.
4. Deepen the opening up of modern agriculture, high-tech industries and modern service industries, and increase opening up in key areas such as the seed industry, medical care, education, tourism, telecommunications, internet, culture, finance, aviation, marine economy, and new energy vehicle manufacturing.
5. Simplify the wildlife Export licensing program
6. Exemption from the issuance of inspection and quarantine certificates and recordation for the export of high-quality agricultural products
7. Explore the establishment of a cross-border service trade Negative list management system
8. Support "Belt and Road" countries to establish consular institutions in Hainan
9. Promote Haikou, Sanya and "Belt and Road" countries and regions to expand navigation rights arrangements including the fifth freedom rights, improve airport flight support capacity, and attract relevant countries and regional airlines to open routes to stop in Hainan.
10. Develop Boao Lecheng International Medical Tourism Pioneer Zone, vigorously develop international medical tourism and high-end medical services, and appropriately reduce tariffs on certain medical devices that need to be imported within the scope of the advanced zone and have higher tariff rates.
11. Support large international exhibitions and festivals such as the International Commodities Fair, International Film Festival, China (Hainan) International Marine Industry Expo, as well as cultural tourism, international brands and other exhibitions suitable for Hainan's industrial characteristics.
12. Construction of an international tropical agricultural product trading center, pricing center, and price index publishing center based on natural rubber. Established a tropical agricultural auction center.
13. Promote the Pilot Free Trade Zone by developing and utilizing marine resources in a scientific and orderly manner, cultivate and strengthen the marine economy, and build a service and security base for the South China Sea.
14. Delegate the power of administrative licensing for non-vessel shipping and foreign-funded international ship management businesses to Hainan Province.
15. Support the cruise port of Sanya and other participating countries to participate in the pilot program of the China-funded flag cruise sea tour, and integrate Hainan into the international tourism "multi-destination" route.
16. Allow Hainan to conduct pilot projects for the approval of temporary open waters for overseas yachts.
17. Create a platform for the open development of science and technology for the breeding of South Asian species. Delineate specific areas, establish designated port jurisdictions and strengthen biosafety management, build a global transit base for animal and plant germplasm resources, and explore the establishment of transit isolation bases (protected areas), quarantine centers, germplasm conservation centers, and seed source trading centers.
18. Build an open platform for aerospace technology development. Promote commercial space development and international cooperation in space.
19. Introduce cutting-edge scientific and technological resources such as scientific research institutions and universities in the international deep-sea research field, and build a world-class deep-sea science and technology innovation platform.
20. Matters concerning the expropriation of land submitted by the Peoples Government of Hainan Province to the State Council for approval shall be subject to the approval of the Peoples Government of Hainan Province upon authorization of the State Council
22. Establish a regional financial regulatory coordination mechanism to strengthen the identification of major risks and the prevention of systemic financial risks.
23. Hainan Province should strengthen the legislation of special economic zones, establish a management system that is compatible with the requirements of the pilot zone, and establish a legal environment that is fair, transparent and complete.
24. Tax policies that have been implemented in other free trade pilot zones can be piloted in the Hainan Pilot Free Trade Zone where customs-selected tariffs and other related import and export taxes are promoted.
25. The policies implemented in other free trade pilot zones, which are in line with Hainan's development orientation, can be piloted in the Pilot Free Trade Zone after approval.
26. Accelerate the improvement of military land replacement policies.
27. Relevant departments of the central government should decentralize relevant management authority to Hainan Province in accordance with the needs of the Hainan Construction Pilot Free Trade Zone, give full reform autonomy, strengthen guidance and services, and jointly promote innovation of relevant institutional mechanisms.
Hainan Free Trade Zone's policy of expanding openness to foreign investment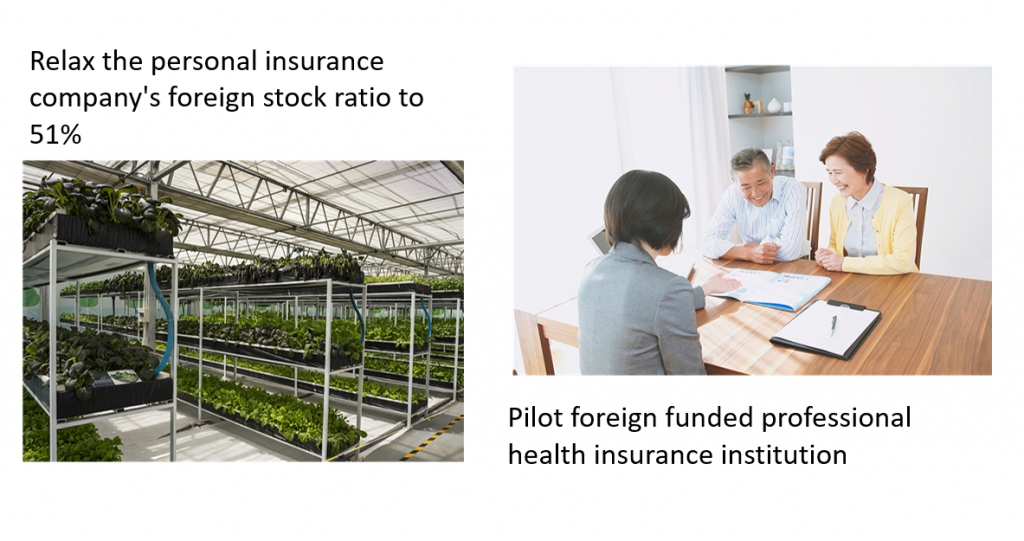 1. Relax the personal insurance company's foreign stock ratio to 51%
2. Pilot foreign funded professional health insurance institutions
1. Eliminate restriction on foreign capital stock ratio for new vegetable variety breeding and seed production.
2. Cancellation of restrictions on the separation or division of reinsurance business by foreign-funded insurance companies and their affiliated enterprises shall not be permitted
3. Cancel the registered capital limit of the single-machine and single-ship subsidiary established by the financial leasing company in the Hainan Free Trade Zone.
4. Cancel the ship (including segmentation) and trunk line, branch line, general aircraft design, manufacturing and maintenance of foreign shares ratio limit.
5. Cancel the restrictions on foreign shares of international maritime transport companies and international shipping agencies.
6. The limitation on foreign capital shares in domestic multi-party communication services, Internet access services for Internet users and storage and forwarding services shall be abolished
7. Cancel the foreign stock ratio limit of the performance brokerage institution.
8. For foreign-funded engineering design (excluding engineering surveys) that provide services to Hainan in the Hainan Free Trade Zone, cancel the engineering design performance requirements for investors when applying for the first time.
9. Cancel the restrictions on foreign investment in new energy vehicle manufacturing.
10. Lifting the Limitation on Exploration and Exploitation of Oil and Natural Gas Limited to Joint Ventures and Cooperation
11. The cancellation of limitations on oil and gas exploration and exploitation shall be carried out through a production-sharing contract signed with an oil and gas company with exclusive foreign cooperation franchise approved by the Chinese Government
12. Cancel the prohibition of foreign investment in the smelting, processing and nuclear fuel production of radioactive minerals.
Finance Industry
1. Allow qualified foreign financial institutions to set up foreign banks.
2. Allow qualified private capital to establish a Sino-foreign joint venture bank with foreign financial institutions.
3. It is allowed to set up a foreign-invested cultural performance group (Chinese partner).
4. It is allowed to set up a wholly foreign-owned entertainment venue to provide services in the Hainan Pilot Free Trade Zone.
5. Foreign-funded enterprises are allowed to engage in the production and sale of games and game equipment subject to content review by cultural authorities which may then be sold on the domestic market
6. Qualified Sino-foreign joint venture travel agencies registered in Hainan Pilot Free Trade Zone are allowed to engage in outbound tourism business other than Taiwan.
7. It is allowed to establish a wholly foreign-owned international ship management enterprises.
8. Allow foreign investors to invest in domestic Internet virtual private network services (foreign-equity ratio does not exceed 50%).
9. Allow foreign professionals who have obtained the qualifications of China's first-class registered architects or first-class registered structural engineers, as partners, establish a construction engineering design firm according to the corresponding qualification standards.
10. Wholly foreign-owned construction enterprises established in the Hainan Pilot Free Trade Zone are allowed to undertake construction projects in the region, which are not subject to the investment ratio of the two parties.
11. Allow qualified Professionals in the fields of finance, construction, planning, patent agency and other services in Hong Kong and Macao to provide professional services to enterprises in the Pilot Zone.
12. Allow Hainan piloted temporary open water approval for overseas yachts.
13. Allow foreign technical personnel work in the Pilot Free Trade Zone as required.
E-commerce
1. Support the development of cross-border e-commerce, global maintenance and other business forms.
2. Support Hainan to set up a cross-border e-commerce comprehensive pilot zone to improve and upgrade the customs supervision, finance, logistics and other support systems.
3. Support cross-border e-commerce enterprises to build overseas warehouses covering key countries and key markets.
4. Support the development of cross-border e-commerce retail import and bonded online purchase system.
5. Support the establishment of international cultural art trade venues in special customs supervision areas, carry out globally-oriented bonded cultural art auctions and transactions in accordance with laws and regulations; support the implementation of bonded supervision of "two-outside" aviation maintenance formats outside the special customs supervision area.
6. Support the development of off-shore trade and bonded delivery of commodities such as rubber.
7. Support multinational companies, trading companies to establish and develop global or regional trade networks, and build regional offshore trade centers.
8. Support qualified oil supply enterprises to carry out international bonded ship and bonded oil supply business and build a bonded oil supply base.
9. Support the introduction of international planning, construction engineering, architectural design, arbitration, accounting, intellectual property, medical health, film and television, exhibitions and other professional service agencies to promote the concentration of service elements.
10. Support the establishment of an intellectual property transaction center to promote the construction of an intellectual property operation service system.
11. Support domestic and foreign enterprises and institutions to carry out high-end shipping services such as shipping insurance, shipping arbitration, average adjustment, shipping transactions, ship financing leasing, and build an international shipping service platform.
12. Support the improvement of cross-border consumer service functions.
13. Support Hainan to introduce overseas quality education resources, host high-level Chinese-foreign cooperative education institutions and projects, and encourage domestic famous universities and research institutions to set up branches in Hainan.
14. Support the pilot of international talent management policies.
15. Support foreign tour groups to take a 15-day visa exemption policy for cruises.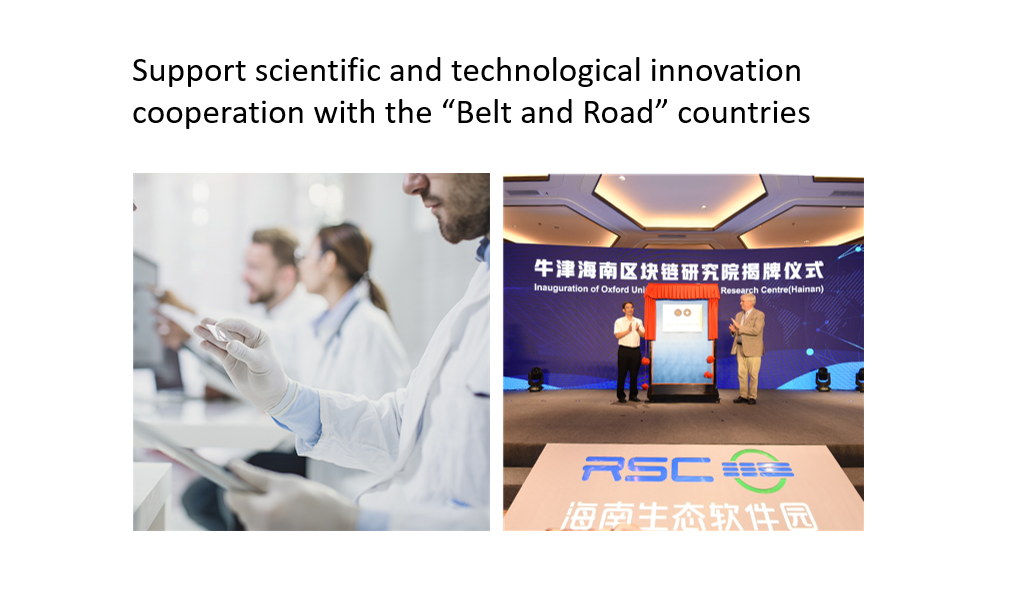 16. Support scientific and technological innovation cooperation with the "Belt and Road" countries in scientific and technological humanities exchanges, construction of joint laboratories, cooperation in science and technology parks, and technology transfer.
New opportunities for foreign investment
Based on the multi-faceted advantages and policy initiatives of the Hainan Free Trade Zone, we can proudly say that the construction of the Pilot Free Trade Zone in Hainan will bring at least the following tangible new development opportunities for foreign companies:
First, the expansion of opening the field brings new opportunities
Second, the investment threshold will bring new opportunities
Third, better business environment will bring new opportunities
Fourth, the introduction of talents is now more convenient and brings new opportunities.
Sixth, the next step
Fully implement and utilize the central support for Hainan's 1+N policy system
On the basis of the Central Document No. 12, the central ministries and commissions and Hainan Province jointly promoted a series of supporting implementation plans and formed a "1+N" policy system.
Among the 11 supporting implementation plans clearly defined by the central government, the "China (Hainan) Free Trade Pilot Area Overall Plan", "Hainan Province Institutional Reform Implementation Plan", "Hainan Province Innovation Driven Development Strategy Implementation Plan" and "The Implementation of Hainan Province Construction International Tourism Consumption Center", five programs and two supporting documents supporting the implementation plan of Hainan Province to comprehensively deepen the reform and opening up of fiscal and taxation policies have been issued, and other supporting implementation plans will be introduced one after another.
In addition, the Ministry of Finance, the Ministry of Transport, the Ministry of Science and Technology, the Ministry of Tourism and Culture, the People's Bank of China, the General Administration of Customs and other national departments have actively promoted the formulation of a series of policy measures and documents for Hainan, and fully promoted Hainan's comprehensive deepening of reform and opening up with strong support for the construction of the Hainan Free Trade Zone.
Source: Office of the Working Committee of the Free Trade Zone