Qiongtai Normal University names Seychellois as special expert for coconut carving
Seychellois Donatien Freminot has been appointed as special foreign expert of Hainan Provincial Arts and Crafts Society for coconut carving. 
For the next five years, Freminot can represent the Chinese university anywhere in the world.
Freminot's appointment by Qiongtai Normal University comes after participating in a one-week exhibition at the university in Haikou.
The exhibition was organized as part of a twinning programme between Victoria – the capital city of the Seychelles – and the city of Haikou. Freminot, who was displaying around 20 pieces of his carvings, also received a certificate as Seychelles' ambassador for coconut carving arts exchange.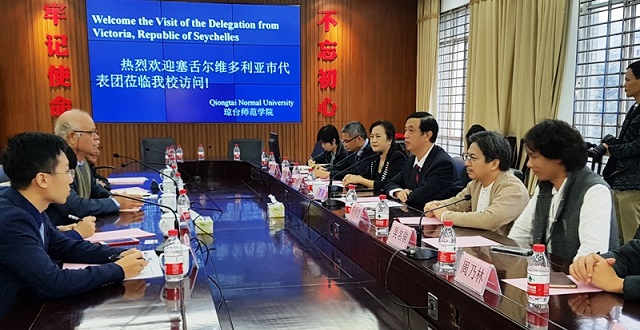 "I was not expecting this because I followed a course by the university way back in 1980, when I started to get interested in carving, especially coconut shells. The skill acquired is one which I hope to relate to others, especially the younger generation so that they too can become ambassadors of what they do," said the Freminot.
With nearly 40 years' experience in wood and coconut shell carving, the arts teacher said that his Chinese counterparts were impressed with his art works.
"They are so advanced in coconut carving and have factories producing such artifacts. And I think we have so much to learn. We too can produce our own, instead of importing artifacts and other products made from coconut shell," added Freminot.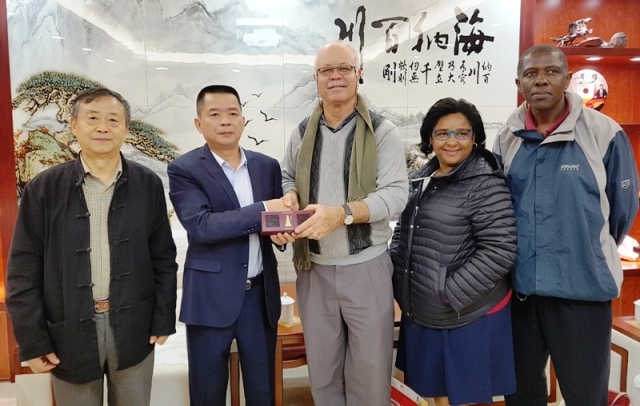 Raw material is not an issue as coconut trees grows in abundance in Seychelles – a group of 115 islands in the western of the Indian Ocean. "What is needed is for those with an interest to persevere and develop themselves," said Freminot, who is prepared to share his expertise.
The mayor of Victoria, David André, said Freminot was chosen by his office to represent Seychelles at the exhibition as he has in the past had training in coconut carving at the same university.
On behalf of the Seychelles Institute of Art and Design, André signed a memorandum of understanding (MoU) with the Qiongtai Normal University.
"The MoU will include exchange in sharing of ideas and expertise in arts between students and teachers of the two institutions," said André, adding that "it is an honour for Seychelles to not only sign an MoU with the university but also to have a Seychellois artist as a special representative of a foreign university, to represent the university worldwide."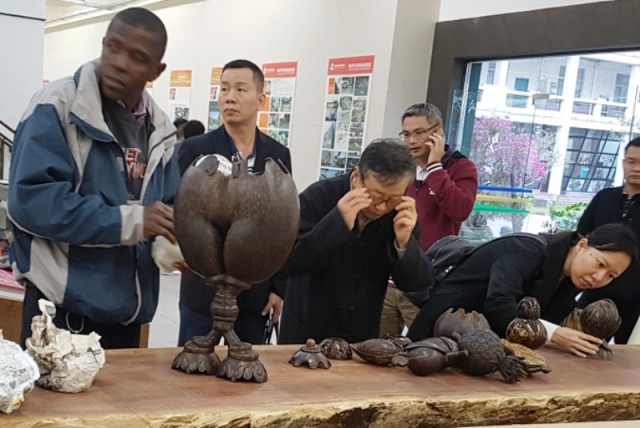 The coconut shell carving expert said that he is now better equipped to train students in different arts subjects from handicrafts, textile, fashion, fine arts among others.
"Also during the exhibition I got the chance to network with well-known Chinese coconut carving artists, as well as interact with students of the university," said Freminot, adding that this will benefit him in the works he plans to do with the Institute of Art and Design.
Freminot said his plans for the future is to continue to sell his creations at different local outlets, and organizing a local exhibition is also a possibility as well as replanting his coconut plantation which was recently destroyed by fire.
You can read more about Donatien Freminot's visit to Hainan HERE and watch his interview.