Glass making, the "Art of Sand and Fire", is thought to have first originated in Mesopotamia, which is the region that roughly corresponds to modern-day Iraq, and was one of the cradles of civilization. It is known for its many inventions and innovations, including the invention of the wheel, the development of the first written language, and the creation of the world's first cities.
The oldest known glass objects that we know of (excluding obsidian), date back to around 3500 BC and were found in the city of Uruk. These early glass objects were mainly beads, which were perhaps initially created as accidental by-products of metalworking.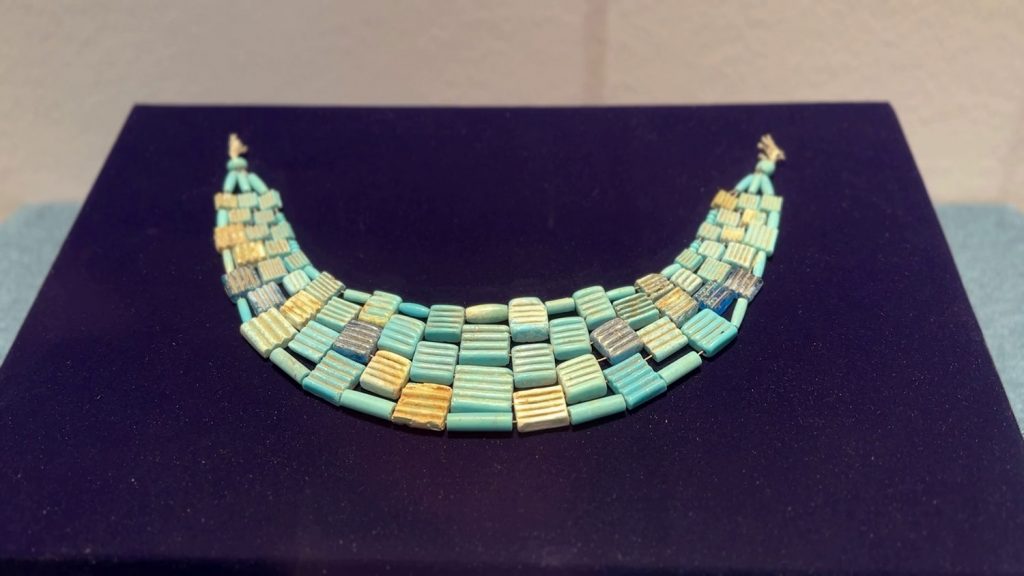 These beads were typically small in size and varied in shape, ranging from spherical to cylindrical and barrel shaped. They were often made with a core of mud or clay, which was then covered with a layer of the molten glass. The beads were then heated in a furnace until the glass fused to the core, creating a durable bead.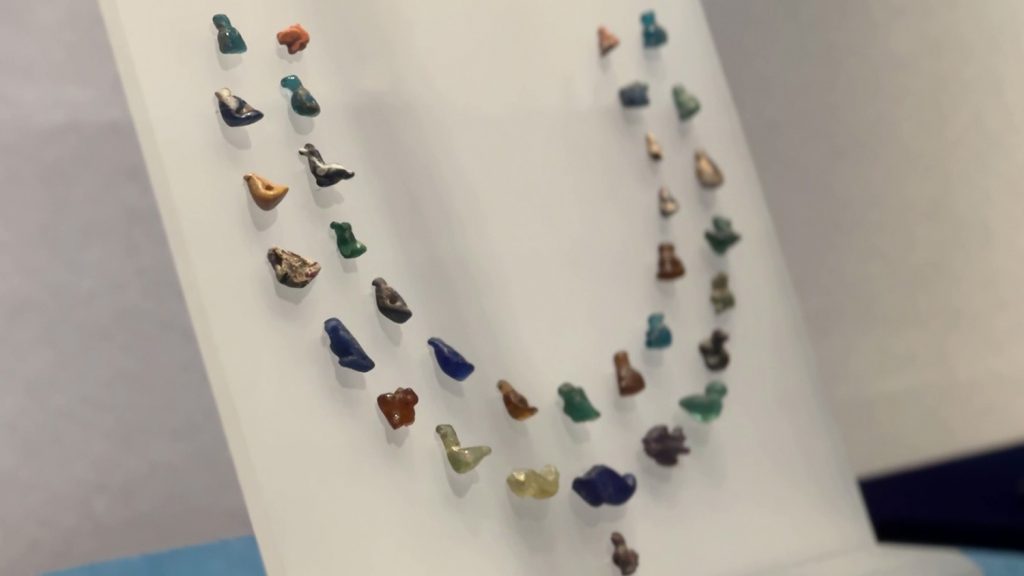 Some of the earliest faience beads were monochrome, meaning they were made from a single colour of glass. These colours included blue, green, and brown. Later on, glassmakers began to experiment with creating multi-coloured beads, often by layering different colours of glass over one another.
Some of the earliest faience beads were simple and unadorned, while others were decorated with incised or stamped patterns. Over time, glassmakers became more skilled at decorating their beads, and some of the later examples feature intricate designs and details.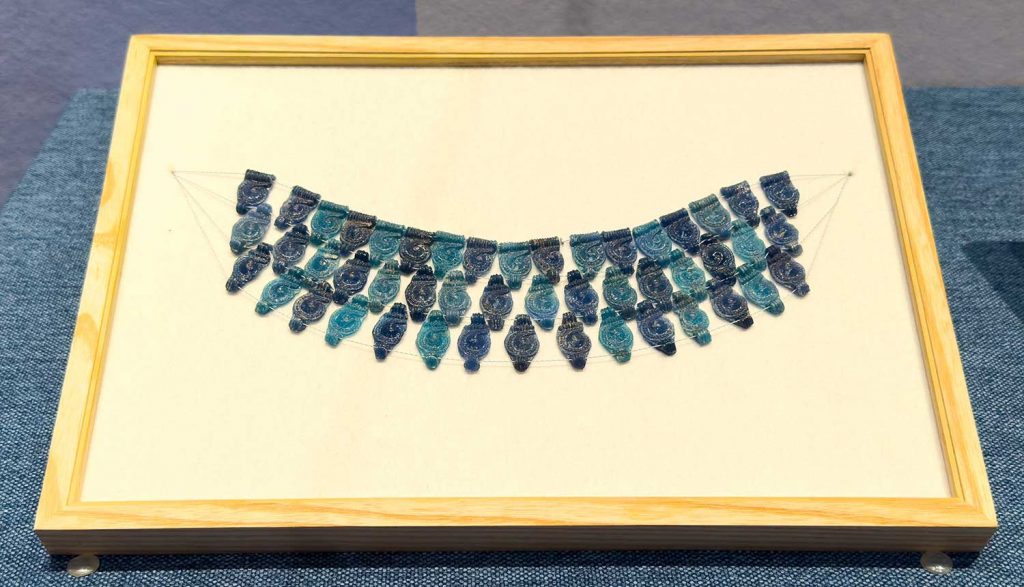 Early glass making techniques were not as refined as they are today, and the raw materials used to make glass may have contained impurities that affected the final appearance of the glass.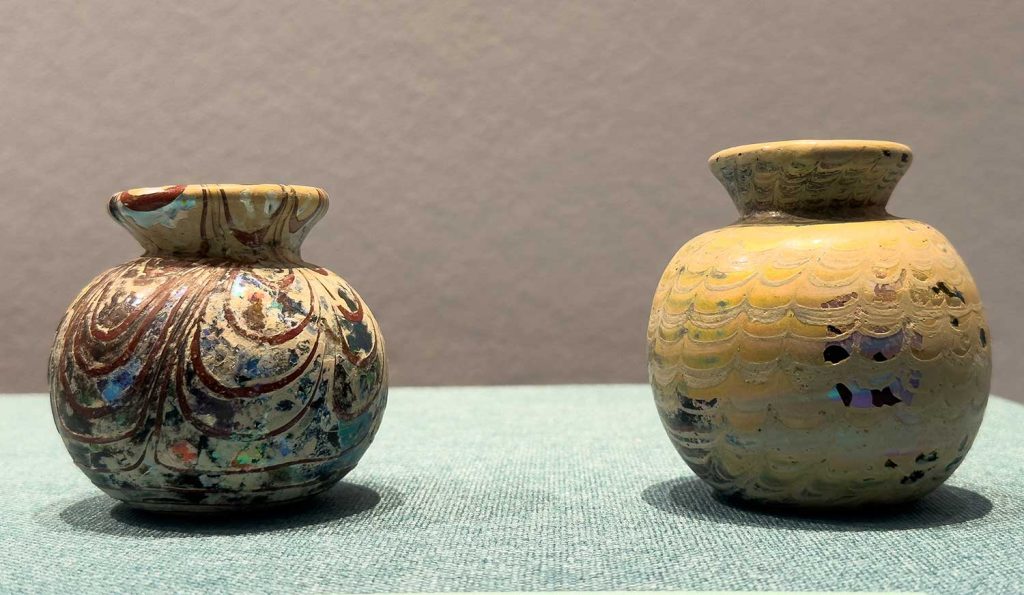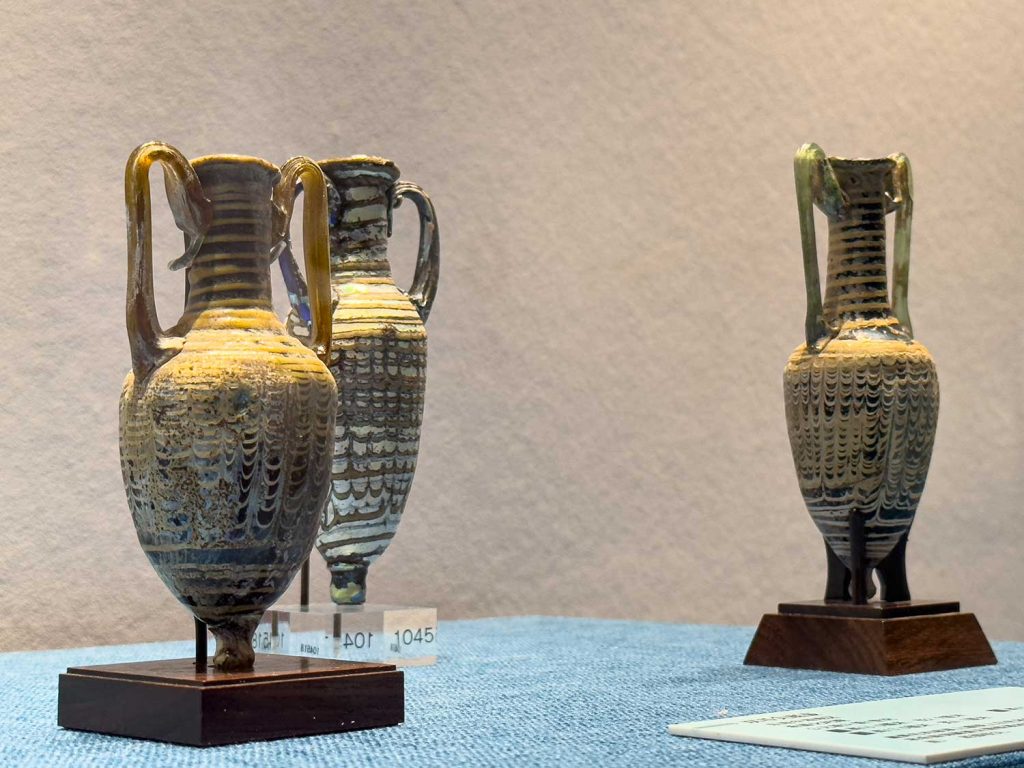 Some of the earliest glass bowls may not look like what we typically think of as glass because they were made using a technique called core-forming. This technique was used by ancient glassmakers to create vessels with thin walls and delicate shapes, such as bowls, bottles, and amphorae.
Additionally, over time, glass can become weathered or corroded due to exposure to the environment, which can cause it to take on a cloudy or muddy appearance. This is particularly true for glass objects that have been buried for long periods of time.
Here's a timeline of how archaeologists think glassmaking developed and spread throughout the Ancient world.
3500 BCE: The earliest known glass objects are made in Mesopotamia, including small beads made from a type of glass called faience.
1500 BCE: Glassmaking technology spreads to Egypt, where skilled artisans create elaborate glass vessels and other objects using a technique called core-forming.
500 BCE: Glassmaking technology spreads to Greece, where glassblowing is invented. This technique revolutionizes the art of glassmaking and allows for the creation of more complex and detailed glass objects.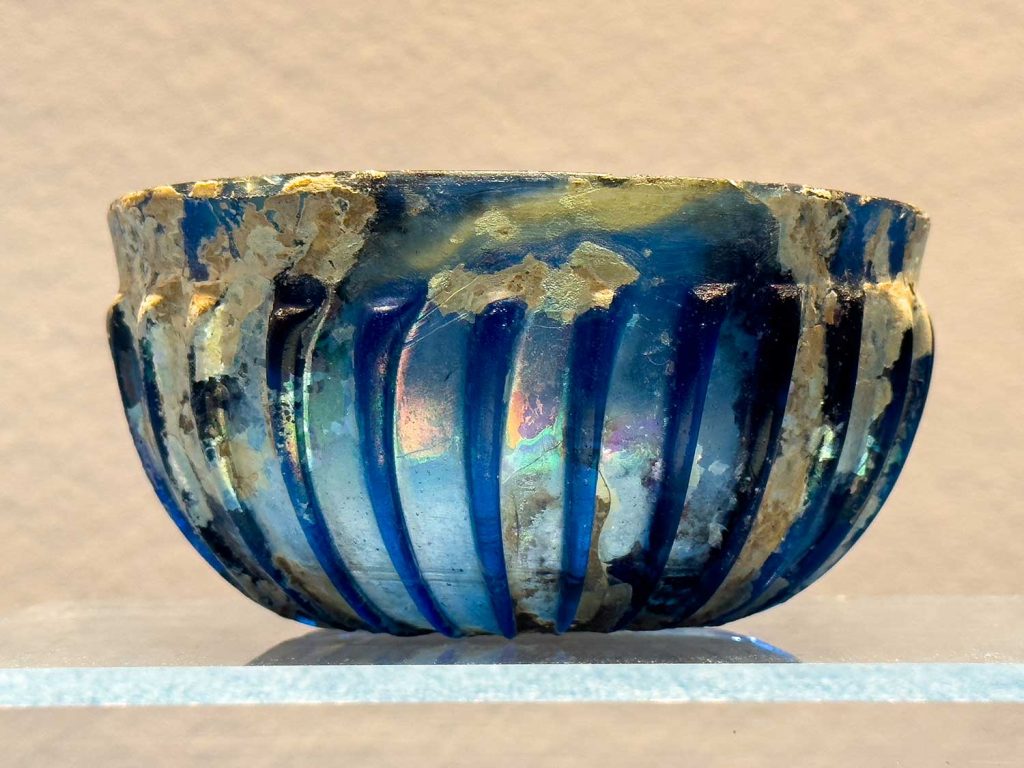 27 BC – 14 AD: The Roman Empire becomes a major centre of glass production, with glassmakers creating a wide range of glass objects, including cups, bowls, lamps, and windows.
7th century AD: Glassmaking technology spreads to China, where artisans create exquisite glass objects using techniques such as mold-blowing and enamel decoration.
9th century AD: Glassmaking technology spreads to the Islamic world, where glassmakers create a variety of decorative and functional glass objects, including mosque lamps, perfume bottles, and goblets.
11th century AD: Glassmaking technology spreads to Europe, where it continues to develop and evolve over the centuries, with new techniques and styles emerging.
The Ancient Silk Road
The ancient Silk Road played an important role in the spread of glass artifacts, as it was a major trade route that connected the East and West for centuries. Glass objects, along with other luxury goods such as silk, spices, and precious metals, were among the many items that were traded along the Silk Road.
Glassmaking technology originated in the ancient Near East, and over time it spread to other regions through trade and cultural exchange. As a major trade route, the Silk Road played an important role in the spread of glassmaking technology and glass objects throughout Asia and Europe.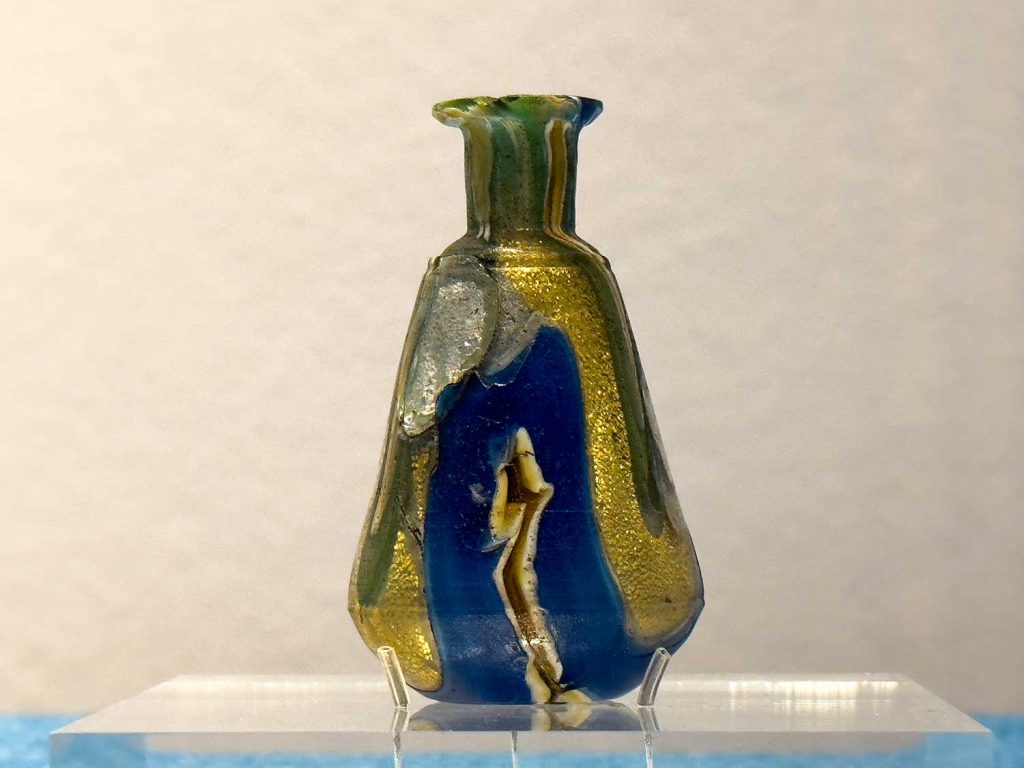 Some of the most famous glass objects from the ancient Silk Road include Roman glassware, which was highly prized in China, and Chinese glassware, which was highly prized in the Islamic world.
In addition to physical objects, the Silk Road also facilitated the exchange of ideas and techniques related to glassmaking. Glassmakers from different regions were able to learn from one another and incorporate new ideas into their work, leading to the development of new styles and techniques.
Today, glass artifacts from the ancient Silk Road continue to be studied and admired for their beauty and historical significance, providing valuable insights into the history of glassmaking and the cultural exchanges that shaped the ancient world.
The Silk Road Ancient Glass Exhibition runs until 2oth July 2023.
The address of the Hainan Provincial Museum is:
68 Guoxing Avenue, Qiongshan District, Haikou 海南省海口市琼山区国兴大道68号
Related article: Discover Hainan Opera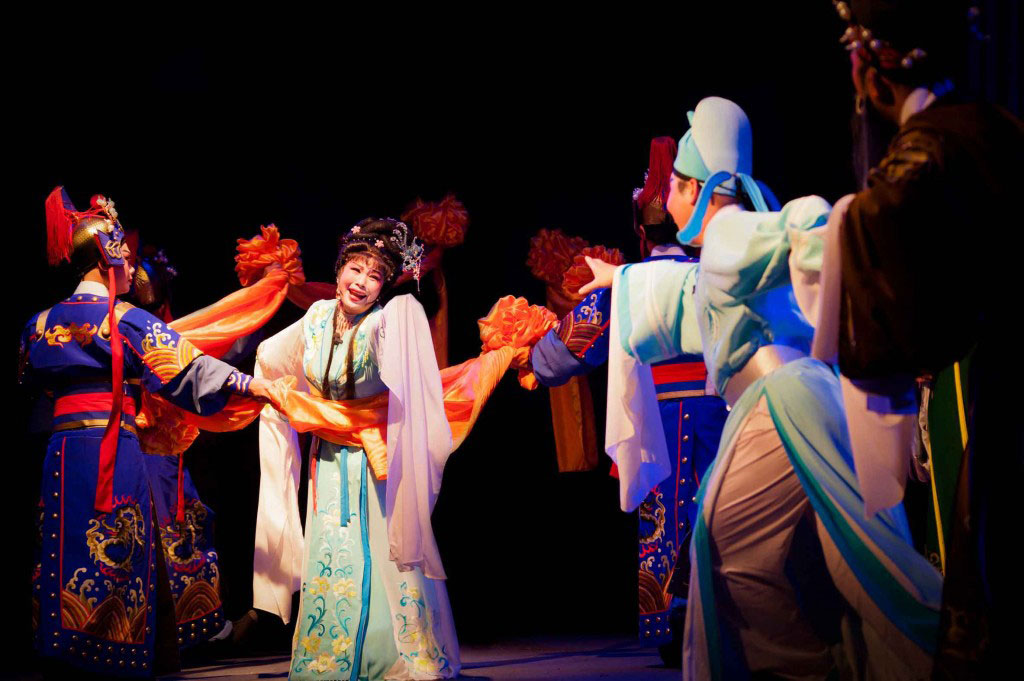 If you would like to make a comment, compliment or complaint about any aspect of living or working in Hainan Island, we'd love to hear from you. We pass all communications on to the relevant services. Please keep it polite and to the point.