Sanya traffic police relax restrictions on registration of electric motorbikes
Sanya traffic police relax restrictions on the registration of electric motorbikes
Since August 26th, 12 new registration locations for electric motorbikes have been added and the service time has been extended.
Yazhou traffic police service station,
Yazhou Nanbin service station,
Yazhou Meishan service station,
Haitang traffic police service station,
Shunshida motor vehicle service station,
Yalongwan service station,
Jiyang traffic police service station,
Tianya traffic police chuang yang gang service station,
Five-Star Motor Vehicle Registration Service
Licai convenience service station,
Gaofeng convenient service station,
Xiangpeng motor vehicle registration service station.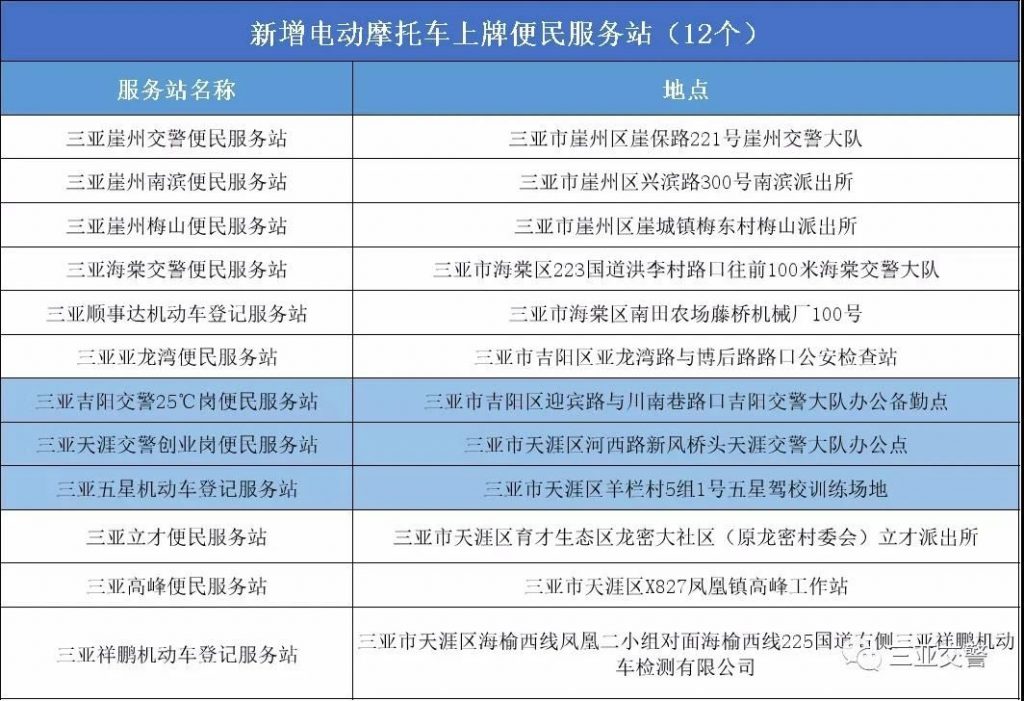 Extension of licensing time
In order to facilitate public registration, Sanya traffic police extended the registration time of each service station.
Working hours are from Monday to Sunday, 8:30-12:00 in the morning and 1:00-8:30 in the afternoon.
The original Yongcheng service station, Bohu service station and FAW Volkswagen Service Station are closed on Saturdays and Sundays.
Relax licensing conditions
Sanya traffic police further relaxed the restrictions on the registration conditions of electric motorbikes and expanded the scope of handling the shortage of said bikes.
Non Sanya household registration personnel can apply for registration of electric two wheeled motorbikes and electric two wheeled mopeds with a "residence permit" or "temporary residence registration certificate" with all relevant materials.
For vehicles whose original certificate cannot be provided, citizens can fill in a letter of commitment on the spot with the vehicle VAT invoice or vehicle purchase receipt.
You can also entrust an agent to register the electric bike. The trustee can handle the registration with the power of attorney issued by the client (owner) or the online authorization certificate from the traffic management 12123 platform.
If the purchase invoice is inconsistent with the current vehicle owner (commonly known as privately traded vehicles), it can be handled by a sales agreement signed by both parties.
Online booking registration
In order to avoid waiting in line, please use to Sanya traffic police's wechat public number to make online appointment.
After obtaining an appointment number, you should bring the registration information and drive the vehicle to the station for processing.
You can fill in the information yourself, (though I'd recommend getting a Chinese friend to help), you'll need the frame number, photos, print the comparison sheet in the comparison window, your driving license, pay the fee and you'll get the number plate after 5 days.
A driver's license is required for driving on the road
To drive an electric two wheeled motorbike on the road, you must hold a driver's license D or E, which can carry one person.
When driving an electric two wheel moped on the road, you must hold a D, E or F driver's license and not carry people.
The general public can go to qualified driver training schools to apply for the driving license.
Drivers of registered electric motorbikes and electric mopeds shall purchase compulsory traffic insurance every year.
Within 6 years from the date of registration, the annual inspection and registration shall be conducted once every 2 years, and once a year from 6 years (including) to 13 years, and the registration certificate of motor vehicles shall be registered at the inspection station.
Related article: August 27th, Hainan Province national fitness games will be launched in Evergreen Park, Haikou