Sharp-tailed Sandpiper
Latin name: Calidris acuminata
English name: Sharp-tailed Sandpiper (Snipe)
Chinese name: 鸻形目,鹬科
The sharp-tailed Sandpiper is very similar to the Buff-breasted Sandpiper. The difference is that the sharp-tailed sandpiper has a shorter beak and dotted breast, while the Buff-breasted Sandpiper has a long bill and clear stripes on the chest.
Identification
Sandpipers are small birds with short legs (around 14 cm).
Breeding adults are heavily marked with chevrons and spots on the underparts and have a rich chestnut cap and white eyeing. Nonbreeding adults are a duller grayish-brown with a drab brown cap. Juveniles are brighter with a plain buffy breast, bright cap and contrasting white eyeline.
Similar to Dunlins, their armpits and underwing feathers are white, the major difference from other dunlins is that the outer tail feathers are pure white, which is easy to see when landing.
Call
Their call is a unique trill sound that is short, fast, and cicada-like.
Breeding and migration
Primarily an Asian species, breeding areas outside of China are in the Arctic Circle, from Scandinavia in Northern Europe to the Chukotka Peninsula in Russia. When migrating they can be found in South Korea, Japan, Kazakhstan, Pakistan, India, Nepal, Bangladesh, Sri Lanka, Myanmar, Laos, Cambodia, Philippines, Malaysia, Kalimantan, and many other countries in Europe, Asia and Africa.
Habitat
Like other dunlins, they like to form small or large groups along coastal mudflats, beaches, and marshes, they are sometimes found inland. They often mix and forage with other sandpipers, mostly feeding on insect larvae, but also eat crustaceans and mollusks.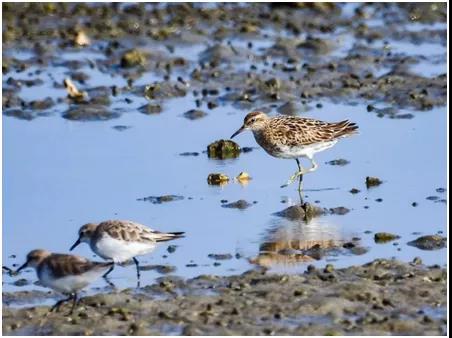 During the migration season, they live in groups in shallow waters of inland freshwater lakes, paddy fields, marshes, and sandbars near rivers and feed in shallow water or grassland.
Protection
The Sharp-tailed Sandpiper is included in the "Nationally Protected List of Terrestrial Wild Animals with Important Economic and Scientific Values" issued by the State Forestry Administration of China on August 1, 2000.
Xiatang Wetlands
It is a rare winter migratory bird in Hainan, and it can be seen in open intertidal zones and on low grasslands. During the wintering and migration seasons it will occasionally appear in the Xiatang Wetland Protection Community.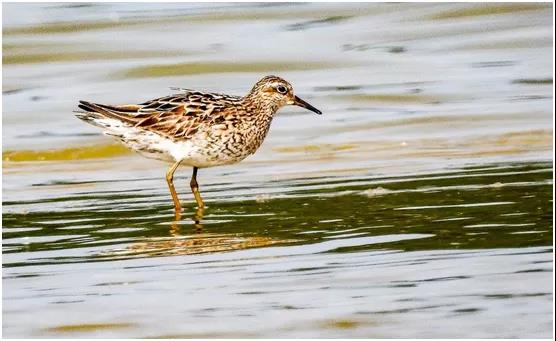 The Xiatang Wetland Conservation covers an area of approximately 3,000 acres. It is located in Yanfeng Town, Haikou City, adjacent to the Hainan Dongzhai Port National Nature Reserve.
According to survey data of wintering waterbirds in Hainan, a total of 127 species of birds have been recorded in the Xiatang wetland.
Xiatang Wetland Protection Community
Xià táng shīdì bǎohù xiǎoqū (夏塘湿地保护小区)
Related article: Do you know which species of birds are only found in Hainan?

If you would like to make a comment, compliment or complaint about any aspect of living or working in Hainan Island, we'd love to hear from you. We pass all communications on to the relevant services. Please keep it polite and to the point.