Top-quality Irish products coming to the first China International Consumer Goods Expo
In early February 2021, the Chinese Chamber of Commerce in Ireland actively engaged in attracting investment for the first China International Consumer Goods Expo.

With the support of relevant embassies and consulates, the Chamber of Commerce, teamed up with Enterprise Ireland and other official organizations to organize brand merchants to participate in the exhibition "National Pavilion of Ireland".

In just one month, 13 brands confirmed to participate in the exhibition, including infant milk powder producers, dairy products, whisky, gin, maternal and baby products brands and wool products among other famous production brands.
"Part of the exhibits have been loaded into a 40-foot container at a bonded warehouse nearby Cork Port this morning and it is ready to go soon," said Weng Jianglai, a member of the Association of Chinese Enterprises in Ireland, which is authorized by the China International Consumer Products Expo, also known as the Hainan Expo, to be responsible for exhibitor recruitment in Ireland.

Exhibitors have said that the Chinese market is full of potential and they are full of high expectations for the exhibition.
The exhibition has an attractive duty-free policy which will benefit Chinese consumers and help promote brands to quickly enter the Chinese market.
In order to get the exhibits and products to the Hainan Exhibition and Convention Center on time, some exhibitors prepared their products over the Spring Festival. Many of the exhibits set sail from Cork to Haikou on February 18.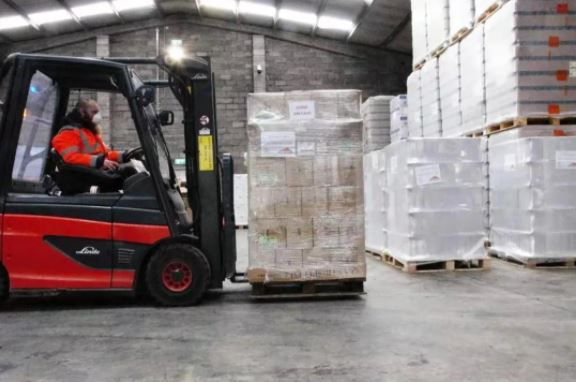 Mr. Wang Zhidong, President of the Chamber of Commerce, said that the Fair would become an internationally well-known professional boutique fair, a highlight of the construction of Hainan Free Trade Port and that it will also bring some vitality and hope to the economic and trade development between China and Ireland after the epidemic.
"All the products to be displayed by Irish exhibitors at the Hainan Expo will be exempt from import duties, import VAT and consumption tax," said Weng, adding that this holds a special attraction for Irish exhibitors.
In addition, exhibitors said they see huge potential in the Chinese market, particularly growing demand for high-quality Irish consumer products in China, Weng said.
Ireland's Central Statistics Office said bilateral goods trade between Ireland and China has witnessed rapid growth over the last few years.
In 2020, China was Ireland's fifth-largest trading partner worldwide and its largest trade partner in Asia, both in terms of exports and imports, according to the Central Statistics Office.
Ireland exported a total of 10.56 billion euros ($12.8 billion) worth of goods to China last year, up 18.25 percent from 2019, while imports from China amounted to 6.21 billion euros, up 18.52 percent.

We hope that the Chamber of Commerce can "build a bridge", and we also hope that colleagues from all walks of life can actively participate in the fair and make contributions to the success of the fair, which will promote the cooperation and development of China-Ireland trade.

Related article: Invitation for top international schools to come and set up in Hainan
Tropicalhainan.com launched it's official mini programme and WeChat account, scan the Qr code to keep up to date with news, sports, entertainment, travel, opinion and more.