"Winter Bird" retirees flock to Hainan, China's Florida
Between 600,000 and 700,000 elderly descend on Sanya every winter, almost doubling its population
Blessed by palm-fringed beaches and balmy weather, the island province of Hainan is fast becoming known as "China's Florida," drawing masses of retirees fleeing the biting cold of their hometowns. "At home in Harbin, it (can be) -30 degrees (-22 Fahrenheit), it's unbearable! But here the climate is perfect," said a 71-year-old pensioner who gave only her surname, Wang. Hailing from the capital of the polluted, frigid, rust-belt province of Heilongjiang on the Siberian border, Wang and her husband have migrated each winter to the Hainan resort town of Sanya for the past eight years. "Here we can breathe, and that warmth is better for our health," said Qi Ningxia, a 60-year-old asthma-sufferer from Heilongjiang, who joined Wang in waving brightly coloured fans in a group exercise-dance near the shore of the South China Sea. "And we find so many people here from our province! We are sure we will not be bored," Qi said. Between 600,000 and 700,000 elderly descend on Sanya every winter, almost doubling its population, said Huang Cheng, a sociologist at Sanya University. Nearly half of these "migratory birds", as they are called, come from the northeastern provinces of Heilongjiang, Jilin and Liaoning.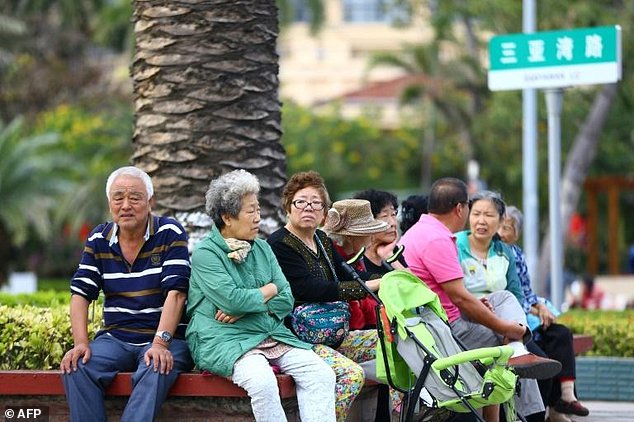 The trend began in 2000 as residents of those provinces began buying Sanya apartments, opening businesses and luring friends and family to join them, creating a "snowball effect," Huang said.
Recreational centres with features aimed at the elderly, such as mahjong tables, have mushroomed. "Ping-pong, billiards, chess, calligraphy, painting or computer science" are among the offerings on display, said the director of one such centre who only gave her surname Zhang. – Pressure on locals – Hainan island itself was once a remote outpost, a place of exile for criminals and disgraced scholars, and Sanya merely a secluded, backward fishing village. Today, Sanya is home to a Club Med resort, yacht marinas, golf courses and luxury residential complexes as local authorities aim to attract both foreign and domestic tourist dollars. The retirees from northeastern China do not fit this profile: the overwhelming majority shop in local markets rather than in shiny new malls, and prefer to play cards instead of golf. One-third of the pensioners who winter in Sanya — many retired steel, petroleum and mine workers — rely on limited monthly income of 2,000-3,000 yuan ($290-$435), while one-quarter receive even less, according to sociologist Huang.
The elderly "migratory birds" flocking to Hainan are also encouraging younger family members to join them on the sunny island
The influx has put pressure on local residents, who have to contend with surging food prices when the population doubles in winter. Real-estate costs also have soared as some wealthier pensioners buy apartments. More than 70 percent of apartment-buyers in Hainan in 2015 did not live on the island, according to official figures. Hospitals are also struggling to cope with an explosion in demand from the ageing "migratory birds." "The situation has evolved so suddenly that we have to allow time for local infrastructure to adapt," said An Honglian, director of the Yihe service centre. The Sanya-based Buddhist non-profit helps retirees with practical problems from plumbing issues to health concerns. An said the flood of pensioners to warmer destinations will only intensify as China's population ages. China has more than 212 million people over the age of 60, who will represent 25 percent of the population by 2030, according to the National Bureau of Statistics. Other southern provinces like Yunnan and Guangxi also are witnessing an increase in the number of elderly migrants. Wang, the Heilongjiang pensioner, is so convinced of the benefits of her winter sojourn that she persuaded her son and grandchildren to join her in Hainan for the Lunar New Year holiday in late January, overturning a Chinese tradition of spending it in one's hometown. "But here, there is bracing sea air. It's good for the health of the whole family," she explained. Source:
http://www.dailymail.co.uk/wires/afp