Director Xing was working in the property management office of a community in Lancheng Avenue, Haikou when he received an unusual message.
"Come to the pond we've found an alligator gar! How can we have this kind of fish in our community? No wonder the koi have disappeared!"
Alligator gars are often referred to as "primitive fishes", or "living fossils", with the fossil record tracing its existence back to the Early Cretaceous over 100 million years ago.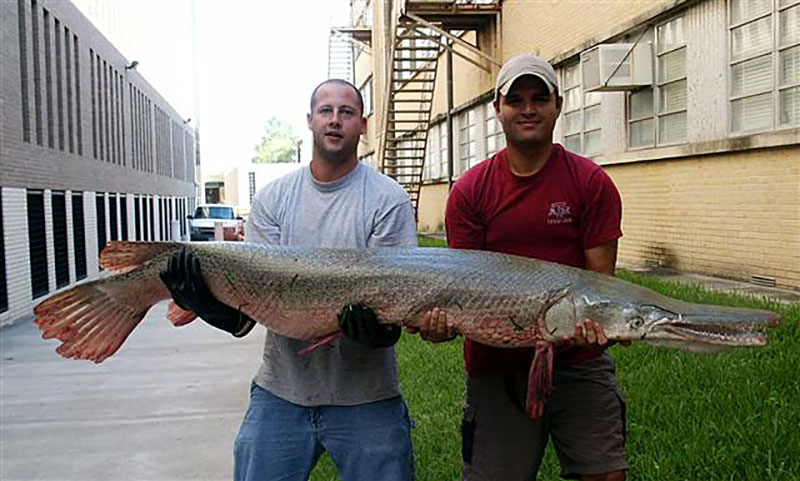 They are native to North and Central America, found mostly in reservoirs and lakes, in the backwaters of lowland rivers, and in the brackish waters of estuaries, bayous, and bays.
Dubbed "monster fish" in mainland China – authorities fear the alligator gar which has razor-sharp teeth could trigger an ecological disaster.
Director Xing told reporters that the "strange fish" found in the pool of the community is very likely to be alligator gar. He said that before, hundreds of Koi were bred in the landscape pool of the community, as well as Fushou fish and tortoise. However, since July this year, the number of Koi in the pool has gradually decreased.
'Monster fish' on the loose, month-long hunt ends in drained lake
Haikou is not the only city to have sighted an alligator gar, according to a report from SCMP, alligator gars have been sighted in 8 Chinese provinces recently.
A 'monster' alligator gar captivated China after a month-long hunt for one ended in the draining of an entire 200,000-cubic-metre lake last week in the city of Ruzhou in Henan. City workers emptied the lake after large fishing nets and a sonar locator failed to capture it.
According to the Jingjiang Daily, on August 18th, In Jingjiang in eastern China's Jiangsu province, a boy suffered a finger wound after reportedly being bitten by the fish in a pond at a residential compound. While reports about attacks on people are rare, they do pose a passive threat as its eggs are poisonous to people if ingested. Chinese authorities have listed the alligator gar as one of the 10 major invasive organisms threatening China's ecosystems.
It is believed that the growing presence of the non-native species is mainly because of releases by people who had bought the fish as a pet. The exotic fish can be bought for just a few dozen yuan on some online shopping websites including 1688.com.
Related article: Why are trees in Hainan painted white?
If you would like to make a comment, compliment or complaint about any aspect of living or working in Hainan Island, we'd love to hear from you. We pass all communications on to the relevant services. Please keep it polite and to the point.