On a hot sunny summer's day as you stroll under the shade of trees, in virtually any village, town or city in Hainan, you may have wondered why the base of the trees are painted white.
The answer to your musings is that it is a traditional safeguard against fungal diseases, potential pest attacks and changing weather conditions.
However, depending on where in the world you are, there may be other reasons for whitewashing trees.
What is the white paint?
The paint is simply a solution of calcium oxide in water called Limewash, (or whitewash depending on where in the world you're from), in proportions of 1:5, 5 litres of water per 1 kg of slaked lime.
Sun Scald
In Hainan, temperatures can fluctuate in late autumn, winter and even early spring, with extreme differences between day and at night.
Tree trunks get warmed up in sun during the day, and, when exposed to cold temperatures at night, they tend to crack.
In gardening terms, that process is called Sun Scald and usually (but not just), occurs during the tree's infancy.
Painting a tree's trunk white is similar to adding sunscreen. White paint acts as a shield that reflects the heat and allows the tree to spend more time on transpiration.
Transpiration is a process that involves loss of water vapour, which cools the tree down when the weather is very hot.
Pathogens and Pests
If the temperature fluctuations cause a tree's bark to crack, it can allow insects and other creepy crawlies to crawl inside. Once that happens, fungi and bacteria will feed on the tree's sap, causing infection, stunting its growth and eventually killing it.
The paint itself also prevents insects from entering inside through any cracks.
Like any other type of tree, palm trees are prone to pests. In fact, insects can infect and destroy coconuts, regardless of their hard and durable bark.
It takes palm trees about three years before they can fully develop their bark and protect themselves from UV rays. Whitewashing is used to offer protection until palm trees are mature and don't need help anymore.
Whitewashing in Mexico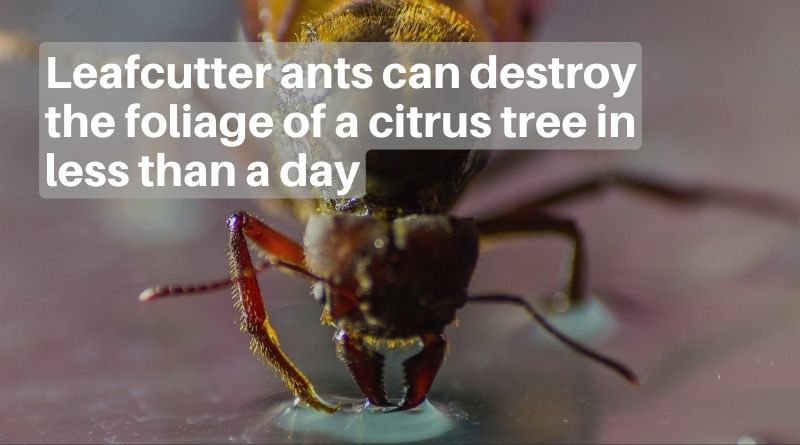 As previously mentioned, people whitewash trees for a variety of reasons, depending on where they live. For example, in Mexico, the purpose of whitewashing is to protect the tree and fend off a specific type of extremely aggressive insect, called the leafcutter ant.
Leafcutter ants are so vicious that they can destroy the foliage of a citrus tree in less than a day. Locals paint the tree trunks using calcium hydroxide, which is very alkaline and can burn any ant and denature the proteins that make up pheromones.
Whitewashing in Greece
Greece is another country where you can find trees with their trunks painted white, according to tradition, during Easter, everything gets whitewashed.
That includes the house, the stone steps, fences, and of course the trees.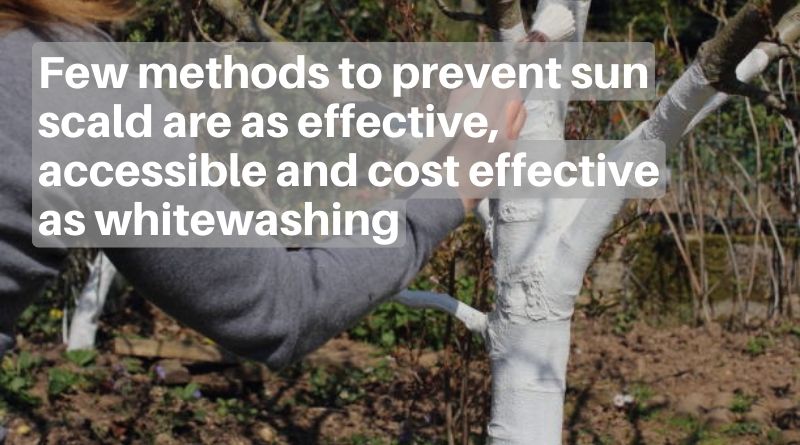 Even though there are other alternatives to preventing sun scald and infestation, few are as effective, accessible and cost effective as whitewashing.
Therefore, if you have any young trees in your garden, you should consider whitewashing them regularly. Not only will you fend off insects, but you will give your trees enough protection for them to fully grow without the fear of Sun Scald.
Related article: Do not crush the Paederus (Rove Beetle)
If you would like to make a comment, compliment or complaint about any aspect of living or working in Hainan Island, we'd love to hear from you. We pass all communications on to the relevant services. Please keep it polite and to the point.