The Li people have lived on Hainan Island for thousands of years, creating a culture and art that is unique to them.

Hainan's Li brocade has a long history. In 2009, traditional spinning, dyeing and embroidery skills were listed on UNESCO's list of first intangible cultural heritage in urgent need of protection.

The construction and development of Hainan's International Free Trade Port opened up the island and has made traditional Hainanese culture accessible to the world.
Li brocade is one of the most outstanding examples of this traditional heritage reflecting many characteristics of Hainan, regional culture and the people.
Many excellent examples of Li brocade work are on display at The Hainan Museum in Haikou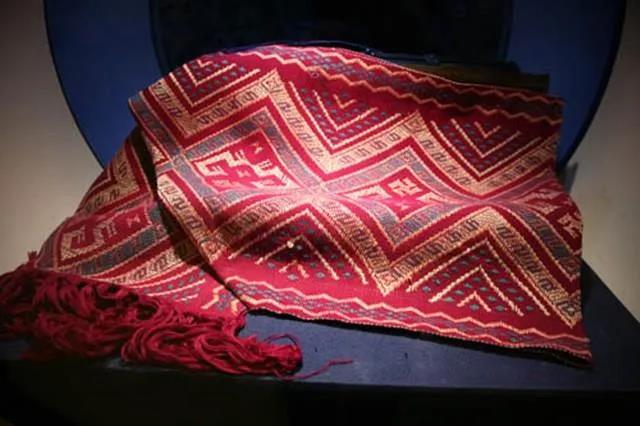 Li brocade dye and use of colour
Ancestors of the Li people gradually learned to extract red, yellow, brown, green, and black dyes by boiling bark, roots, leaves and rattans with water, and imparting vibrant colours to monotonous textiles through the method of dip dyeing.

They don't only dye magnificent colours but also use them to express their emotions, forming a silent colour language.

For example, green symbolizes hope and life, red symbolizes confidence and honour, and black symbolizes health and auspiciousness.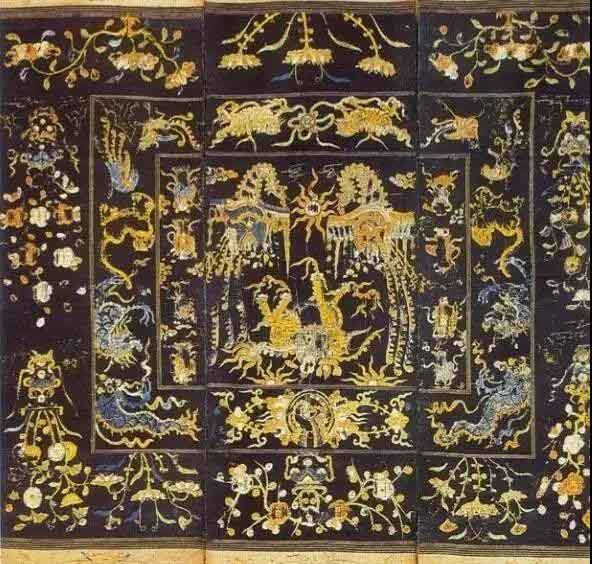 Li brocade textile patterns
The Li brocade pattern is an artistic technique that is used by Li women to imitate natural scenery and life. The ideas are then turned it into overly exaggerated abstract geometric figures and stitched to cloth.

The designs reflect the Li People's love for nature and life and artistically presents the beauty of Hainan's green mountains and clear waters.

There are more than one hundred patterns of Li brocade. Some of the more common designs include the sun and moon, mountains and rivers, flowers, animals, birds, plants and mythological figures. They are all used as inspiration and as a base for designs.

Li brocade patterns have rich connotations. The patterns have a strong sense of order and are used as carriers to pray for the souls of ancestors and protect their descendants.

Sacrificial, harvest and wedding pictures depict the simple beauty of their folk customs and customs of the Li society in the form of textile patterns.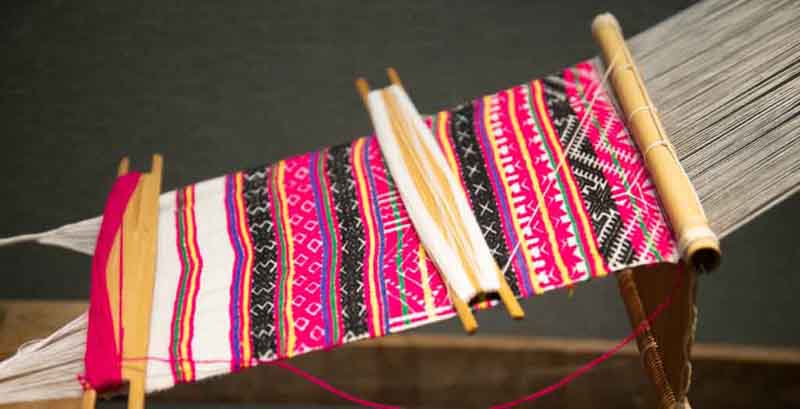 Li Brocade production
The production of Li brocade is divided into four parts: spinning, dyeing, weaving and embroidering.
When spinning they use raw materials such as kapok and wild hemp, which are abundant in the local area. Usually a spinning wheel is used or more traditionally by hand.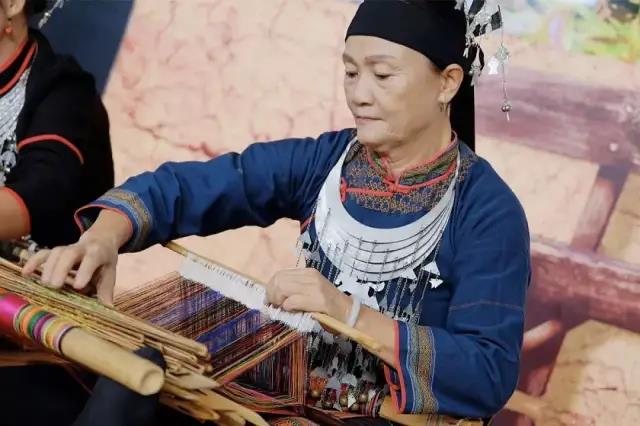 Dyeing mainly uses plant raw materials, but also animal raw materials and minerals. Dyeing is made by boiling the relevant materials to extract the color and then dipping the fabrics, threads and clothes to dye different colors.
Weaving is done using a waist loom, which is similar to the looms used by the Banpo clan. With this ancient loom, the Li Weaver girls developed the brocade craft, which has its own unique techniques that are native to Hainan.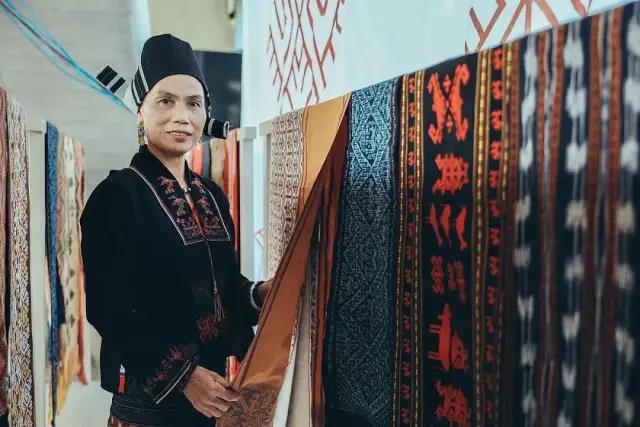 The Li brocade tube skirt
The brocade work is widely used in Li nationality clothing and household items, among which women's tube skirts represent the craft in its entirety. It is said that "the charm of Li brocade lies in a tube skirt".
The skirts have the same width on the top and the bottom forming a tube shape, hence it is name, tube skirt.
It is favored by Li women and has strong regional cultural and artistic characteristics.
The bottom color of the tube skirt is mostly black and blue, with colorful natural, human, animal and geometric patterns.
Li girls handed down their weaving skills from generation to generation, inlaying their love for life and vision for the future into Li brocade.
Li brocade is said to be the crystallization of Li women's diligence and wisdom, the condensation of the Li people's artistic and humanistic spirit.
Related article: Learn more about Li minority textiles here a more in-depth approach
Tropicalhainan.com launched its official mini programme and WeChat account, scan the Qr code to keep up to date with news, sports, entertainment, travel, opinion and more.