August 30th (Xinhua) Guo Tingting, Assistant Minister of Commerce of the People's Republic of China, said that China will step up the release of a new version of the "Catalogue of Industries Encouraged for Foreign Investment" to further expand the scope of encouraging foreign investment in advanced manufacturing, scientific and technological innovation and modern services and other fields.
Guo Tingting said at a press conference held on the same day that in order to attract more multinational companies to invest in China, the government will quickly introduce a new batch of policies and measures to stabilize foreign investment, including introducing relevant special policies to promote the introduction of investment in the manufacturing industry and the development of foreign R & D centres, so as to guide foreign investors to continue to increase investment in China in the fields of manufacturing and R&D.
Guo also said that in the future, they will carry out industry chain investment promotion to attract more foreign-funded enterprises to operate in China. In addition, they will promote the establishment of more comprehensive pilot areas for expanding the opening up of the service industry, introduce more pilot measures for reform and innovation, replicate and promote the results of a new batch of pilot projects, and promote institutional opening in the service sector nationwide.
In terms of strengthening foreign investment services, Guo Tingting said that in the future, they will continue to play a positive role in foreign investment special classes, strengthen regular communication with foreign-funded enterprises and foreign business associations through forums, video conferences and other methods, and actively respond to the demands of foreign-funded enterprises.
In addition, China will improve the dynamic updating mechanism of the list of key foreign-funded projects, launch a new batch of key foreign-funded projects, and strengthen the whole process service and all-round guarantee.
According to official reports, China's foreign investment has grown steadily. According to official statistics, in the first seven months of this year, China's actual use of foreign capital reached 798.33 billion yuan, a year-on-year increase of 17.3% on a comparable basis, and the growth rate was basically the same as that in the first half of the year. In dollar terms, the growth rate was even higher, reaching 21.5%.
Related article: Summary of the Hainan Financial Operation Report (2022)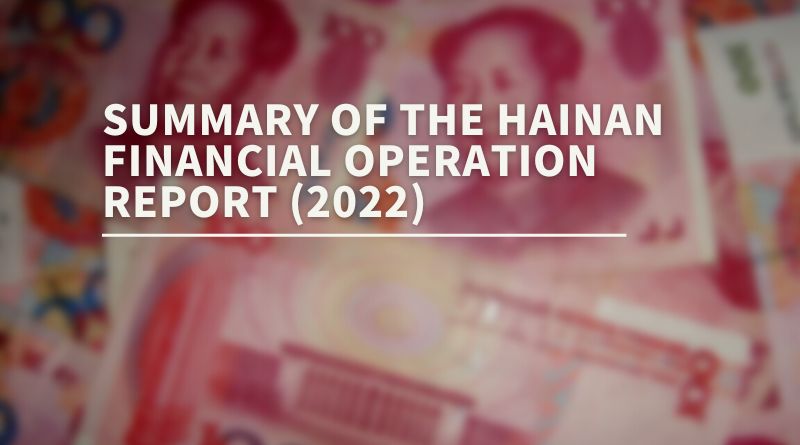 If you would like to make a comment, compliment or complaint about any aspect of living or working in Hainan Island, we'd love to hear from you. We pass all communications on to the relevant services. Please keep it polite and to the point.