Authorities in parts of central and southwest China are attempting to induce rainfall amid a severe drought and a record-breaking heatwaves.
Chongqing City, for example, is experiencing the most severe sustained hot weather since 1961. Chongqing mountain fires made headlines recently when more than 5,000 personnel from rescue teams, armed police, forest firefighters, and other departments as well as seven helicopters were dispatched for rescue and relief efforts.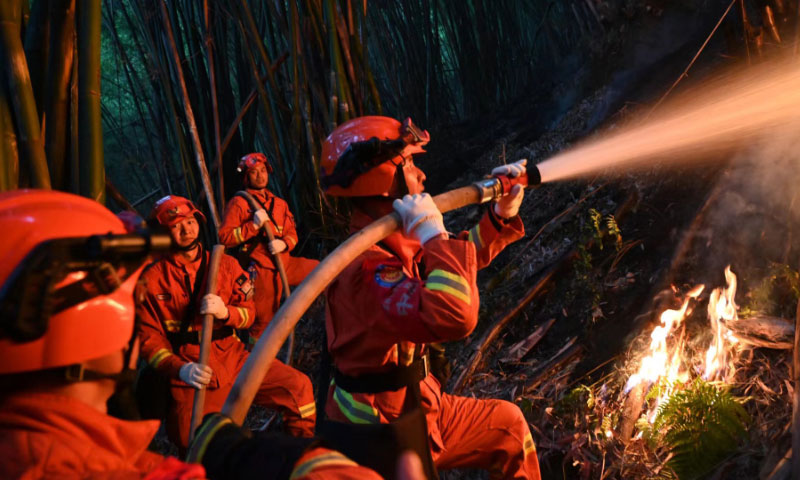 More than 1,500 people were evacuated and thankfully, there has been no reported injuries.
The Yangtze River – Asia's longest waterway – is now at record low levels. In some stretches, there has been less than half the usual rainfall.
Hydropower reservoirs are currently down by as much as half, officials say.
Meanwhile, temperatures across Sichuan and neighbouring provinces have exceeded 40oC (104oF).
Lingering drought brings rising demand for rain bombs to create artificial rainfall.
Affected by continuous high temperatures and low rainfall this year, many places across China have turned to cloud seeding (or rain bombs as they are sometimes called in China), to create artificial rainfall.
What is cloud seeding, does it work, and should we do it?
Let's start with the simplest question first, does cloud seeding work? Yes, but, you can't create rain with cloud seeding, you can only enhance clouds that are already present.
The idea of cloud seeding isn't new
In 1891 Louis Gathmann suggested shooting liquid carbon dioxide into rain clouds to cause them to rain.
In the 1930s, the Bergeron–Findeisen process theorized that releasing ice crystals into rain clouds that had supercooled water droplets present, would cause rain.
But it took until 1936, when Vincent Joseph Schaefer an American chemist and meteorologist discovered a method to modify clouds in his laboratory to make cloud seeding a reality.
Katja Friedrich associate professor and associate chair of the Department of Atmospheric and Oceanic Sciences, CU Boulder was part of a team that for the first time scientifically proved that cloud seeding does actually make it rain.
According to Katja, the maximum precipitation they were able to generate was 136 Olympic sized swimming pools after cloud seeding for 25 minutes.
How does cloud seeding work?
Clouds are essentially a bunch of water droplets or ice crystals floating in the sky. The droplets are too small to fall as precipitation but large enough to form visible clouds. If the clouds contain very few impurities (such as dust or pollution particles, fungal spores, bacteria etc) the water droplets can be chilled to temperatures below freezing and still remain liquid—a process known as supercooling.
Supercooling may sound exotic, but it occurs pretty routinely in Earth's atmosphere. Altocumulus clouds, a common type of mid-altitude cloud, are mostly composed of water droplets supercooled to a temperature of about -15 degrees C. Altocumulus clouds with supercooled tops cover about 8 percent of Earth's surface at any given time.
Sometimes these supercooled droplets are just milling around, pushing past or bumping into each other but not sticking together. They're too small to fall as rain, hail or snow.
Cloud seeding works by dispersing substances into the air that serve as cloud condensation or ice nuclei.
Under normal conditions, impurities in the air would include dust, smoke particles or even bacteria. The water droplets collide with these particles (known as condensation nuclei) and stick to them.
Common seeding agents include dry ice, (solid form of carbon dioxide), silver iodide or simple salts like sodium chloride.
In the case of silver iodide, its structure is very similar to ice, hexagonal, which is why experts suggest that ice wants to bond to it.
As the water droplets stick to the impurities, they become bigger and heavier, they bump into each other and absorb one another until they are big enough for gravity to take over and precipitation occurs.
Cloud seeding is expensive, so who uses it?
According to the world meteorological organization, at least 52 countries have a weather modification program.
Power companies:
Idaho Power meteorologists monitor winter storms as they pass across the central Idaho mountains, looking for opportunities to increase the amount of snow that falls in drainages that feed the Snake River.
This produces more runoff in the springtime for hydroelectricity.
Wineries:
Wineries in Mendoza Argentina use cloud seeding to reduce the damage caused by hail to their crops. Hail is a major threat to grapes during growing season and as the fifth-largest wine producer in the world, Argentina is willing to do almost anything to save its crops.
Insurance companies:
The Alberta Hail Suppression Project has been running since 1996 with the goal of mitigating the amount of hail damage affecting urban property such as homes and vehicles. The program uses seeding planes that fly between June to September 15th every year.
Should we be using cloud seeding?
Ma Jun, director of the Beijing-based Institute of Public and Environmental Affairs told the Global Times that although China has ability, it is necessary to have a clear understanding of climate change.
For example, some areas in the Yangtze River valley have not had significant rainfall for more than 70 days and do not have the conditions for artificial rainfall, and the chemical materials of artificial rainfall could impact the environment.
According to Ma, now it is the right time for artificial rainfall, as the climate in the past few days changed from drought to rain. A typhoon was also active, bringing rainfall to the entire south-eastern coast, and the cold air in the north is stronger.

But he warned that the control of climate change cannot rely entirely on artificial influences. For example, when artificial precipitation occurs, it will have a more serious impact on some areas that have been short of water for a long time.
A lot of scientists agree, and cloud seeding remains very controversial.
According to James R Fleming, professor of Science and Society at Colby College and author of the book, Fixing the Sky, we are not as in control as we think we are, and we have too much confidence in our own abilities.
Katja Friedrich suggests that cloud seeding is not the solution to everything, it needs to be just one small puzzle piece in the really big picture of a water plan.
There is a concern amongst many scientists that, as climate change intensifies and droughts, rising temperatures and floods become more frequent, cloudseeding may be seen as an increasingly appealing solution to fix the problems.
But past experience, raises a question. We have the ability and technology to influence the weather, but do we have the wisdom?
Related article: Hainan To Fully Ban Petrol, Diesel Cars by 2030
If you would like to make a comment, compliment or complaint about any aspect of living or working in Hainan Island, we'd love to hear from you. We pass all communications on to the relevant services. Please keep it polite and to the point.